by Kevin Coupe
CNN has a story about how Kraft is trying to turn the current cream cheese shortage into a marketing opportunity.
Some background from the CNN story:
"Cream cheese is the latest hard-to-come-by grocery item in a year of shortages. A spike in cream cheese demand during the pandemic has made it difficult to keep shelves stocked, Kraft said. Last year, with more people baking and eating at home, demand for cream cheese jumped about 18% compared to 2019. It's stayed at that high level in 2021, according to Kraft (KHC). Meanwhile, restaurants are also ordering more of the product.
"Junior's Cheesecake, which sources its cream cheese from Philadelphia, said last week that it has been struggling to get enough supply of the key ingredient, and it's been forced to occasionally pause cheesecake production, according to the owner. New York City bagel shops have also reportedly struggled to get enough cream cheese."
While Kraft is trying to ramp up production to meet demand, there also seems to be a recognition that this may be impossible in the short term.
And so, the company has decided to reimburse a total of 18,000 consumers $20 each - they will have to submit a receipt from a store or restaurant indicating they bought a dessert or dessert ingredient that would've gone well with cream cheese - via a website called SpreadTheFeeling.com.
By implication, of course, Kraft will also be getting data on those 18,000 shoppers … which will allow it to dig deeper in the long term and use the information it gleans to shape strategies and tactics.
Which I think is really smart. It is only 18,000 people, of course, but the company is getting a lot of free publicity from simply making the offer, and while it is never a good thing to disappoint shoppers, this is a moment that is reinforcing why, at least for some people, cream cheese is an essential product.
The Kraft offer can't help me with my quest, unfortunately. Mrs. Content Guy makes this incredible clam dip that we always have over the holidays, but she says it requires the use of Temp Tee cream cheese; the flavor and consistency are different, she says.
And so yesterday, I hit the stores - managed to pick up two small containers (all that remained) from Palmer's, the local independent, but found the shelves bare at two different Stop & Shop stores, at the local Grade A ShopRite, and Walmart.
Stew Leonard's couldn't help me - they only carry Kraft's Philadelphia Cream Cheese and their own private label.
But, for the record, just as it has throughout the pandemic, Stew's was killing it in terms of its in-stock position: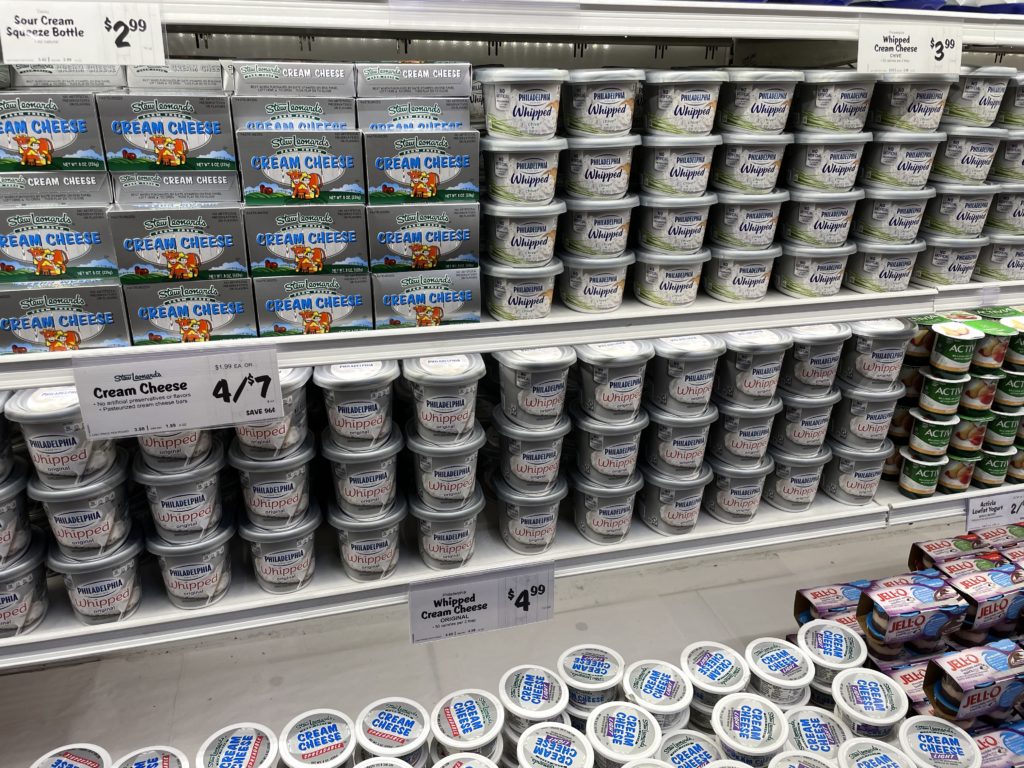 And that's an Eye-Opener.
(If anyone in Fairfield County, Connecticut, has some Temp Tee they'd like to sell me, please let me know.)