Published on: June 15, 2018
by Kevin Coupe

I said I'd give it a shot, and I was prepared to eat crow. ..

You may recall that the other day, I wrote about IHOP's social media campaign announcing a name change to "IHOB," prompting much speculation until the company finally revealed that the "B" stood for "burgers," and that the change was a temporary one that "celebrates the debut of the brand's new Ultimate Steakburgers, a line-up of seven mouth-watering, all-natural burgers."

I commented in part:

I wouldn't go to IHOP for pancakes. I sure as hell wouldn't go there for burgers.

And that was the milder part of my anti-IHOP screed.

A number of readers accused me, correctly, of being too harsh. But it was reader Tom Hahn who threw down the gantlet, writing:

Kevin, could you maybe give their burgers a try before slamming them? Wouldn't that be the prudent thing to do? Aren't you always advocating for companies to step out of the box and try something different to engage customers? Apparently that only counts if they are a trendy company.

Your typical elitist POV is showing – if this were Amazon or Starbucks or one of the many companies you have a man-crush on, I suspect we would get plaudits about their marketing acumen. But because it's IHOP – which must be doing something right to stay in business – we get the typical dribble from you that I've come to expect. Out here in flyover country, we appreciate that IHOP offers value for the dollar; it's all a matter of setting one's expectations.

Shame on you for being so uppity.

I thought he made a legitimate point, and I promised to visit an IHOP this week, try a burger and report back. Which I did. And now I will.

When I pulled up at the IHOP in Stamford, Connecticut, I was a little surprised to find no visible signs promoting the new hamburger line. It ended up that there was one, but it was in a window facing the sidewalk, not the parking lot, and I have to imagine based on the location that they get a lot more customers via car rather than walk-ins.

When I went in, a little after 12 noon, the place was about half full. The booths seemed clean, and the employees were friendly. Not what I remembered from my last IHOP visit, so that was a good thing. I sat down, surveyed the menu, and ordered what they called a classic cheeseburger with bacon (plus lettuce, tomato, onion, pickles and "signature IHOP sauce), fries and a Diet Pepsi.

Eight minutes later, my meal arrived.

Now, I want to be kind about this, to the best of my ability. The burger looked perfectly serviceable. Nicely plump and well shaped. The problem was that the moment I picked it up, it had so much sauce on it that the burger slid right off the bun. It took some effort to get it back on, which wouldn't be so bad if the sauce hadn't been so blah. But it added nothing to the experience except to make it messy and unwieldy.

I ate the burger. The lettuce, tomato and pickles were okay. The bacon, oddly, was sort of tasteless. And the meat … it was sort of okay … though, to be honest, it felt like lead in my stomach and then, a couple of hours later, produced an effect that was decidedly unpleasant. The fries were just a tad undercooked, and nothing special.

I've had worse burgers. I've had better burgers. Remarkably, you can go to Shake Shack and get a far better bacon cheeseburger for a couple of bucks less … and you can get a beer to go with it, which makes all the difference in the world.

The experience wasn't horrible (except for what happened two hours later). It was fairly undistinguished. But, in fact, this actually allows me to make what I think is an important point.

IHOP/IHOB, getting into the burger business, is getting into an unfamiliar area in which it is competing with a lot of different players of varying quality. Tom Hahn was right - I do argue fairly consistently that companies should "step out of the box and try something different to engage customers."

But just being different isn't enough. You also have to do something good and worthwhile.

You can't change your business trajectory by creating a product that is undistinguished and undifferentiated. You can't do it by creating a clever social media campaign that points to a less-than-clever product. If you make a promise, you have to deliver on it. The IHOP signature sauce, as it turns out, was a perfect metaphor for what IHOP/IHOB offered - lots of noise, but adding nothing compelling to the experience.

Give me Shake Shack. Give me In-N-Out. Just don't give me indigestion.

One other thing…

I paid the check and got up to leave. As I was walking out, a young man was walking in. He was wearing a monogrammed shirt, and had stepped out of a van with a sign on the side. He was carrying two large pizza boxes, which he handed to the manager, who then brought them to the back of the IHOP to feed to her staff.

As the entire restaurant watched.

Not a great message, I think. It ends up, that the name change that IHOP should've adopted was IHOB.S.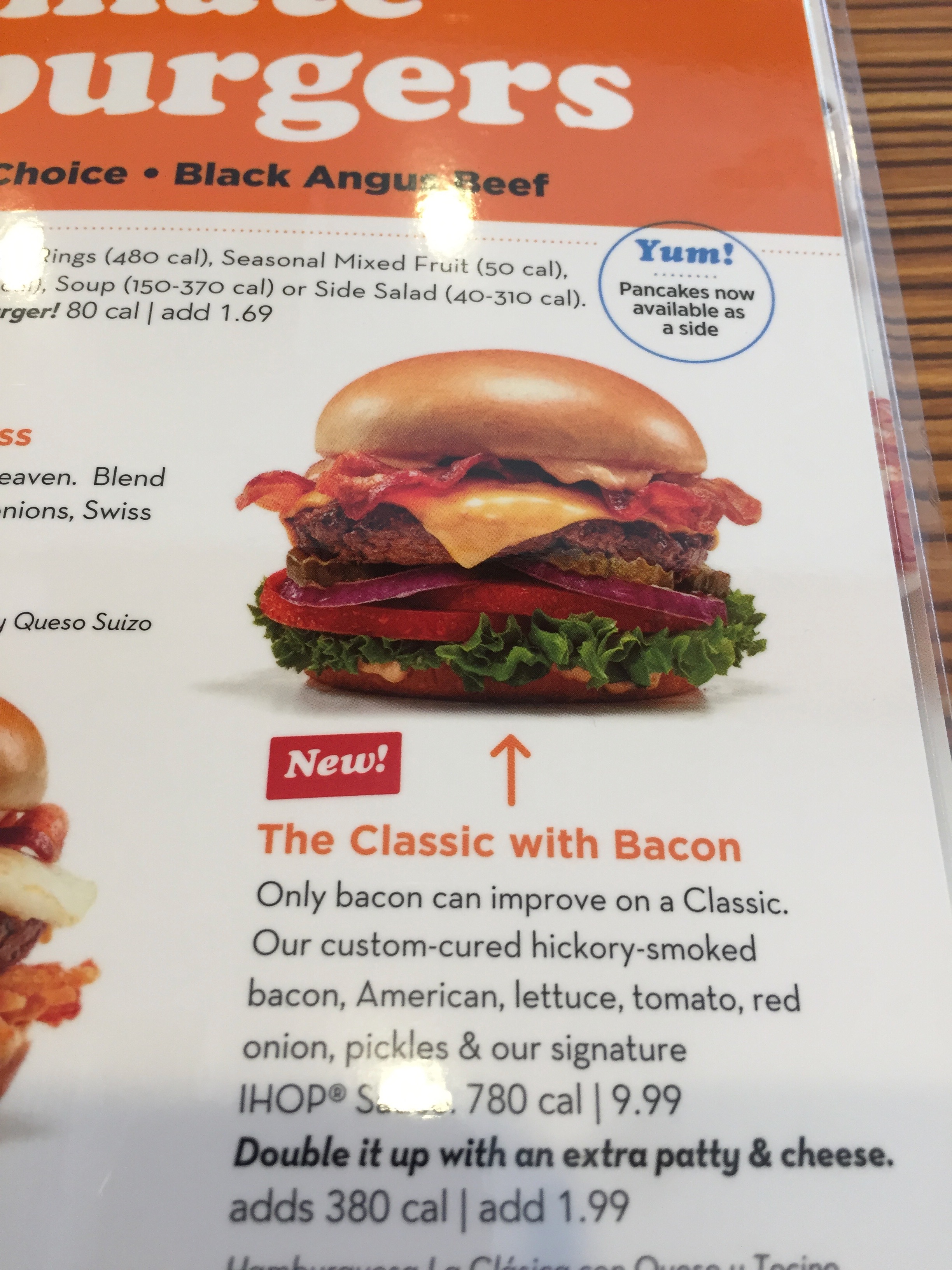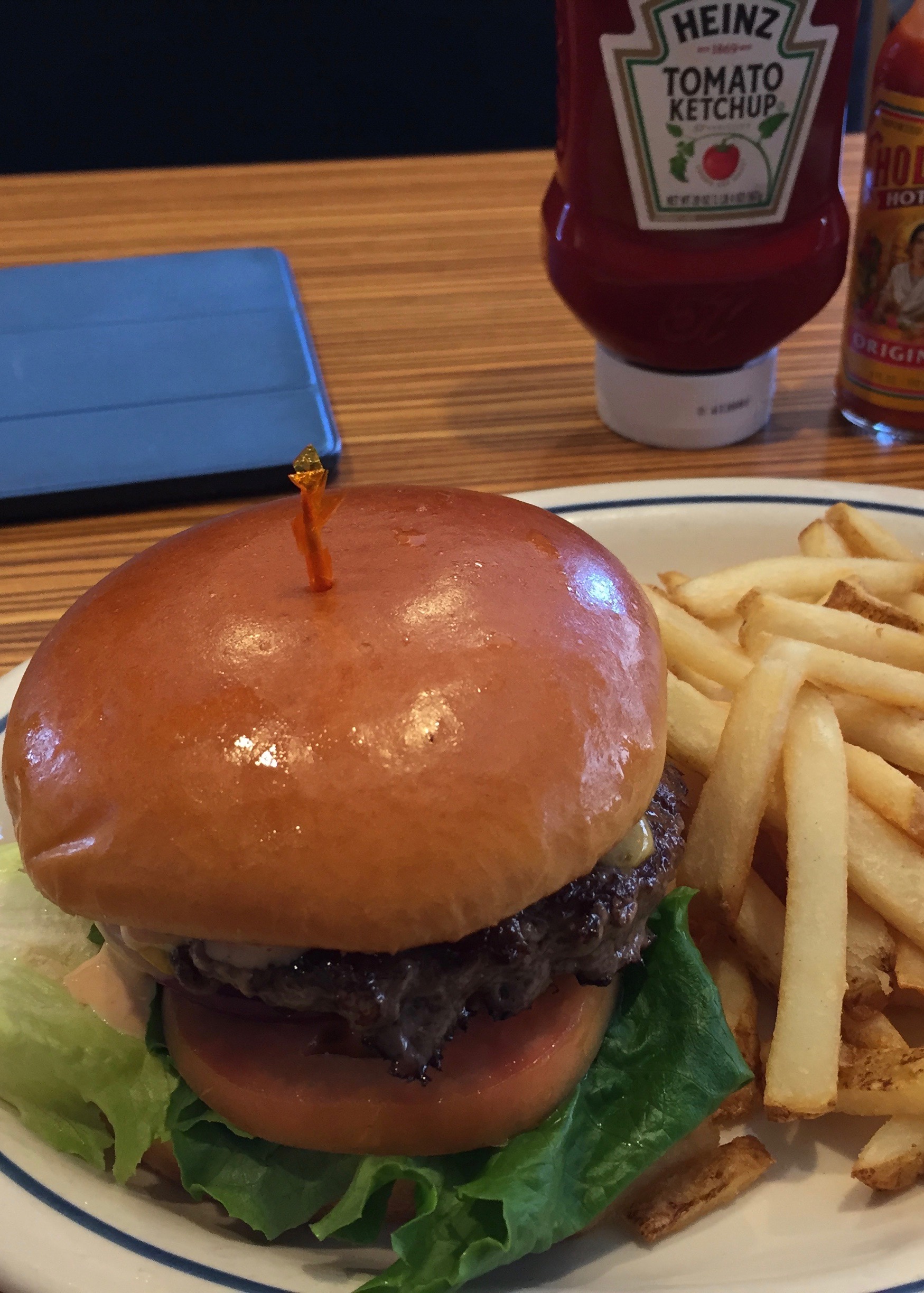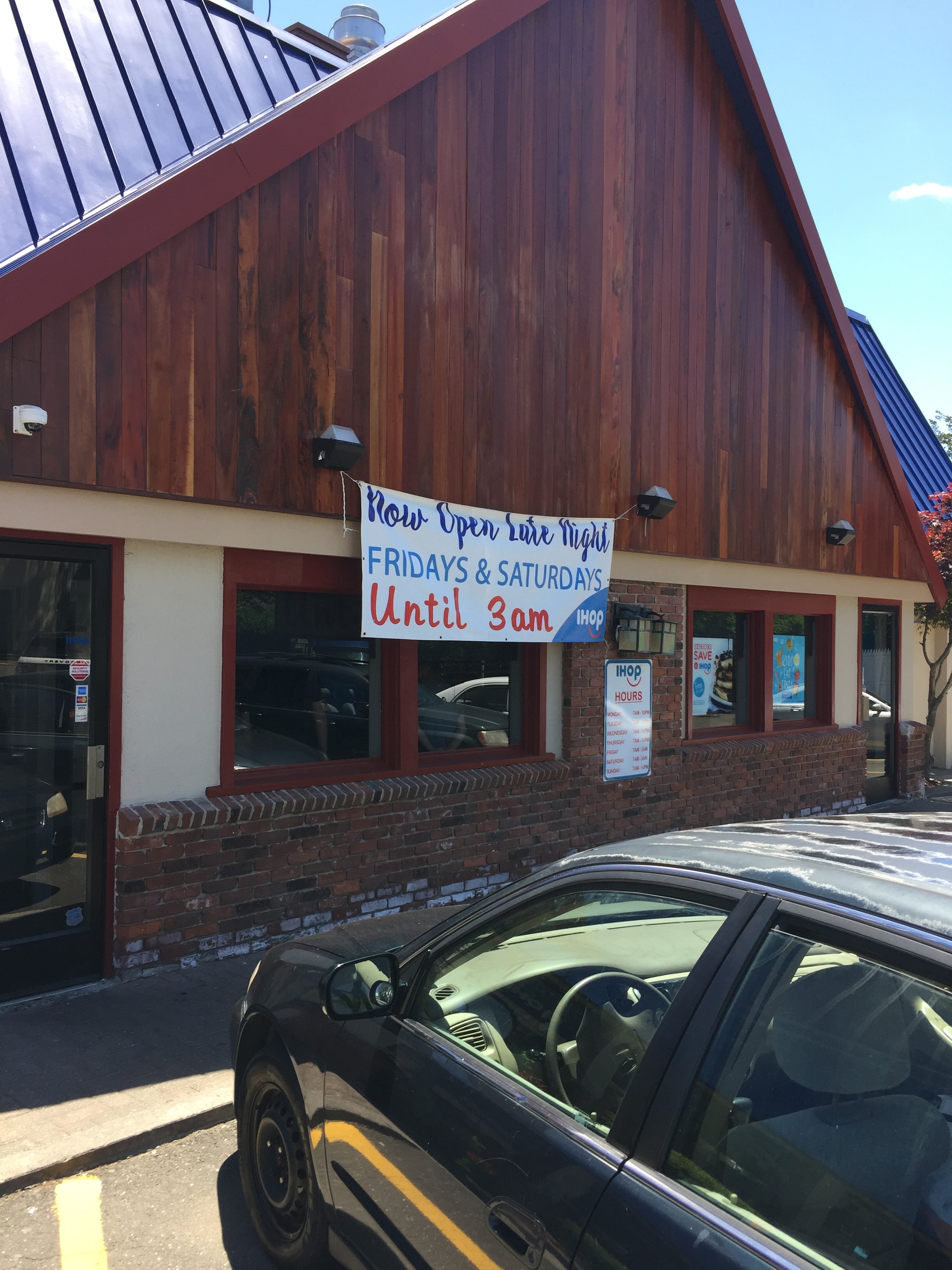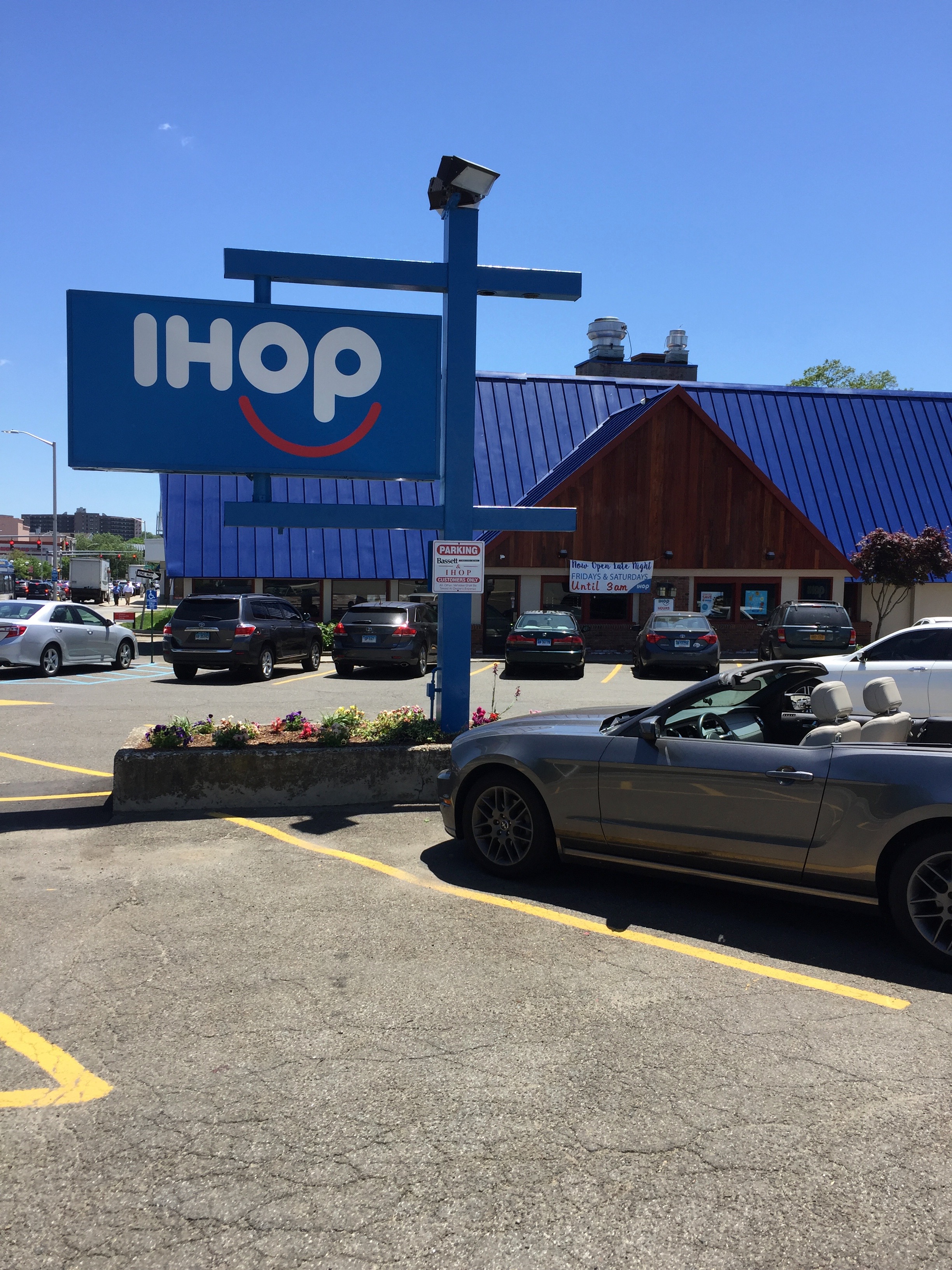 Published on: June 15, 2018
Market Force Information is out with its annual survey of the nation's favorite grocery retailers, ranking Wegmans at the top of the list, followed by Publix, Trader Joe's, Aldi, and H-E-B.
According to the study, "This is the third consecutive year that Wegmans has ranked first in the study, after unseating long-running favorite Trader Joe's in 2016.
"Wegmans held on to the top spot with a score of 77% on Market Force's Composite Loyalty Index. Publix, which has consistently ranked well in the annual study, is a close second with a score of 76%, followed by Trader Joe's with 75%. ALDI moved up a slot from last year to land in fourth with a score of 70%, and H-E-B rounded out the top five with a repeat score of 69%. Whole Foods landed in the middle of the rankings with 60%, while Safeway and Walmart ranked at the bottom with 42% and 34%, respectively."
In more specific categories, "Publix and Wegmans tied for two key ones – store cleanliness and item availability. Wegmans once again ranked first for its specialty department service, while Publix was the clear leader for ease of finding items. Trader Joe's was found to have the fastest checkouts."
One interesting piece from the study: "Fifteen percent of study participants have tried a meal kit delivery service at least once (up from 11% in 2017), however, nearly half (49%) were less than satisfied with the experience … Hello Fresh overtook Blue Apron as the most popular meal kit service, with 39% indicating they've tried it … Home Chef was a distant third with 9%. However, 83% who tried a meal delivery service have stopped using it (up from 76% in 2017), primarily because of poor value, but also due to portion size and cost. Home Chef once again has the highest satisfaction rating and the lowest customer churn, along with Plated."
KC's View:

I know I've said this before, but I do have to wonder if the folks at Wegmans ever get tired of winning these surveys all the time? They ever come in 9th, and it'll be like the world is coming to an end.

For me, the problem with such surveys is that they are just a snapshot of a specific place and time … valuable because they tell us what consumers respect and prize … but not really comprehensive because many of these companies don't compete with each other, or compete for different consumer segments. And they don't take into account terrific retailers such as Dorothy Lane Market, Westborn Market, Zupan's, or Metropolitan Market - four retailers from different parts of the country that are about as good as they come.

Published on: June 15, 2018
Esquire
reports that German discounter Aldi has won an award for heaving the best whiskey in the world: "At the Spirits Business Scotch Whisky Masters, judges bestowed two gold medals on the Aldi brand - one for its Highland Black Scotch Whisky, and another for its Islay Single Malt Scotch Whisky. (They share the gold with other entrants.) The Highland Black has hints of heather, strawberry leaf, and lemon oil, and retails for $17. The Islay Single Malt is 'fresh and zesty,' and retails for $23."
At the same time,
Food & Wine
reports that the New York International Beer Competition "recently named Lidl the 2018 Beer Supermarket of the Year.
On top of that, Lidl competed against 600 submissions to the event, and won a whopping eleven medals for its beers at the competition: The chain's Belgian Style Tripel, Bronzen Schild, won a double gold, while the Perlenbacker German Hefeweizen wheat beer took home gold. Perhaps most impressively, Lidl's Brewer's Storehouse No. 3 amber ale, took home the prize for the Amber Ale of the Year. In addition, Lidl took home five silver medals and three bronze medals."
The story makes the point that Lidl is on a roll, since its "Chianti recently won top honors at the International Wine Challenge - plus it's under $10."
KC's View:

I think an Esquire comment says it all - "The moral of the story here is: Never pay good money for anything. Always pay very little money for good things."

Published on: June 15, 2018
The
Seattle Times
writes that three trial lawyers have sued the city of Seattle, arguing that its recent special meeting and vote to repeal a "head tax" were essentially illegal because they took place without sufficient notification and public debate.
The "head tax" - $275 per employee per year, levied against the city's largest businesses, including Amazon and Starbucks, which were not amused - was said to be designed to generate funds that would be earmarked the city's homeless crisis.
However, within hours of the suit being filed, " an anti-tax campaign submitted the required signatures for a citywide referendum asking voters to repeal the measure, if necessary." The signatures were submitted about an hour before the deadline for getting on the November ballot.
"Out of an abundance of caution, the No Tax on Jobs Coalition decided today to file our nearly 46,000 petition signatures," John Murray, a spokesman for the campaign, said in a statement. "Submitting the signatures ensures that we are on record regarding the jobs tax repeal. We remain committed to working together with the Mayor and the City Council on homeless and housing issues."
KC's View:

If I'm reading the coverage right, the lawsuit isn't likely to come to trial until sometime next year … at which point, the referendum already will have taken place.

The lawyers' suit, which has been scheduled for trial in June 2019, seeks that each of the named city officials be fined and that the city bear all of their legal fees and costs, but it doesn't ask that the council's vote to repeal the head tax be invalidated.

I'm not a fan of this tax, and it sounds to me like its imposition had more to do with politicians who thought they could milk the companies who are responsible for creating jobs and building a tax base. I'm all in favor of figuring out how government and business can work together to solve a significant cultural problem … but this wasn't the way to do it.

Published on: June 15, 2018
The
Wall Street Journal
has a story about how "time, money and potential lost opportunities … are at stake as finalist cities and states compete ferociously" to be the site of Amazon's second North American headquarters, which could bring with it an estimated $5 billion investment in the winner's local economy.
In addition to financial incentives, the story says, "cities and states have spent hundreds of thousands of dollars on site-selection consultants, quirky stunts and highly produced videos and graphics to win Amazon's attention. Economic-development agencies can be privately or publicly funded, or some combination of the two. Some tapped private funds to help finance their HQ2 pitches … The time, money and projects that had to be set aside to focus on HQ2 proposals are the result of a highly unusual and public bidding process that some site-selection experts say puts too much pressure on cities to compete."
Amazon got 238 initial applications, whittled that number down to 20 finalists, and has visited all those locations as it goes about making its final selection. It has said it is looking for a diverse workforce, a strong educational component, an efficient public transportation system and access to a quality airport.
The finalists are: Atlanta, Austin (Texas), Boston, Chicago, Columbus (Ohio), Dallas, Denver, Indianapolis, Los Angeles, Miami, Montgomery County (Maryland), Nashville, Newark, New York, Northern Virginia, Philadelphia, Pittsburgh, Raleigh (North Carolina), Toronto (Canada), and Washington, D.C.
Amazon has said that the 19 places that don't get HQ2 "will be considered for additional projects, including warehouses or data centers that could create thousands of jobs." Some of the cities that didn't even make the finalists list have said that the process was a positive one since it allowed them to focus on what attributes would attract a progressive, growing technology company, and then get valuable feedback from the best of the breed.
KC's View:

Obviously we have no sense of what Amazon actually is thinking, though I have gotten emails from readers claiming to have inside information but no evidence of same.

Everybody's guess is informed by their political opinions. Within hours of President Trump's diatribe against Canada and its Prime Minister, Justin Trudeau, I got two emails. One said that the dispute between the two countries would immediately cross Toronto off the list, and the other said that it might push Toronto over the finish line. (Trump also has taken his fair of shots at Amazon and its flounder/CEO, Jeff Bezos.)

It is a cardinal sin for a pundit to say this, but to be honest, I have no idea. My guess is that Boston and Austin are more likely than not, and that the Washington, DC/Northern Virginia entries have more than an outside shot. I'd guess Toronto is still in the mix, and I think that a blue state or community probably has an advantage over a red state/community. But I'm just guessing.

Published on: June 15, 2018
CNN
reports that the US Centers for Disease Control and Prevention (CDC) has linked Kellogg's Honey Smacks cereal to a salmonella outbreak that affected 73 people in 31 states.
"The illnesses from the outbreak started from March 3 to May 28," according to
CNN
, adding that "the CDC said 24 people have been hospitalized. No deaths have been reported, the CDC said. Most of the outbreaks occurred in California, Massachusetts, New York and Pennsylvania, the CDC said."
Kellogg is "voluntarily recalling 15.3-ounce and 23-ounce packages of the cereal with a 'best if used by' date from June 14, 2018, through June 14, 2019, according to a statement."
Meanwhile, the US Food and Drug Administration (FDA) said yesterday that "Alabama, California, Florida, Kansas, Maryland, Minnesota, Nebraska, North Dakota, South Dakota and Tennessee have been added to the list of states where cut melon may be contaminated with salmonella … Cut watermelon, honeydew and cantaloupe as well as fruit salads containing these melons have been recalled from stores in these states, including Walmart, Kroger, Walgreens, Sprouts Farmers Market, Costco and Whole Foods/Amazon."
Published on: June 15, 2018
CNBC
reports that while Whole Foods' founder John Mackey remains in charge of the company a year after it was acquired by Amazon, Mackey is decidedly not in control "of the integration or the future of the business." In fact, the story says, an organizational chart shows that "far from letting Mackey run Whole Foods as an independent operation, Amazon CEO Jeff Bezos is stacking the business with veterans of the e-commerce company who can weave the grocery chain's 484 stores into his broader vision for the future of physical retail."
KC's View:

Yesterday we had a story about Mackey saying that he's had to "speak truth to power," that Amazon has "backed off" when he's stood up for the company's soul, and that he's not afraid to be fired if it comes to that. I suspect that Bezos doesn't want to rip out the self-perceived soul of the company, but is carefully building a bench so that when (not "if") it happens, nobody will miss a beat.

BTW…I asked rhetorically yesterday if many consumers actually know who Mackey is, and one MNB reader responded:

I had to remember who John Mackey was and I am in the Supermarket business. However since Amazon took over Whole Foods the pricing became more competitive and shoppers tell me that finally another quality chain has given Publix a run for their money in SE Florida. Interesting race but by no means a sprint.

Betcha more people know who Jeff Bezos is…

Published on: June 15, 2018
• The
Washington Post
reports that five years after a landmark study conducted in Spain concluded that a Mediterranean diet rich with vegetables, fruits, fish, nuts and olive oil had enormous health benefits, the study's authors now have retracted it and published a new version "after facing criticism of the way the initial experiment was conducted."
According to the story, "The findings of the revised study arrive at the same conclusions as the original one — that the Mediterranean diet can prevent heart disease. But the language in the new report is a bit more modest … The issue had to do with randomized controlled trials, which divide participants by chance into separate groups that compare different treatments. Using chance 'means that the groups will be similar and that the effects of the treatments they receive can be compared more fairly,' according to the National Institutes of Health."
The
Post
writes that "the original study concluded the diet 'resulted in a substantial reduction in the risk' of major heart illness among high-risk people, while the new study said 'those assigned' to a Mediterranean diet had a lower risk than those not assigned."
Published on: June 15, 2018
• The Produce Marketing Association (PMA) has named Anouk Sijmonsma to be its regional vice president for Asia, Africa, Europe and Australia/New Zealand, working "to help PMA's members in these regions to grow their fresh produce and floral businesses, and in turn grow the increasingly global produce and floral industry."
Sijmonsma joins PMA from FreshPlaza, where she was managing editor of what is described as "the most extensively-read global, daily online newsletter for the fresh produce and horticulture industries."
She replaces and reports to Richard Owen, who was recently promoted to vice president of global membership & engagement.
Published on: June 15, 2018
…will return next week.
Published on: June 15, 2018
I love a great heist movie. Done well, they are fun to watch and puzzle out … especially when you find out at the end that you've been snookered through clever writing, direction and writing.
Ocean's Eleven
(the George Clooney version, not the Frank Sinatra original) was a perfect example - stylishly visual, full of feints and twists, loaded with terrific character actors, and with an irreverent sense of humor.
Ocean's Twelve
, I thought, was silly and a paycheck grab, and while
Ocean's Thirteen
was better, it couldn't live up to the original. We'd already been surprised, and seen how the trick was done, and so some of the mystery was gone.
Ocean's Eight
, which reboots the series with an all-female cast, suffers from the same problem. From the beginning, it seems intent on hitting the same beats as the original; Danny Ocean (Clooney) started the film appearing in front a parole board, so his younger sister, Debbie Ocean (Sandra Bullock) has to the same. Cate Blanchett plays the same role that Brad Pitt played in the original. And so on.
While the first movie was about a Las Vegas casino heist,
Ocean's Eight
is about a jewelry heist at the annual Metropolitan Museum Gala in New York City. And while the new movie moves along at a good pace, keeping lots of balls in the air as the plot unfolds, it just doesn't match the original in terms of visual style and an effortlessly cool vibe. (Go figure. Director Gary Ross is no Steven Soderbergh.)
I don't want to suggest that
Ocean's Eight
is no fun at all. It's okay … at least it isn't a superhero movie, it is reasonably intelligent, and it is nice to see Bullock, Blanchett, Sarah Paulson, Mindy Kaling, Rihanna, Awkwafina, and Helena Bonham Carter in a movie where they don't have to play second fiddle to a man. It'd better, of course, if they had fully written roles, but…
Ocean's Eight
does have a sparklingly funny performance by Anne Hathaway as a narcissistic actress of unsuspected depth … she takes over the movie every time she's onscreen. (For the life of me, I cannot understand why there are so many Anne Hathaway haters out there - she makes most of the movies she's in better, from
The Princess Diaries
to
The Devil Wears Prada
, to
The Dark Knight Rises
.)
I know this. There always have been rumors of sequels to the Pierce Brosnan/Rene Russo version of
The Thomas Crown Affair
and the Mark Wahlberg/Charlize Theron version of
The Italian Job
- two remakes of very good movies that ended up being different enough and clever enough to stand on their own. Watching
Ocean's Eight
makes me glad they haven't … because while it is an entertaining movie, it isn't original or differentiated.
I'll be heading out to Oregon in about a week, for my annual summer adjunctivity at Portland State University, and so it is appropriate to recommend a couple of excellent Oregon Pinot Noirs that I've tried in the last week. (I'm in training.) They are both highly drinkable - the 2014 from King Estate, and the 2015 from Emerson Vineyards. Yum.
I'm getting ready.
That's it for this week.
Have a great weekend, and I'll see you Monday.
Sláinte!!