Published on: September 27, 2018
This commentary is available as both text and video; enjoy both or either ... they are similar, but not exactly the same. To see past FaceTime commentaries, go to the MNB Channel on YouTube.

Hi, Kevin Coupe here and this is FaceTime with the Content Guy…coming to you this week from University Village in Seattle, Washington, where I've just had the chance to visit the brand new Apple Store there. It has been open just a few months, and this 6,300 square foot store is a replacement for a smaller store that was just a few yards away.

And quite a replacement it is.

This Apple Store is all glass and wood and light, an airy temple dedicated to the secular religion that is Apple. (Pictures below.) It has smart salespeople … Geniuses who can help fix almost anything … all sorts of classes and lessons taking place all the time … tables and Adirondack chairs outside the store that encourage people to congregate and create a sense of community … and all the great and imaginative products that one would expect to find at an Apple Store.

It is this last that I found myself thinking about during my visit there … because I realized that pretty much every product in the store could be bought online. One doesn't have to go to the Apple Store, but one does …. because it is a distinctive shopping experience that i worth visiting. (Not so much, by the way, with the Microsoft Store around the corner, which, I am sorry to have to point out, was pretty much empty when I visited it even as the Apple Store was crowded.)

That's a great lesson for every bricks-and-mortar retailer. Not everybody can be Apple, of course, but everybody can make being differentiated, distinct, relevant and resonant key components of the physical store.

That's something that every retailer should do … think about how his or her store is different, and then, let them count the ways.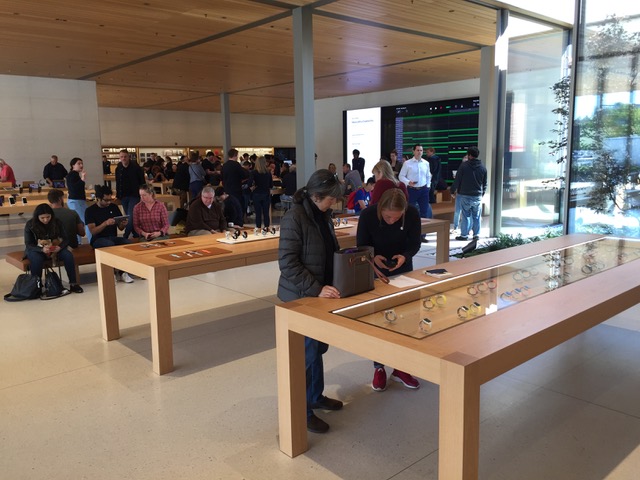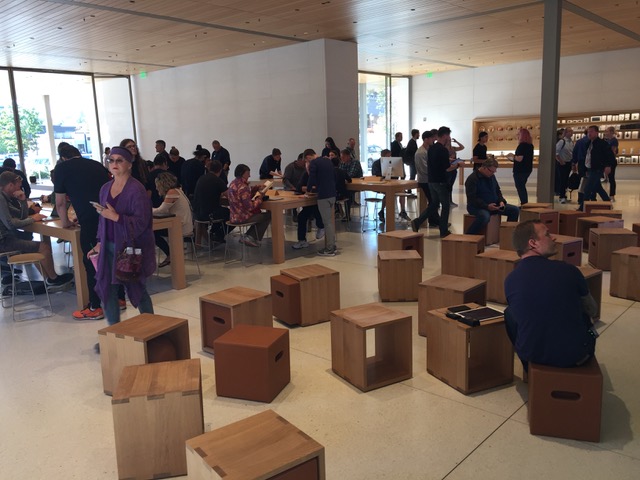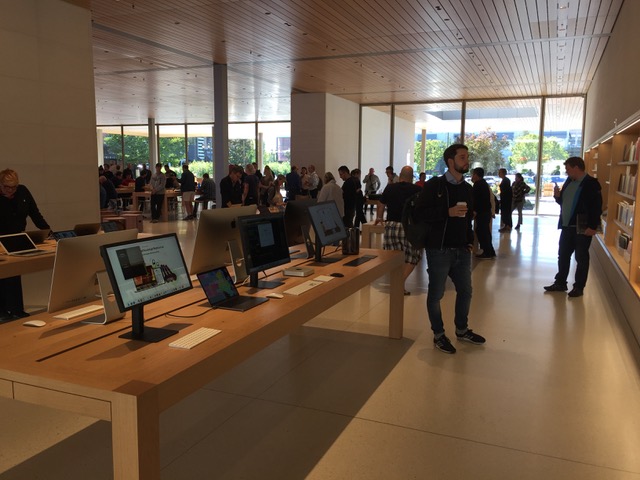 Published on: September 27, 2018
by Kevin Coupe
We've mentioned often on MNB about how demographic studies show that people are getting married later and having children later, shifts in behavior that inevitably will have an impact on their shopping and consumption habits. Businesses need to be prepared.
But the
Los Angeles Times
reports that there's also another byproduct of this changed behavior:
"New data show younger couples are approaching relationships very differently from baby boomers, who married young, divorced, remarried and so on. Generation X and especially millennials are being pickier about who they marry, tying the knot at older ages when education, careers and finances are on track." The result, the story says, "is a U.S. divorce rate that dropped 18% from 2008 to 2016."
The studies factor in the fact that there are more older people than ever, and older people are less likely to get divorced; they also factor in the fact that the marriage rate also has declined, meaning that there are fewer married couples to break up.
No, it seems to be that because people are waiting longer to get married, it gives them a better shot of staying married. It is an achievement, not an inevitability. And that's an Eye-Opener.
However, the story also notes that there is a demographic downside to this trend: "Many poorer and less educated Americans are opting not to get married at all. They're living together, and often raising kids together, but deciding not to tie the knot. And studies have shown these cohabiting relationships are less stable than they used to be. Fewer divorces, therefore, aren't only bad news for matrimonial lawyers but a sign of America's widening chasm of inequality. Marriage is becoming a more durable, but far more exclusive, institution."
Published on: September 27, 2018
Amazon this week plans to open a new bricks-and-mortar store format in Manhattan's Soho neighborhood, a store that
CNBC
writes is "unlike any shop the e-commerce giant has rolled out before" - it will only sell items that have gotten four stars or better on its website. It will be called Amazon 4 Star.
Amazon Prime members will pay the same prices that they would pay online, the story says.
According to the story, "customers will find items like a mini skillet, card games and many of the company's own electronic devices including the Echo Spot and Fire TV Stick, in the new store … it will also include some 'Trending Around NYC' items there, which Amazon is able to track on its website."
KC's View:

Unexpected as this is, it reflects something I've been trying to say to people who keep portraying Amazon's likely path in linear terms. As in, "they've opened four Amazon Go stores, so if they open 3,000 they all have to be similar." I don't think this is true … I think that Amazon is going to try a lot of different things to see what works. It isn't exactly a random approach, because they almost certainly have a sense that something like Amazon 4 Star has a shot at being successful and providing some critical learnings.

The Wall Street Journal points out that moves such as this one need to be seen within a broader context, that "Amazon's stores also allows it to learn about how consumers browse in person, a valuable category of data not available online."

One thing that the store does not seem to offer, from everything I've read, is delivery … but I'll bet that this could be in the store's future.

Published on: September 27, 2018
The
Chicago Tribune
reports that Walmart has gone to the Lincolnwood, Illinois, planning authorities to propose a Walmart Pickup location there, which would be located in a now-abandoned Dominick's supermarket location.
Lincolnwood is about a dozen miles north of downtown Chicago.
The pickup depot would be the first such Walmart installation in Illinois, and would feature two dozen stalls. Pickups would be of orders placed online.
If approved by local authorities, the Walmart Pickup location would open sometime next spring.
KC's View:

Just the beginning … I've been predicting for a long time that we're going to see a lot of these pickup depots going into Walmart parking lots around the country. It simply makes sense. They have the real estate, and it is one more way of establishing dominance over the so-called "last mile."

Published on: September 27, 2018
Fortune
reports that food delivery company GrubHub is spending $150 million to acquire Tapingo, which provides food delivery services to 150 college campuses and does tens of thousands of transactions each day. GrubHub currently has more than 15 million active customers.
The story notes that "even though it's been around for a few years now, GrubHub, which was founded in 2004, continues to grow at a rapid pace year over year, especially since merging with Seamless in 2013.
"In February of this year, the service added popular fast food chains Taco Bell and KFC to its delivery roster after testing the program with Taco Bell and KFC parent company Yum Brands in several cities. And in August, GrubHub acquired Boston-based LevelUp for $390 million in cash. LevelUp launched in 2011 as a mobile payments and loyalty rewards program platform."
KC's View:

The delivery battles continue, and only become more pronounced.

Published on: September 27, 2018
The
Washington Post
reports that Gillette - a company that has been disrupted by the likes of Dollar Shave Club and Harry's, which have successfully built market share using as subscription model - has identified a potential growth area for the company.
While it traditionally has targeted young men with its marketing, hoping to capture their business and enduring loyalty in perpetuity, Gillette recently has "begun to see another milestone emerge in their customers' lives: the moment when sons begin shaving their aging fathers."
That's not as easy as one might think: "It turned out there are a number of logistical challenges, too. Those who are bedridden don't have easy access to running water to rinse blades or wash off shaving cream. Traditional blades are quick to nick delicate skin."
And so, "After three years of observation, design and testing, Gillette is preparing to release the first razor built for caregivers to shave others. The Gillette Treo has an extra-wide handle and comes with a tube of clear gel that eliminates the need for running water or shaving cream."
The
Post
notes that "spending by Americans age 50 and up is expected to rise 58 percent to $4.74 trillion in the next 20 years, according to AARP. (Spending by 25- to 50-year-olds, by comparison, is expected to grow 24 percent.) At the same time, the number of adults taking care of elderly parents is expected to rise steadily in coming years."
The Gillette move is part of a larger continuum: "Retailers around the country are taking steps to make their stores more friendly to older shoppers. CVS has begun adding magnifying glasses to its shelves, while Target has increased the font size on pharmacy labels. Others have started using brighter lights and nonslip, matte flooring in their stores."
KC's View:

I just found this story fascinating. Good for Gillette identifying a market that most of us never thought about, and figuring out a way to serve it. If you're in this business, isn't that kind of the Holy Grail?

Published on: September 27, 2018
USA Today
reports that the US Food and Drug Administration (FDA) is issuing a draft rule that will now have it naming retailers that have been selling recalled items, not just the manufacturers that made them.
According to the story, the change "will mostly apply to 'serious recalls,' those in which eating the food could cause 'serious adverse health consequences or death to humans or animals' or in situations in which it's hard to figure out from the food's packaging – or lack thereof – if it's subject to the recall, such as deli cheese, nuts, fresh produce sold individually, rawhide chews or pet treats sold in bulk."
USA Today
goes on: "The FDA said it hasn't traditionally shared the names of specific stores who sold the recalled foods because of concerns about the confidential details of supplier-retailer relationships. In addition, in most cases the information recalling companies distribute is enough for shoppers to determine whether they've already purchased it and if not, how to avoid it."
KC's View:

But not always enough. I think this is an excellent idea … the health and wellness of shoppers is far more important than "the confidential details of supplier-retailer relationships."

Published on: September 27, 2018
The
Los Angeles Times
this morning reports that South Korean retail giant Shinsegae is planning a new 52,000 square foot store - dubbed PK Market - for downtown Los Angeles, a store that is described as offering a mixture of grocery shopping and casual dining experiences that could end up being a legitimate competitor to the likes of Whole Foods, which has a store about a block away.
Some context from the
Times
:
"Shinsegae is a massive diversified retail company that took in more than $28 billion in revenue last year. It operates department stores, supermarkets and convenience stores.
It's E-Mart chain of hypermarkets — similar to Walmart Supercenters — recently garnered amused headlines in the U.S. with its new six-packs of bananas of varying ripeness enabling consumers to eat an optimally ripe banana on consecutive days … PK Market is a new concept for the company. So far there are only two stores in Seoul, with a third on the way. Some large signs in the stores are in English because PK Market is targeted to young internationally minded consumers in South Korea who often speak English."
The company's initial foray, the
Times
suggests, is indicative of the degree to which Asian immigrants are having an influence in Southern California.
The
Times
also quotes retail expert and MNB fave Burt Flickinger, who says that "PK Markets are very good operators. They can really run the table against Whole Foods and get scale beyond this opening salvo of a store." And, he adds, PK could create a "slugfest" among LA food retailers, where "the winners are Southern California shoppers."
KC's View:

This sounds like a very interesting store that will build on the continuing rehabilitation of Los Angeles' downtown, and reflect the continuing focus in the food industry on "grocerant" concepts.

Published on: September 27, 2018
Amazon announced yesterday that it is expanding grocery delivery from its Whole Foods stores via Prime Now to 10 new markets - Milwaukee, Omaha, Detroit, Jacksonville, Madison, Orlando, St. Louis, Ann Arbor, Tampa and Tulsa - as well as expanding its availability in New York City and Seattle.
This expansion brings the total number of markets where Amazon's Whole Foods delivery service is available to 48.
At the same time, Amazon said it is expanding grocery pickup service at Whole Foods to Ft. Worth, Kennesaw, Richmond, Sacramento and Virginia Beach, with, it said, "continued plans for expansion." (Customers can choose free pickup in as little as an hour on orders of $35, or in 30 minutes for $4.99.)
Published on: September 27, 2018
• Amazon has informed its suppliers that it is instituting new parameters for its Frustration Free Packaging program. An excerpt from the email:
"Our Frustration-Free Packaging program includes multiple sustainable packaging initiatives, such as moving small items from boxes to flexible mailers, optimizing our selection of boxes to better address product size and weight, launching fully recyclable mailers, and working with our global Vendor partners to develop ready-to-ship packaging. Together these initiatives have eliminated more than 244,000 tons of packaging materials, and in 2017 alone, they saved the equivalent of 305 million shipping boxes.
"We're encouraged by these results, so we are now requiring that by August 1, 2019 all items larger than 18" x 14" x 8" or 20 lbs. or more sold through Amazon be designed and certified as ready-to-ship (Tier 1 – FFP or Tier 2 – SIOC) within our Frustration-Free Packaging programs. That means they'll be right sized, protective against damage, ready-to-ship without the need for additional packaging, and ideally easy to open, and recyclable. This will reduce waste through the entire supply chain and ensure that customers have a great experience every time they receive and open a package. While this won't take effect for 11 months, we are offering an early adopter credit for all items certified from September 4, 2018 until July 31, 2019 and received in our fulfillment network up until the launch date of August 1, 2019."
Published on: September 27, 2018
…with brief, occasional, italicized and sometimes gratuitous commentary…
•
Fox Business
reports that Starbucks has committed to spend $20 million to provide "temporary relief to smallholder farmers with whom the company does business," and who have been suffering through historically low coffee prices.
According to the story, "Starbucks said the fund will go to smallholder farmers in Nicaragua, Guatemala, Mexico and El Salvador to subsidize farmer income during the upcoming harvest season in Central America."
• The
Wall Street Journal
reports that McDonald's "is stripping artificial ingredients from more food to win over customers who, the burger chain believes, don't want to eat things with names like calcium propionate and sodium benzoate. Those and other ingredients found in the buns, cheese and sauce on some of McDonald's best-known burgers are gone from its U.S. restaurants, the chain said Wednesday. The Big Mac, Quarter Pounder with Cheese and burgers in Happy Meals are now among items free from artificial preservatives, flavors and coloring."
Artificial ingredients are either being replaced or simply eliminated, which will shorten the shelf life for many McDonald's menu items. However, not every artificial ingredient is affected: "Pickles remain a challenge. Executives said it could take them two more years to find a pickle with the same sour taste sans artificial preservatives."
•
MarketWatch
reports on how Weight Watchers has changed its name to "WW," adding the tagline,"Wellness that works." The goal is to put a greater emphasis on overall health and move away from an approach that is focused just diet and weight loss; the ideal is to be aspirational rather than scolding.
This is, the story says, "the latest in a wave of changes the 55-year-old company has rolled out recently, including ditching artificial ingredients in the food it sells to customers, embracing the social media star DJ Khaled and filmmaker Kevin Smith as celebrity partners, and enlisting powerhouse Oprah Winfrey as both as a brand ambassador and an investor."
Maybe this makes sense. But if you look at "WW" quickly, you may see Volkswagen. Or Wonder Woman. OrWestworld. I'm just not sure this is the best branding approach.
Published on: September 27, 2018
Responding to yesterday's story about how Amazon is investing in a prefab housing business, with a goal of integrating its smart home technologies into these homes, MNB reader Scott Nelson wrote:
I did not know until earlier this year that Sears was in the pre-fab home business.   There is a restaurant in Rockwall Texas called Bin 303 that is located in a Sears house.    Sears was a great company at one time.   It is too bad Fast Eddie is at the helm now.  It has been sinking for a long time. It seems like Eddie has been rearranging the deck chairs while getting ready to head to his luxury lifeboat.  

There were about 400 different styles of homes Sears sold, sporting such names as "The Argyle," "The Crescent," "The Hamilton," "The Kilbourne" and "The Sherburne." The 1922 Sears catalog listing for the Crescent, a one-story home, promised a five-room dwelling for either $1,855 or $2,228 ($27,235 and $32,712 in 2017 dollars), with Sears furnishing, among other things, the millwork, kitchen cupboard, flooring, shingles, porch screens and lumber to build the structure. The catalog offered two floor plans, and stated, "To the folks who like a touch of individuality with good taste, the Crescent makes a special appeal."
MNB reader Bill Purcell wrote:
On the article about Amazon getting into pre-fab housing via investment in modular construction factories --  that might be true, but there might be more important objectives.

These types of "mini stores" (under 300 sq feet) are skyrocketing in China.  They can be placed anywhere – even moved - and provide all of the basics similar to a small C-store with about 500-750 SKUs. Chinese start-up companies like Bingo-Box have raised over $100 million to deploy hundreds in China (there are about 5 other major VC-backed startups in China doing the same), and Alibaba and Tencent have each announced possibly tens of thousands of these in China over the coming years – not only on the busy corners, but also in every larger office building, apartment, school, park, etc. 

While small, they can be equipped with lockers, even refrigerated lockers, opening them up to for all sorts of grocery related ecommerce distribution.

The Chinese-style small box stores can't be deployed the same way in the US, because they use facial recognition, RFiD, and the WeChat app for payment, none of which are doable here.
 
BUT – if you could efficiently build this mini-store format – under 500 square feet can be done in a modular factory easily – and combine that with the current Amazon Go tech, Amazon could launch thousands of these across the country over the course of a couple of years, tying up all of the "good corners", and catching the rest of the industry flat footed, and have a huge local distribution network in addition to the store locations.
 
I know a couple of venture-backed start-ups around here in the Bay Area that are looking at similar things, combining a small format with the new staffless checkout tech similar to Amazon Go, but they are looking to sell and support them in conjunction with retail chains – so there might be an effective counter-punch for traditional retailers if Amazon tries this.
 
So, while getting into prefab housing may be involved, you can call me paranoid, but…
In her column yesterday about FEMA's Waffle House Index, Kate McMahon wrote that this is no joke … even though the existence of a Waffle House Index is ripe for comedians. Back in 2o11, Stephen Colbert - then hosting 'The Colbert Report' on Comedy Central - said that 'it is no accident Waffle House has become FEMA's syrup-smothered canary in a coal mine,' which, he then cracked, is 'also available on the menu'."
Prompting one MNB reader to write:
Stephen Colbert is a Pompous Ass. I had never heard this before, but those that were born in, or have lived in the South for any period of time, hopefully have spent time in a Waffle House…such an index does give a new meaning to smothered and covered. And should tell you a lot about the folks that work there.
I think you're half right. The old "Stephen Colbert" character on Comedy Central was designed to be a pompous ass. I happen to think that the real Stephen Colbert is pretty funny.
Also, for the record, he was raised in South Carolina, in and around Charleston - so he's a southerner. And I did a quick check, and there appear to be more than a half-dozen Waffle House locations in and around Charleston, so he's certainly better positioned to make such jokes than, say, I am.