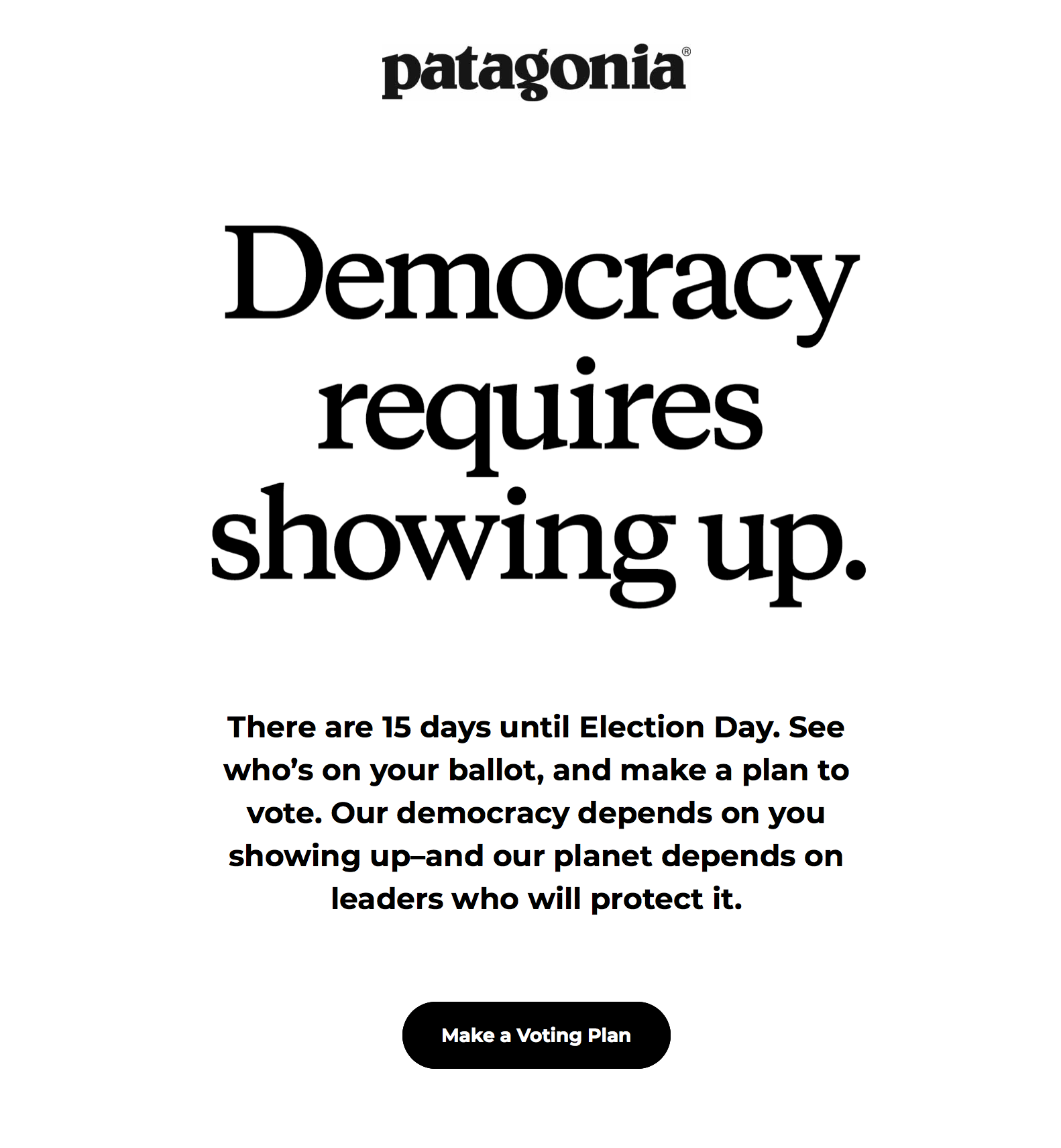 Content Guy's Note: Stories in this section are, in my estimation, important and relevant to business. However, they are relegated to this slot because some MNB readers have made clear that they prefer a politics-free MNB; I can't do that because sometimes the news calls out for coverage and commentary, but at least I can make it easy for folks to skip it if they so desire.

Yesterday in this space, we wrote about how Patagonia, for the first time in its history, has decided to endorse two candidates for the US Senate - incumbent Sen. Jon Tester (D-Montana) and challenger Jacky Rosen, the Democratic member of the House of Representatives who is running for in Nevada. And, we noted that this is completely in character and context - Patagonia has been public about its opposition to the Trump administration's environmental policies, and even sued the White House at one point.

Apparently it is not just campaign endorsements in which Patagonia is investing its equity. I've also received an email from the company - I am a regular customer - that you can see at left.

While it does not specifically advocate for any particular political party, the email is very simple and direct - it urges customers to a) vote, and b) remember that democracy depends on voters showing up and "our planet depends on leaders who protect it."

Interestingly, the Washington Post reports on how employers "are taking an increasingly active role in trying to get their workers to the polls on Election Day."

According to the story, "Many employers have held get-out-the-vote drives or encouraged workers to vote in past elections, and some companies have even made Election Day a corporate holiday. But in a year when interest in the midterm elections has reached a fever pitch, nonprofits that are focused on voter turnout say they're seeing a noticeable uptick in the enthusiasm and creative approaches that many employers are using this year to get more workers to the polls — whether by closing stores or offices, making paid time off or flexible work arrangements available, or by trying to remove obstacles to voting, such as securing transportation for workers or discouraging meetings for the day."

Among the companies taking a variety of approaches include Tyson Foods, Levi Strauss, Walmart, Gap, and Farmers Insurance.

Patagonia is going one step further - actually closing its stores on Election Day so that employees have plenty of time to vote.


KC's View:

Someone sent me a picture of a t-shirt the other day that seems appropriate to this conversation. The back had the following inscription:

The mayor In Jaws 2 is the same person who is the mayor in Jaws. That's why midterm elections are important.

The politics conversation just made me think about that.