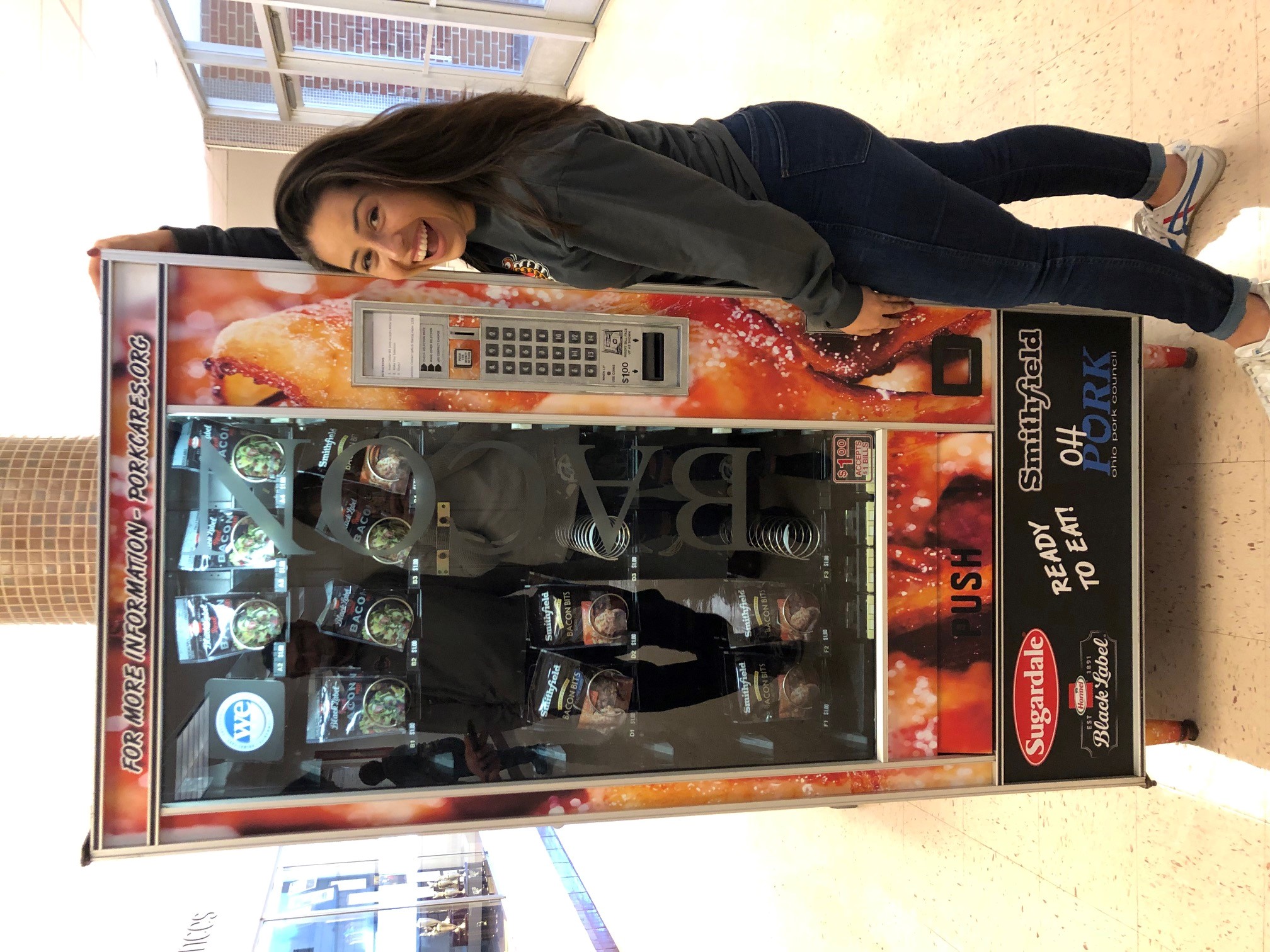 Last week, we reported here about how Ohio State University has a new benefit for students and staffers - a bacon vending machine, selling bacon that is cooked, shelf-stable, and, we suggested, probably perfect when cramming for exams.

The vending machine is sponsored by the Ohio Pork Council, and sells bacon donated by companies such as Smithfield, Hormel and Sugardale. Each bacon strip costs a buck, with proceeds being donated to the university's meat science program, which also is servicing the machine.

MNB reader Sandi Cotter responded to the story:

I reached out to my daughter Maria, an OSU Ph.D. student in food science, after I saw your note about the new vending machine at OSU.  She was on her way to see it since it was all the talk in the food science department.  She sent the attached photo and said I could share it with you.

I especially love the "porkcares.org" website address on the machine.  Great stuff!



Regarding the recent decision by the Portland City Council to pass an ordinance "that will drastically reduce single-use plastics across the city," by restricting the use of plastic serviceware like straws, stirrers, utensils, and condiment packaging, one MNB reader wrote:

Seems as though crowds like to follow each other when it comes to the next thing that is in vogue for saving the planet, this time, straws.

Alternatives to straws might be paper (chop down a tree), metal (buy one for $1 and reuse, forget about the gases released during smelting), or perhaps new sippy lids (uh oh, more plastic, maybe the same as a straw).

As I read about mandates regarding the use of straws and plastic bags I'm intrigued that no one has brought up what might be the most disposable single one-use plastic item – K-Cups. Is it because some folks are selective as to what they'll give up to save the planet?
 
Are the crowds saying, "I'll join in saving the planet, but leave my coffee fix alone buster!"

Change often - usually - comes in small increments, and in fits and starts.

As for me, I don't use straws or K-Cups.



On another subject, got the following email from MNB reader Janis Raye:

Your story about how the Stop & Shop folks wanted you to moderate their panel discussion because you were a good critic reminds me of a story I remember about the wonderful Feargal Quinn, back in his Superquinn days. He told me that when he held customer focus groups about the stores, the first thing he would say is (I'm paraphrasing, of course, but you'll get the gist), "I don't want to hear your positive comments — I know you like the store. I only want to hear your criticism. That's what will help us improve." I often think about that when considering customer feedback. It's great to hear that customers love your product or store, but if you're committed to getting better, you have to be not just willing to hear the criticism, you have to encourage it.



Regarding the new store that Publix has opened on a college campus, MNB reader Bob McGehee wrote:

I bet they have a ramen noodle section unequaled in the entire grocery world.

Good bet.



We continue to get email about the "Baby, It's Cold Outside" controversy.

One MNB reader wrote:

At the cost of prolonging the discussion, I wanted to take a moment to point out the difference between the Rudolph song and "Baby."  The Rudolph song, like Dr. Seuss' 'Sneetches,' provides a moral lesson—that differences can be valuable, and that any difference is superficial and unrelated to one's worth.  "Rudolph, the Red-Nosed Reindeer" provides a positive lesson, it does not promote bullying.

As to "Baby, It's Cold Outside," this was always about talking a woman into staying at a man's place following an evening together, although historically, it was probably allowed that it did not mean they would engage in sex.  Though were you to ask any male of the period (in the company of other males only), I imagine you might well hear that the assumption is that the guy in the song 'gets lucky,' or whatever the equivalent of the day was.  This is a man coercing a woman ostensibly using safety (it's late, it's snowing, the roads are terrible) to stay when she initially states an intention to leave.  That she stays after all might be because of that additional drink she accepts mid-song.

Argue if you wish, but the lesson of the song is that you can continue to argue with a woman after she says 'no,' and that plying her with alcohol may help.  In the context of 70-odd years ago, it was a social dating 'game' that both knew the rules to - in popular culture, a woman might play 'hard to get' or some such, and it is likely that the song is meant to illustrate that.  While I'm certain the song was not created to promote date rape, I'm not sure I'd be comfortable letting my children hear the song without giving them the context and how it differs from current 'acceptable' behavior.

From another MNB reader:

You had a couple of readers advocating that the radio stations should just play the song and those who didn't like it could just change the station. Did they forget that radio stations are businesses? It doesn't make sense to do something that is going to actively drive customers away from you to your competition. I would think that there are significantly more people that would change the station because a song they find offensive was played, than those that would change the station because a song they are not offended by was not played. Smart business move by the Radio Stations that are not playing the controversial song.

From another reader:

Think it's worth pointing out that several (many) people feel that if a listener doesn't want to hear Baby It's Cold Outside, they should just change the station. That's the whole point. This is just pragmatic business. As a radio station owner, I DON'T WANT YOU TO CHANGE THE STATION. I lose money when people tune out, so if I think people will change the station when I play a particular song, I just won't play the song.

Another example, if I owned a radio station playing Christmas music, I wouldn't play "Dominick the Donkey" because I'd be afraid people would change the station rather than listen to it.

In fact, I'd be concerned people would deliberately drive off a cliff rather than listen to it.



Finally, responding to my argument yesterday that retailers need to be thinking about loyalty programs that can compete effectively with Amazon Prime, one MNB reader wrote:

While "imitation may be the sincerest form of flattery," merely duplicating Amazon's prime program is a loser for retailers. While Amazon offers an unlimited assortment of products across unlimited categories, i.e. a reason to shop frequently, this is not the case with Lululemon. In their case, consumers might shop for athletic wear only several times/yr, and are looking for innovation and variety when they do. What retailers need to do is understand in a rapidly disrupting environment they need to innovate in their categories by understanding shopper requirements and building solutions that drive three imperatives, loyalty, frequency and basket load. IMHO, copying Prime, just ain't the solution.

I certainly did not mean to suggest that people should copy Amazon Prime … just that to compete with Prime, companies need to collect and track data and act on it, and find ways to treat best customers as if they actually are best customers.