Published on: April 29, 2019
In this new edition of the Retail Tomorrow Podcast, we discuss the unique partnership between Kroger and Microsoft, developing cutting edge innovations that will take each of them to the next level when it comes to things like digital shelving, video analytics, sensor networks, temperature tags … and beyond. And here's the thing - the innovations that emerge are not proprietary, but will be available to any retailer looking to leap into the future.

This podcast was recorded at GMDC's recent Retail Tomorrow Immersion conference in Los Angeles.

Our guests:

Kevin Fessenden, Senior Product Manager at Sunrise Technology, which is a Kroger company.

Chris Dieringer, Senior Director of Industry Solutions for the Retail and CPG Industry at Microsoft.

The host: Kevin Coupe, MorningNewsBeat's "Content Guy."

You can listen to the podcast here, or on iTunes and Google Play.

Pictured, from left to right:

Kevin Coupe, Chris Dieringer, Kevin Fessenden.
Published on: April 29, 2019
Last week, Amazon announced that it was moving to an offer of one-day delivery of products bought by members of its Prime program, essentially cutting in half the time it takes to deliver items bought by people who spend $119 a year to be Prime members. The investment will cost it an expected $800 million.
The responses were varied and even a little vague.
After the Amazon announcement, Walmart responded in a tweet: "One-day free shipping...without a membership fee. Now THAT would be groundbreaking. Stay tuned." Which suggests that it is crafting a competitive response.
The
Wall Street Journal
notes that both Walmart and Target offer "free two-day shipping on orders $35 and up, as well as an array of other delivery and pickup options … Walmart and Target have invested heavily in their supply chains to offer faster shipping options, but they have also emphasized ways for shoppers to pick up orders in stores to defray shipping costs. Sales have increased at both retailers thanks to investments in stores and digital capabilities."
The
Journal
quotes a Target spokesman as saying that it "offers shoppers 'numerous ways to shop same-day and receive their purchases within hours,"' including options to pick up orders at stores, which don't require a membership."
CNN
reports that the announcement "has sparked a tense back-and-forth between an Amazon executive and the leader of a major workers' union.
"Stuart Appelbaum, president of the Retail, Wholesale and Department Store Union, said speeding up deliveries could be dangerous for Amazon fulfillment center employees. Appelbaum said workers are already struggling to keep pace and handle 200 to 300 orders per hour during a single 12-hour shift."
However, Amazon's Dave Clark, senior vice president of worldwide operations, responded, "We appreciate his concern for our associates but his concern is misguided and self-serving." And a company spokesman tells
CNN
that "workers do 'not struggle to maintain' their workloads, and their lives are not at stake. 'We have a very safe work environment'."
KC's View:

The fact that both Walmart and Target can more effectively offer click-and-collect in addition to delivery gives them a strong argument in this competition, though I suspect that Amazon's new one-day promise will increase the pressure on everyone to be faster and better … which not everyone can afford to do in the same way that Amazon can.

I also think, though, that this will increase the visibility given to the times when Amazon does not live up to the promise … which can and does happen. It generally has been pretty good at under-promising and then over-delivering, but less so lately, I think … and with greater visibility given to bigger promises, it'll more attention when it drops the ball.

Besides, there is a pretty good argument out there that same-day, not next-day, is where the battle really will be played out. If I'm Walmart, Target for anyone else, I start focusing on that battle, not the next-day interregnum.

Published on: April 29, 2019
A pair of stories in the
Wall Street Journal
illustrate how different retailers have navigated the rough waters in which so many traditional retailers have found themselves…
There is the story of Atlanta-based A Cappella Books, which spent a decade "on the edge of collapse," with mounting debt and a seeming inability to compete effectively with Amazon and big box chains.
But now, sales are up - to almost $1 million annually - and so are margins. How?
Owner Frank Reiss, the story says, "added a whole other side to his operation, author events, which proved lucrative and bolstered his storefront operation. And he focused his events and his bookstore selections to reflect his interests - a personal touch that resonates with a lot of customers these days … the selling point has evolved into speakers and a book selection that generally represent his liberal political slant, distinctive musical interests, such as protest and folk music, and a fresh take on Southern history."
In other words, his bookstore almost became more about curation than simply replicating what other stores, both online and bricks-and-mortar, were doing. Reiss also has been lucky, in that he's part of a broader rebound in the independent bookseller segment, as many bookstores - by having a stronger attitude and specific point of view - have taken advantage of the fact that the big chains have fallen … and customers have begun wanting to shop local and embrace independent booksellers.
At the same time, the
Journal
has the story of New York-based sport goods chain Modell's, which recently hired a turnaround firm to help it deal with tough times - a move that spooked may of its vendors, which had seen the likes of Sports Authority and Sports Chalet file for bankruptcy in recent years.
"There were legitimate reasons for Modell's vendors to be anxious," the
Journal
writes. "After all, dozens of retailers have failed in the past three years and the carnage isn't expected to subside anytime soon. December and January were tough months for Modell's, contributing to a sharp drop in same-store sales in the last fiscal quarter. Even though it followed four straight quarters of higher same-store sales, Modell's vendors needed explanations and handholding." Plus, the company has been hurt by the fact that many of the local teams in the markets it serves have not done well, which means that fewer people want to wear the shirts and hats bearing their logos.
Fourth-generation CEO Mitchell Modell essentially had a two-pronged strategy for dealing with the problems. First, he "over-communicated" with the CEOs of the vendor companies, making sure that each one of them had his cell phone number, explaining his circumstances in detail, and stressing that his name was on the door and that he took survival very seriously. He even provided vendors "with the company's financials under nondisclosure agreements."
Second, "Modell's is also planning to close some of its 150 stores and to start opening pop-up stores and smaller formats." This has been tied to concessions that the company has been able to get from some of its landlords.
KC's View:

The lesson seems simple and clear - if you want to survive these days, you can't do the same old thing. You have to have a stronger point of view. You have to have more attitude. You should curate, not just stock stuff. And, in the case of Modell's, it'd be nice if they gave the Mets some of the attention that they give the Yankees. (I don't like to go there mostly because they're so over the top for the Yankees … it is just annoying.)

Published on: April 29, 2019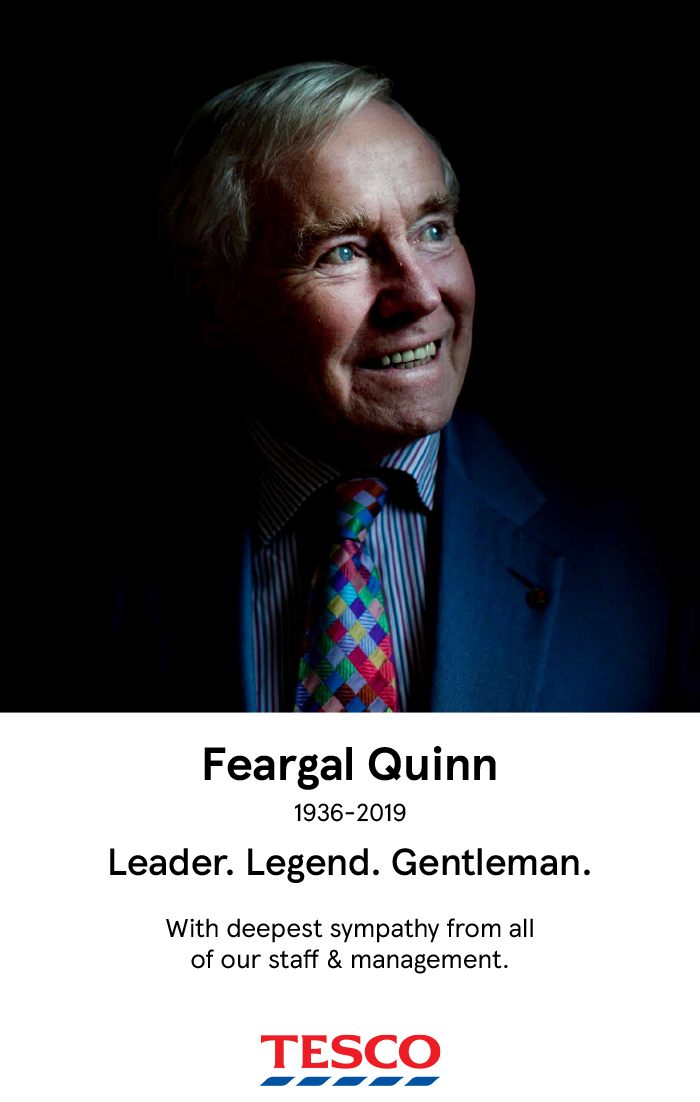 We reported last week on the passing of legendary food retailer Feargal Quinn at age 80, and it was remarkable to see this one-page advertisement that Tesco, a longtime competitor to his Superquinn stores in Ireland, took out.

Sometimes, a picture really is worth a thousand words and reflects enormous respect.

Like I said. A class act.
Published on: April 29, 2019
Quartz
has the story of how PepsiCo has sued four farmers in India, charging that they have infringed on its patent for its proprietary FC5 potatoes, "which are designed to be lower in moisture than other spuds," and that are used for its Lays potato chip brand.
According to the story, "The giant has demanded10 million rupees, or about $142,000, from each allegedly infringing farmer. It's a steep demand for the defendants, who all have small, independent farms in the state of Gujarat, a leading potato-production region."
The farmers are fighting back, saying that they've been growing potatoes for a long time, usually using seeds from the previous year's harvest - though they have not explained how they came to grow the FC5. They say that Pepsi stands in violation of the Protection of Plant Varieties and Farmers Rights Act of 2001, which "allows farmers to 'save, use, sow, resow, exchange, share or sell his farm produce including seed of a variety' so long as they do not sell branded seed."
The All India Farmers' Forum (AIFF) has demanded that Pepsi immediately withdraw its lawsuits and "apologize to the peasants of India."
Quartz
says that PepsiCo has offered to drop the suit if the farmers stop growing the FC5. "The farmers' lawyer asked for time to consider Pepsi's join-us-or-perish offer, and the parties are expected to return to court on June 12."
KC's View:

It is interesting to see news reports suggesting that even the folks at PepsiCo corporate realize that the whole anti-peasant thing isn't a good look for them. They'd be well advised to make this thing go away as fast as possible.

Published on: April 29, 2019
The
Washington Post
has the story of Bed Bath & Beyond, which "has built a business on coupons. The housewares chain began mailing out 20 percent off 'Big Blue' coupons nearly 30 years ago, at a time when sweeping discounts were a novelty. The idea was that the coupons would draw shoppers into the store, where they would then buy other items at full price. And for many years, it worked.
"But now, after years of stalled sales and declining profits, the New Jersey-based retailer is pulling back on coupons in a broad effort to turn around its business. The company is mailing out fewer promotions and is choosier about how those offers can be used. (It is common knowledge, frequent shoppers say, that coupons can be used after they've expired, and that multiple coupons can be applied to each transaction.)"
According to the story, "Executives say weaning customers off discounts will ultimately lead to higher profits. But analysts say the retailer faces an even bigger challenge: Getting customers into its stores, even without coupons."
And, the
Post
goes on: "Bed Bath & Beyond says it is addressing those concerns by creating new private-label brands, reorganizing stores and closing 40 under-performing locations. The company has also opened a number of 'lab stores' that focus on home decor, food and drinks, and health and beauty care."
However, this may not be enough for a trio of activist investment groups that seem to believe that Bed Bath & Beyond isn't doing enough to address the reality that "same-store sales, a closely watched industry metric, have declined for eight straight quarters, and shares of the company's stock are down 80 percent since 2013."
KC's View:

We've made note of the Bed Bath & Beyond conundrum here before - the fact that it has worked so hard to addict its shoppers to coupons that it undermined any value proposition beyond those blue cards. I don't think that private label is the answer … and they've got to figure out a way to make their lab stores attractive and competitive with venues that already exist.

Now, it only gets worse … because the activist investors are in a position to do something about it. That said, this may not be a bad thing, since current management isn't getting it done.

Published on: April 29, 2019
Bloomberg
has a story about the nascent anti-disposable coffee cup movement, which starts this way:
"The People's Republic of Berkeley, Calif., takes pride in its leadership on all things civic and environmental. The small liberal city east of San Francisco was one of the first U.S. cities to adopt curbside recycling. It banned styrofoam and was early to take on plastic shopping bags. Earlier this year, the Berkeley city council put on notice a new environmental scourge: The to-go coffee cup.
"Some 40 million disposable cups get tossed in the city each year, according to the city council, almost one per resident per day. So in January, the city said it will require coffee shops to charge an extra 25-cents for customers who use a take-away cup."
Berkeley, the story notes, isn't alone: "Overwhelmed by trash, jurisdictions around the world are banning single-use plastic takeaway containers and cups. Europe says plastic beverage cups have to go by 2021. India wants them out by 2022. Taiwan set a deadline of 2030. Surcharges like Berkeley's are likely to get more common in an attempt to quickly change consumer behavior before more outright bans."
Of course, this trend creates enormous challenges from anybody who sells coffee-to-go, especially chains like Starbucks, Dunkin' and McDonald's.
You can read the entire piece
here
.
KC's View:

I thought this was interesting, especially in view of my own actions this weekend. I was driving up to Toronto for some meetings, and stopped several times along the way to get coffee. I went inside, bought coffee, then came outside and poured the coffee from the disposable cup into my MNB Yeti … and then threw the disposable cup away. That strikes me now as utterly wasteful … I should've brought the Yeti inside and saved just a little bit of paper, and if we as a culture can train ourselves to do that, the world will be a little bit better off.

It applies to straws. It applies to grocery bags. It applies to coffee cups. Just takes a little effort, and a little consciousness-raising.

Published on: April 29, 2019
…with brief, occasional, italicized and sometimes gratuitous commentary…
•
Digiday
has a story about how Amazon's success in the cloud computing business has opened up opportunities for its technology rivals to make deals with its retail competitors.
The story notes that "Amazon Web Services is the biggest cloud-computing business on the market, bringing in $7.4 billion in revenue for Amazon in the fourth quarter of 2018. But over the last couple of years, a steady stream of retailers like Target, Walmart and Kroger have signed multiyear deals with its biggest competitors, Microsoft Azure and Google Cloud … Both companies have made developments over the past couple of years to their cloud-computing businesses specifically targeting retailers."
The story goes on: "Previously, a retailer might have built its own in-house data center or leased servers on a monthly basis. But today's big-box retailers have huge data storage and web processing needs, as they sell more product online, offer a variety of shipping and delivery methods, and have multiple mobile applications to collect more customer data. Amazon got a head start — Amazon Web Services was open for business in 2006. But retailers have reason to be wary of working with them.
"Neither Microsoft Azure nor Google Cloud discloses exactly how many retail customers they have. But within the past two years, Microsoft Azure has announced contracts with Walgreens, Albertson's, Walmart, Kroger and Gap. Google Cloud, meanwhile, has secured Target, Shopify and Home Depot as customers within the past few years. CNBC previously reported that Target, in particular, started considering moving away from Amazon Web Services after Amazon acquired Whole Foods, not wanting to give more of their business to a division of its competitor."
Not to be overly self-referential, but this seems like a good place to point out that this was precisely the rationale behind our Retail Tomorrow podcast about the Kroger-Microsoft alliance, featuring people from both companies explaining it in some dept. As noted above, you can listen to the podcast here, or on iTunes and Google Play.
Published on: April 29, 2019
…with brief, occasional, italicized and sometimes gratuitous commentary…
• The
New York Times
has a story about how, while e-cigarette company Juul has been assuring federal regulators that it will do everything possible to keep its product away from teens, its actions at the state level demonstrate a different set of priorities.
According to the story, "a new army of Juul lobbyists is aggressively pushing measures that undermine that pledge.
"The company's 80-plus lobbyists in 50 states are fighting proposals to ban flavored e-cigarette pods, which are big draws for teenagers; pushing legislation that includes provisions denying local governments the right to adopt strict vaping controls; and working to make sure that bills to discourage youth vaping do not have stringent enforcement measures."
Juul executives dispute this characterization, saying that its actions demonstrate its commitment to prevent youth vaping.
But, "as it faces serious regulatory threats from the Trump administration, as well as targeting by state and city lawmakers, the company has quickly built an enormous lobbying machine to protect its turf as best it can … Most of Juul's state lobbyists work for well-connected firms run by ex-governors, former state lawmakers and big political donors, public records show. Some are in-house, based in the growing number of offices the company is opening around the country. The company's latest star hire is Martha Coakley, the former attorney general of Massachusetts."
What a shock. A company specializing in making a nicotine delivery system is lying about its methods, priorities, strategies and tactics. Of course they're lying … their whole business premise is based on getting people addicted to their product, and it is a lot more effective to get them hooked while they're young and stupid. The problem is that as a culture we're stupid enough to believe these people, and stupid enough to allow former lawmakers who worked for us to take their money and then lobby their former associates.
Published on: April 29, 2019
…will return.
Published on: April 29, 2019
At a time when traditional ways of watching movies have been threatened by streaming technology that allows you to watch at home, this past weekend was a lesson in how the old ways can still be profitable when the right product is made available to an audience hungry to see it.
We are talking, of course, about
Avengers: Endgame
, which brought in global box office receipts of $1.2 billion since it opened last Thursday night … $350 million of it in the US and Canada, far more than what the previous record-holder,
Star Wars: The Force Awakens
brought in during as comparable opening weekend.
The
New York Times
writes that
Avengers: Endgame
"ended up defying all kinds of conventional wisdom — that sequels are not supposed to be critical darlings, that there is no center of the culture anymore, that marathon running times (three hours in this case) drive people away, that every studio has hits and misses. Marvel is now 22-0 when it comes to the box office."
KC's View:

I do think the success of Endgame also can be seen as having a downside, as the theatrical experience becomes about one kind of movie, and streaming becomes about another, smaller, more intimate experience for smaller, more intimate movies. This may not even be a downside … it may just be a reality. And maybe, if more movies get made because there are a greater variety of distribution options, it'll end up being a good thing overall. And maybe, theaters will end up regretting that they came to depend on just one particular kind of blockbuster.