Published on: May 10, 2019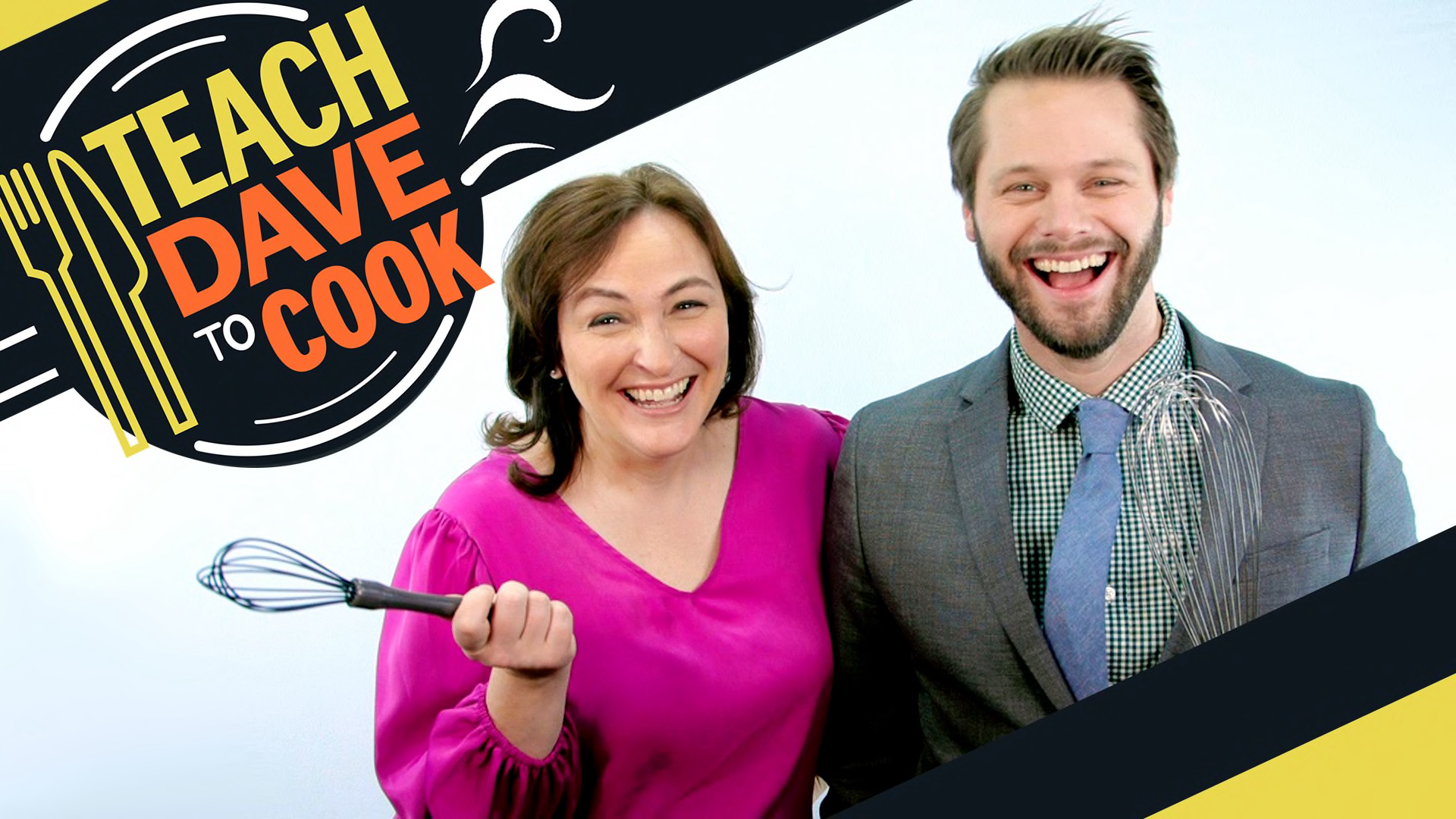 The Washington Post currently is offering a short video series titled "Teach Dave To Cook," in which Mary Beth Albright, who carries the title of "Washington Post Food Host," offers Dave Jorgenson, the "Washington Post Satirist," some basic cooking instructions.

It is, in several ways, a revelation and an Eye-Opener. (You can check it out yourself at left. It also is available, natch, on Amazon Prime Video, which makes sense since Amazon CEO Jeff Bezos owns the Post in a personal investment.)

First, the five short lessons - they run 10 minutes or less apiece - are actually instructive, especially if you don't know how to cook. There is some basic information provided about things like how to cook a steak and why it is important to have one good sharp knife, that more people than we might expect ought to know but don't. (I was jazzed to see that one of the brands featured in the show was California Olive Ranch olive oil, an old MNB sponsor.)

Second, the segment on "how to grocery shop" is the kind of video that every retailer ought to be making and featuring both in-store and on their websites. I think the industry assumes a lot that it shouldn't about shoppers' knowledge, and while I was watching "Teach Dave To Cook," I kept wondering why it fell to the Washington Post, and not some savvy retailer, to make such videos.

The reason, as it happens, is that newspapers that want to stay in business these days have to define themselves and their missions a lot more broadly these days. Which is the third way in which this series is an Eye-Opener, though it may mean more to me than to you.

When I started out in newspapers (for the same chain, Gannett, for which Michael Sansolo was laboring for a different paper just a few miles away, as it happens), there weren't titles or roles like "food host" and "satirist." If there were, I might've stayed in newspapers. No, we had reporters and editors and photographers and yes, even typesetters. (This was so long ago that I wrote my stories on an IBM Selectric typewriter. It was pre-computers.) But no satirists (there were a few columnists) and certainly no food hosts.

I actually think that it is a good thing, in a lot of ways, that some newspapers have been able to redefine their mission and roles in a broader context. A lot of the bleeding that was going on in print journalism has been stanched by the current political climate; papers like the Post and the New York Times are having record years in terms of subscriptions, and building up their sales, all because there is so much happening on which to report. But they're also seeing the opportunity to do other things, to expand their use of technology and to matter in how people live their lives, even to the point of helping them learn how to cook and how to shop.

They are, come to think of it, no longer just a source of product/news. They are a much broader resource for their readers.

And, yup. That's an Eye-Opener, and a lesson worth learning for every business.