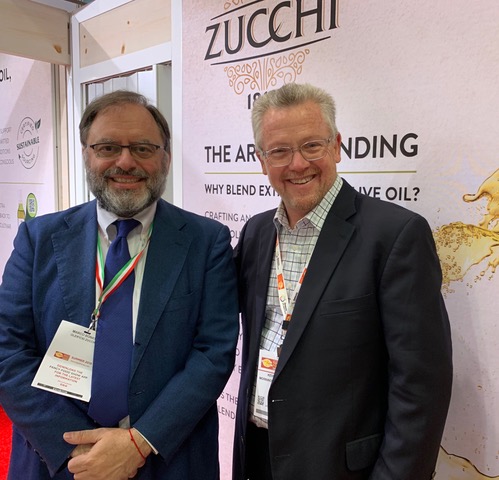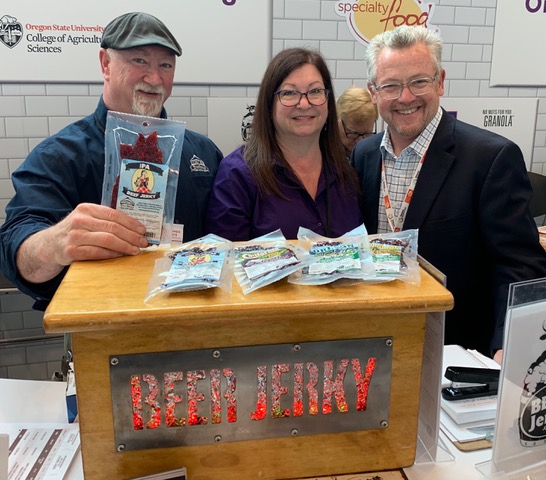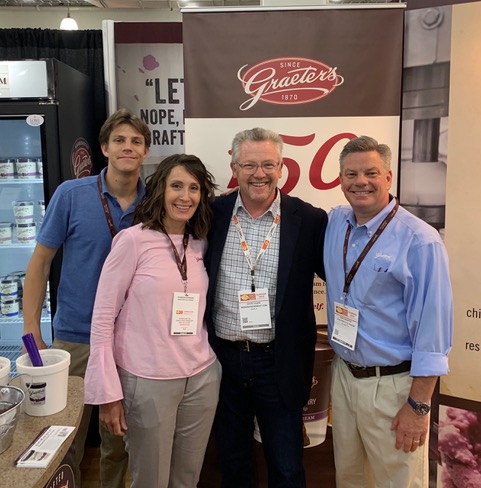 by Kevin Coupe

For the first time in years I had the opportunity to briefly attend the Summer Fancy Food Show, held at the Javits Center in New York City and put on by the Specialty Food Association. Most years, I'm in Oregon when the show takes place, teaching at Portland State University … but for a variety of reasons this year my trip west was delayed, and so I hopped on the train and ventured into Manhattan for a few hours.

Some of the scuttlebutt that I picked up on suggested that there was some disappointment with attendance - fewer retailers wandering the floor, and fewer deals being done. Some of this may be inevitable - both the retailer and manufacturer segments have gone through consolidation.

But I have to say that I enjoyed my quick stroll through the show … because I got to see some old friends of MNB, and because it reminded me of where so much innovation takes place.

Pictures at left, in order…

• It was fun to catch up with the folks at Zucchi - who, I will point out in the interest of full disclosure, are sponsors of MNB - because their philosophy is so much in synch with my priorities. I love the idea that their olive oil bottle shave QR code that allow the user to instantly trace the origins of what they are consuming … I've felt for a long time that this kind of traceability and trackability will be key to retailers and suppliers maintaining their credibility.

• I was glad to meet new friends Glenn and Kay Lohr, who had their BeerJerky.com company at the Incubator Village. I'm not a big beef jerky guy, but their product is amazing...beef jerky that is marinated in beer or wine. It is delicious...and the best thing about it is that I originally tasted it several years ago when Roland Fornataro, one of the students in the summer class I teach at Portland State, brought it in to sample and pitch to some retailers. It was early days, Roland was family to Glenn and Kay, and he was getting his marketing feet wet.

(Longtime readers of MNB may remember the experience - I talked about it on an old FaceTime.)

• It also was fun to hang out for a few minutes with my friends from Graeter's - which has sort of become the unofficial-official ice cream of MorningNewsBeat. As I wrote on social media, Graeter's ice cream is my kryptonite, but when I eat it, I'm a happy Content Guy. (They were amused by a story I told them about how a friend of my kids came by the house recently, joined us for dinner, and then, because he had an enormous case of the munchies - I didn't question why - went through a couple of pints of Graeter's that we had stashed in the freezer and proclaimed himself a fan forever.)

There were, of course, aisles and aisles of specialty foods available for tasting and, for the retailer looking to differentiate itself, acquisition. Which is the larger point, I think.

The most important thing any retailer can do these days is differentiate itself - to create an experience that is unique and compelling and to offer products that are different from those offered b y the retailer across the street, across town, or via the internet.

This isn't easy. It never ends. But as I saw all those specialty foods and tasted just some of them, it reminded me how important it is that food stores actually be in the food business.

It is easy to be in the business of selling boxes and bags and cartons and jars. It is a lot more challenging to celebrate food. But to me, that's where the magic is. That can be the secret sauce. That can be where success can be found. And, even more importantly, tasted.