Published on: September 5, 2019
This commentary is available as both text and video; enjoy both or either ... they are similar, but not exactly the same. To see past FaceTime commentaries, go to the MNB Channel on YouTube.

Hi, Kevin Coupe here and this is FaceTime with the Content Guy…

A story that I have told from time to time is about how Mrs. Content Guy and I once came close to divorce. (Spoiler alert: We've been married more than 36 years, this happened about 34 years ago, and it may be fair to suggest that I'm being mildly hyperbolic.)

It all had to do with a grill. We'd just bought our house, and it was time to get a grill for the backyard. Mrs. Content Guy and I went to the store and bought one that we had to bring home and build; I was dubious because I don't know how to build anything, have no talent for or interest in such things, but Mrs. Content Guy thought it would be a fun thing to do
together.

To my recollection I didn't quote Westley from The Princess Bride - "As you wish" - but I could've and should've. (Fans of the movie will get my meaning.)

Anyway, we brought the grill home and one bright morning we opened the box in the garage and started to build it, encouraged by the fact that the box said we could do it in just a few hours.

Maybe 12 hours later, the sun had gone down and the garage was illuminated by a solitary dim bulb … and we were still building the damned grill. When we finally were done - Mrs. Content Guy had been handing me things and telling me what to do with them, and I'd been following her directions - she held up a bag of gizmos and said, "What are these for?" It ended up that these were washers that you needed to hold the grill together and so we had to slowly take it apart and put the washers on.

It all was enough to make me question the wisdom of marriage.

Over the years we've had a series of grills, and since then we've always had it built by the retailer and delivered. No argument, no discussion.

Recently we were in need of a new grill, and I decided that I'd try something I had not before - I went on Amazon, which not only had the Weber grill I wanted, but also would come to the house and build it. For free.

The price was competitive, the offer was irresistible. So I ordered it. In a few days, it showed up. The next day, Omar - who told me he was an independent contractor used by Amazon for such projects - came to the house and built by grill. He was so great that I'm going to use him for other stuff for which I have no capacity nor interest. (It is a long list.)

The lesson is this: It seems to me that Amazon sees almost limitations as it designs and grows its ecosystem. This was something that I never would've expected it to do, and I only went on the site out of idle curiosity. But they made an offer that closed the deal. Fast. And I was utterly satisfied.

The implication: If you are going to compete with Amazon, you have to have some understanding for how far it will go and how much it will do to capture and keep a customer. You may have a different value proposition and a completely different set of company values, but you have to appreciate the depth and breadth of Amazon's commitment to keeping customers happy. And returning. Again and again and again, and it puts into place the building blocks of persistent and sustained relationships with its shoppers.

That's what is on my mind this morning, and, as always, I want to hear what is on your mind.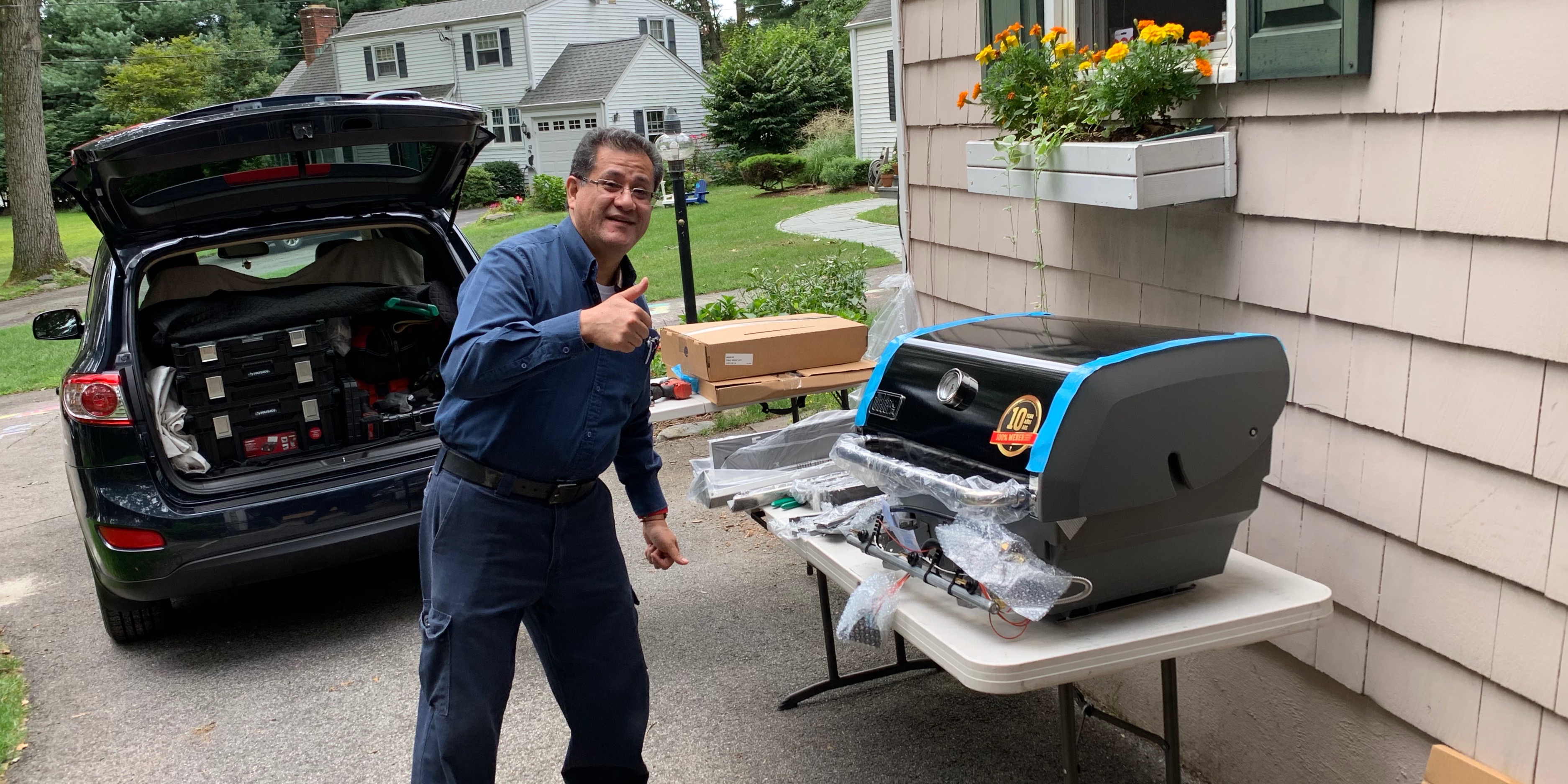 Published on: September 5, 2019
by Kevin Coupe
Great piece in the
Washington Post
about how this summer marked the 25th anniversary of
The Shawshank Redemption
, which against all odds - it got mixed reviews when it opened, and was a box office disappointment - has "emerged as an unlikely entry in the contest for the most beloved movie of all time.
"It's not a family saga like
The Godfather
, or a geopolitical romance like
Casablanca
, or a technical masterpiece like
Citizen Kane
— just a box-office also-ran about two prison friends. It's too sappy, some might say. It's too neat. It's basically an all-male cast. It's not quite at those other movies' level, but it's not quite not at their level, as it's spent the last 11 years as the No. 1-rated movie on IMDb. It somehow found the right alchemy of hope and friendship and, of course, redemption…"
It is a really good
piece
that makes the point that relevance and resonance can come from unexpected places … and sometimes because of unexpected exposure.
You see, part of the reason that
The Shawshank Redemption
has gained so much audience love is that it was made for repeated airing on cable television - "Ted Turner started blasting it all over TNT and TBS, where it's aired more than 100 times."
And
Shawshank
, the story says, "works particularly well on a small screen. It's a relationship study with few vistas or intricacies, and no human being who's seen it before can change the channel before the final payoff. Urban Dictionary even has a term for 'the condition of having been sucked in by a highly watchable movie while channel surfing': Shawshanked."
The story points out that the movie's cult status has led to the creation of a Shawshank Trail in Ohio, which takes visitors to all the locations used in the movie. (Ohio stood in for Maine.) And it notes that Nelson Mandela once said that "the film's depiction of incarceration hit home — as did its message that hope can heal."
That message is what most resounds in the movie. It is what Andy (Tim Robbins) tells Red (Morgan Freeman), the
Post
writes, that "'"hope is a good thing, maybe the best of things, and no good thing ever dies.'
Shawshank
inspires faith in the survival of many good things: knowledge, art, justice. It wants us to believe that a best friend is forever. That walls cannot confine you and do not define you."
And that's my idea of an Eye-Opener.
Published on: September 5, 2019
The
El Paso Times
reports that two people who were seriously wounded in the mass shooting at an El Paso Walmart last month are now suing the retailer, "claiming that store failed to have proper security in place to prevent the tragedy."
Jessica and Guillermo Garcia were shopping at the store with their children on August 3 when the shooter - often described as a white nationalist and domestic terrorist - opened fire, killing 22 and wounding 25.
According to the story, "The lawsuit does not state if the family is seeking monetary compensation from the store."
KC's View:

Without passing judgement on the lawsuit, it does raise several questions.

To what extent are customers - and employees - concerned about their safety when they go to Walmart stores around the country? To what extent are people worried anytime they go to a big retailer or public place?

(A small point here. I was teaching at Portland State this summer, and I asked my class - many of the students were minorities - how many of them felt generally less safe in the wake of the El Paso shootings. More than half of their hands went up. I don't blame them.)

The other question is the degree to which every retailer needs to be thinking about heightening security in their stores. I think they need to. A lot.

One of the things that the litigants' lawyer says is that the initial intention is to obtain information on Walmart's security procedures:

"We are also requesting information about Wal-Mart's security practices, including how the El Paso store was rated on Wal-Mart's highly secretive risk-scoring and crime-database systems," he said. "We also want to know whether El Paso Wal-Mart managers altered store security policies in response to a hostage situation and shooting that took place in 2016 at a Wal-Mart in Amarillo, Texas."

Notice served, I think.

Published on: September 5, 2019
The
New York Times
has a remarkable piece this morning, produced in partnership with nonprofit
Pro Publica
, that looks at the often unacknowledged costs of Amazon's deep and unwavering commitment to making sure people get their orders faster and faster.
Here's how the
Times
frames the story:
"In its relentless push for e-commerce dominance, Amazon has built a huge logistics operation in recent years to get more goods to customers' homes in less and less time. As it moves to reduce its reliance on legacy carriers like United Parcel Service, the retailer has created a network of contractors across the country that allows the company to expand and shrink the delivery force as needed, while avoiding the costs of taking on permanent employees.
"But Amazon's promise of speedy delivery has come at a price, one largely hidden from public view. An investigation by ProPublica identified more than 60 accidents since June 2015 involving Amazon delivery contractors that resulted in serious injuries, including 10 deaths. That tally is most likely a fraction of the accidents that have occurred: Many people don't sue, and those who do can't always tell when Amazon is involved, court records, police reports and news accounts show."
The story notes that "Amazon won't say what percentage of packages its contractors deliver, but industry analysts say the share is growing fast. Researchers at Cowen estimate that in 2015, UPS and the United States Postal Service handled 91 percent of Amazon's domestic deliveries, while contractors and DHL had less than 3 percent. Amazon's network of contractors will handle 23 percent of its American deliveries this year, Cowen estimates, and 43 percent by 2024."
And, while "Amazon argues that it bears no legal responsibility for the human toll, it maintains a tight grip on how the delivery drivers do their jobs." And, it is equally vigilant about structuring contracts so it has plausible deniability.
You can read the story
here
or
here
.
KC's View:

Am I willing to give up next-day shipping?

Good question.

The fact is that we've all fallen in love with fast and free shipping that has to put stresses on the system in ways most of us on the receiving end cannot possibly imagine. I've talked to people who used to deliver packages for a living, and they've told me about how hard they have to work (and not just for Amazon, by the way), usually not being paid for their time but rather for their achieved results. This normally might not be a bad concept, except that these drivers are piloting vehicles that can be multi-ton weapons if they get tired or careless or frustrated.

The argument here, on all sorts of levels, long has been that nobody really knows what anything costs. This is just another example … one about which we ought to think a lot harder, because the costs are unacceptable. There are business issues, and there are moral issues, and there are business issues that have a moral weight that needs to be considered.

Better question: Am I willing to give up next-day shipping if it will save lives?

There's only one acceptable answer to that question. But we need to ask and answer that question in a cultural context, thinking about the difference between what we need and want, and he degree to which we need to hold our institutions - even, maybe even especially - high-flying businesses that would prefer that the message be, "Nothing to see here. Just move on."

Published on: September 5, 2019
California-based Raley's said yesterday that - and we quote - "as part of their continued investment in eCommerce, began offering home delivery service today through Instacart … Raley's has been offering pickup and delivery through their own online platform, eCart, since 2017, but this new partnership will allow the family-owned grocer to bring healthy, fresh, high-quality offerings at affordable prices to even more customers."
The company says that "Instacart delivery will be available at 93 Raley's, Bel Air and Nob Hill Foods locations throughout Northern California and Nevada."
The announcement then quotes Deirdre Zimmermann, Raley's Chief Customer Experience Officer, as saying: ""The demand from customers for delivery service has continued to steadily grow, and this partnership with Instacart will expand our services to reach more customers. We are excited to bring Raley's great products and competitive prices to Instacart's loyal customers."
KC's View:

This is, with all due respect to my friends and wonderful marketers at Raley's, and with a tip of the hat to Raymond Chandler, as crazy as two waltzing mice.

I can see three ironies here.

First, Raley's already has done the hard part. It built its own platform and had been running it - establishing that the service was part of its broader and distinctive value proposition - for two years. Now, it may be that to this point having a proprietary service wasn't economically feasible … but wait until they have to deal with the economics of having Instacart marketing to and taking ownership of Raley's customers, not to mention competitive running dark stores in Raley's geographic markets.

Second, Deirdre Zimmermann - who, to be fair, I do not know - is identified as Raley's Chief Customer Experience Officer … and she's farming out the customer experience to a company that with which she may find herself competing.

Third, there is a comment from Deidre Zimmerman in the prepared statement: "We are excited to bring Raley's great products and competitive prices to Instacart's loyal customers." They're not supposed to be Instacart's loyal customers. They're supposed to be Raley's.

Unless I'm missing something. But I don't think so.

The two mice are waltzing, and the ironies get thicker and thicker.
Published on: September 5, 2019
The Food Marketing Institute (FMI) is out with its "annual assessment of the state of the foodservice at retail," saying that the report is designed to demonstrate "the opportunities for retailers to leverage a $13 billion category."
Some points from the 2019 Power of Foodservice at Retail report:
• Growing annually at 8.2%, foodservice is presented as a primary strategy for food retailers to differentiate and appeal to convenience-seeking consumers.
• "63% of consumers continue to incorporate time-saving solutions in the form of semi- and fully-prepared items for dinner, but opportunities exist for grocers to garner greater visibility as the primary dinner solution."
• "Eighty-eight percent of shoppers want to see more new items and flavors in retail foodservice. In fact, the most frequently mentioned word in the open-ended suggestions of the survey was 'more' in combination with words such as variety, food, options and items. The highest share, at 31%, want to see flavor and item rotation on a monthly basis, but 28% want even greater levels of innovation and recommend a weekly or even daily rotation."
• "The importance of speed is once more underscored by the grab-and-go, ready-to-eat format being the most popular method, which is of interest to 68% of shoppers. Grab-and-go, heat-and-eat is the second most popular style, at 63%."
• "While 57% of shoppers have grocery store apps downloaded, 42% actively use one or more. App usage is highly related to checking weekly specials (78%), online ordering of groceries (53%), getting recipes and meal ideas and researching the deli-prepared foods menu, but foodservice orders lag (38%)."
KC's View:

I just wish more retailers with a foodservice offering would pout greater emphasis on having great food - you know, knock-your-socks-off food that is imaginative and pushes the boundaries on what is defined as "supermarket food." It has been my experience that there is way too much self-congratulation for products that are, if not aiming for the lowest common denominator, settling for some sort of average, middle of the road approach that doesn't light anybody's fire.

Published on: September 5, 2019
NBC's
Know Your Value
site has the story of Alyza Bohbot, a Minnesota entrepreneur who runs Alakef Coffee Roasters and City Girl Coffee there … with the City Girl beans sourced "from women-owned farms, and she donates part of her proceeds to pro-women coffee organizations."
An excerpt: "As Bohbot became more educated about the coffee business, she was alarmed particularly by discrimination against women-owned coffee farms abroad. During a conference, she heard a story about a woman in war-torn Colombia whose husband was killed, leaving her to take over their coffee farm. The widow was unable to secure a loan for equipment because she was a woman.
"There isn't much international data available on women in the coffee industry, but female coffee farm workers are often denied training and resources, leaving them unable to climb the chain or run their own business."
I've mentioned City Girl here before. We have a subscription to its coffee and get a shipment once a month - we love the coffee and we love the purpose behind the company, and if I'm going to spend money on coffee, it makes me feel better of it can be on both a superior product and a superior social mission. It is about value and values.
I'm glad to see they're getting greater exposure, and you can read the story
here
.
Published on: September 5, 2019
•
Axios
reports that "Google will pay $170 million to settle a Federal Trade Commission complaint that its YouTube subsidiary illegally collected children's personal information, the agency announced Wednesday morning … The FTC found that YouTube's tracking of underage users violated provisions of the 1998 Children's Online Privacy Protection Act (COPPA) because the company failed to notify users of child-directed channels about the tracking and obtain parental consent."
The story says that "the FTC touted the settlement, details of which had circulated widely last week, as a record-breaking penalty that would shape YouTube's future behavior. But critics — including the FTC's two Democratic commissioners — argued that both the size of the fine and accompanying new restrictions on the company's behavior don't go far enough to protect the public."
The settlement still has to be approved by a federal judge.
• Amazon said yesterday that it has expanded its Amazon Fresh service to Indianapolis.allowing Prime members in Indianapolis to "shop tens of thousands products from meat and seafood to fresh produce and everyday essentials for free two-hour delivery from AmazonFresh … Prime members can access AmazonFresh for $14.99 per month as an add-on to their Prime membership. Plus, for a limited time, new customers can start a 30-day free trial of AmazonFresh and receive $10 off their first order of $35 or more by using promotional code Grocery10 at checkout."
Published on: September 5, 2019
…with brief, occasional, italicized and sometimes gratuitous commentary…
•
Fox Business
reports that a Federal judge has approved the CVS acquisition of Aetna, a nearly $70 billion deal that has the potential to change both the retail drug and insurance businesses.
According to the story, "The merger was allowed on condition Aetna sell its Medicare prescription drug plan business to WellCare Health Plans,  Both deals have already closed."
Fox Business
writes that "U.S. District Judge Richard Leon had questioned whether the settlement did enough to protect competition and consumers in health-care markets," but he concluded that "the health-care markets at issue in the case 'are not only very competitive today, but are likely to remain so post-merger'," and that the settlement "is well within the reaches of the public interest."
•
Advertising Age
reports that "a federal judge today ordered Anheuser-Busch InBev to remove 'no corn syrup' from its Bud Light packaging, handing MillerCoors another victory in its ongoing legal battle with its larger competitor." The ruling follows a May temporary injunction "ordering Bud Light to stop running ads suggesting that corn syrup is MillerCoors' final products, rather than simply used during the brewing process. Wednesday's ruling now extends that preliminary injunction to packaging."
The story notes that "Miller Lite and Coors Light both use corn syrup during the fermenting process, but MillerCoors says none of it ends up in the final product. The brewer filed its false advertising lawsuit in March, shortly after Bud Light launched its corn syrup campaign with three Super Bowl ads."
AB InBev in a statement said: "Bud Light is brewed with no corn syrup–plain and simple. We look forward to defending our right to inform beer drinkers of this fact at trial and on appeal. MillerCoors is resisting consumer demands for transparency in the ingredients used to brew its beers, but those demands are here to stay. We will continue leading this movement in the beer industry."
• Sears' transformation continues.
USA Today
reports that "Sears' parent company, Transformco, filed a notice Aug. 29 with the Illinois Department of Commerce and Economic Opportunity saying it was laying off approximately 250 employees from its headquarters in Hoffman Estates."
The move comes on the heels of the company's decision to close dozens of stores, which follows former Sears CEO Eddie Lampert's purchase of Sears and Kmart out of bankruptcy earlier this year.
I'll actually give Sears this one, at least to a point. There are times when headquarters staffs have to be cut because they are not supporting stores to the degree they need to. Though I have to admit that I tend to suspect any move made by Sears, mostly because its history is so suspect.
• The
Washington Post
this morning reports on new research published in
JAMA Internal Medicine
suggesting that "regular consumption of soft drinks - both sugar-sweetened and artificially sweetened - was associated with a greater risk of all causes of death." People who "drank two or more glasses of soft drinks per day had a higher risk of mortality than those who consumed less than one glass per month," the research says.
This goes farther than most studies of this kind, which generally have pointed to sugary soft drinks as being the root of many health problems. Diet sodas have not been identified as a problem to the same degree.
"The results of this study are significant," Sarah Reinhardt, lead food systems and health analyst for the Union of Concerned Scientists, tells the
Post
. "It reinforces a fact that won't surprise anyone in the nutrition field: Processed foods loaded with artificial ingredients will never be the magic bullet to better health, no matter how low they are in sugar. Our bodies are smarter than that."
Here's how the
Post
frames the results:
"The study, one of the largest of its kind, tracked 451,743 men and women from 10 countries in Europe. It found that consumption of two or more glasses of artificially sweetened soft drinks a day was positively associated with deaths from circulatory diseases. For sugar-sweetened soft drinks, one or more glasses a day were associated with deaths from digestive diseases, including diseases of the liver, appendix, pancreas and intestines … While the 50 international researchers who conducted the study advanced no theories about the relationships observed, they encourage public health campaigns aimed at limiting the consumption of soft drinks."
Published on: September 5, 2019
Yesterday we took note of a
Bloomberg
report that Walmart will "discontinue sales of .223 caliber ammunition and other sizes that can be used in assault-style weapons after it sells through its inventory commitments. It will stop selling handguns in Alaska, the only state where it still sells them, and won't offer bullets for them anywhere after its stocks are depleted. And it's 'respectfully requesting' that shoppers refrain from openly carrying their firearms in its stores."
At the same time, Kroger is asking its customers not to openly carry firearms in its stores, regardless of local laws.
While pro-gun control groups cheered the Walmart decision, the National Rifle Association (NRA) released a statement calling Walmart's move "shameful," saying that "lines at Walmart will soon be replaced by lines at other retailers who are more supportive of America's fundamental freedoms." The NRA also accused Walmart of succumbing "to the pressure of the anti-gun elites."
I commented, in part:
The NRA seems to be taking the position that Walmart is only paying attention to "elites," and ignoring the will of the people.

But it would be my observation that Walmart is making this move because of the will of the people, not in spite of it. If its research didn't show that people wanted it to make this decision, then Walmart wouldn't do it.

Maybe the NRA just isn't used to being - forgive me - outgunned when it comes to applying political pressure.

Walmart is, in my view, making the right and responsive move here. It may be part optics, but optics often are important.
MNB reader Christopher Cash responded:
Read your article on the proposals by Walmart and Kroger and it appears you support these moves.

So my question is, precisely how does any of this virtue signaling reduce gun violence or stop any of the last 20 mass shootings? This almost entirely impacts (and hurts) law abiding citizens, particularly in Kroger's case, as the vast majority of mass shootings occur in these so called "gun free zones". And polls, which have been proven to be highly unreliable and partisan motivated, should not be used to determine public policy. Votes matter, not polls.
You're right. I do support these moves … but I also think that both companies are making decisions based not on a desire to signal their virtue, but to assuage many of their customers and assure them that they are doing everything they can to make the world a safer place.
But I'm under no illusion that these decisions will end mass shootings, or that they will discourage domestic terrorists and/or white nationalists from pursuing their agendas.
Another MNB reader wrote:
Yes, gun control is a hot topic for everyone and needs to tie in things like mental health and cross party reasonable discussions.

While I am an NRA life member, I certainly do not agree with all they support.

I also rarely hunt as I have no one to go with currently, but do remember deer camp in VT with the greatest generation being some of the best family bonding times of my life.

While I prefer to take a photo unless I eat the game, I very much respect the hunting communities and everyone's amendment rights. Some in my family still live their meat diet on wild game. Yes, I have a license to carry as well. Here in NH, they just made that legal for everyone. That I disagreed with, as I prefer your police chief has to sign off on your permit every few years.

Walmart's blanket decision to stop carrying .223 ammunition is mostly a publicity stunt, as when I was hunting at various times with a shotgun, pistol or rifle, mostly pending weather, space hunted in and game hunting for; I do remember all the best deer hunters seem to carry .223 rifles.

On the other hand:

I am not sure why any guns need to look like military assault rifles instead of a hunting rifle, as they are the same outcome.

I will add that if someone needs a dozen rounds to hit something, they maybe should take up a different sport.

If ones sells a gun in a private sale, and it was properly bought and registered, I would think they would want a documented receipt too.

I will end with saying certain gun control laws in other countries have not had a good outcome.

How much is too far?

No name on this one please. Too many nuts out there, but I am protected.
Hmmmm. Should I be concerned that my name is on
everything
I write and say, since there are "too many nuts out there"?
If I should be, that strikes me as a pretty good reason to make some changes in the laws that govern who ought to be able to buy and own a gun.
Just as I'm under no illusion that these retailer decisions - or even action by the federal government - will end mass shootings, or that they will discourage domestic terrorists and/or white nationalists from pursuing their agendas, I'm also under no illusion that we're going to solve this issue on MNB.
I'm only writing it from the point of view that this has become a retail issue.