Published on: December 18, 2019
by Kate McMahon

I was about to hit "Secure Checkout" for a one-time $54.95 shoe purchase on the Tom's e-commerce site when I came upon the option, "or four interest-free payments of $14 with Klarna."

ApplePay, AmazonPay and PayPal, I know. But Klarna?

It turns out the nation that gave us IKEA, which upended the furniture industry one big box at a time, is now exporting Klarna to shake up point-of-sale lending in the U.S.

Klarna, founded in Sweden is 2005 and now valued at $5.5 billion, is relishing that role. The company consistently touts itself as "the global payment innovator and retail disruptor" staking its claim in America. And the face of a recent campaign is none other than rapper/entrepreneur and Klarna minority shareholder Snoop Dogg.

While most Americans shop with their credit cards, the practice of no-fee, no-interest flexible payment options such as deferred payments and installment plans – both online and in a store – is prevalent in Europe.

Klarna's pitch to retailers is simple: Klarna pays 100% upfront, assumes the risk and collects from the consumer. The shopper pays Klarna 25% at the time of sale, and the rest in installments. Klarna boasts partnerships with 170,000 merchants globally, including Ikea (of course), Zara, Wayfair and Samsung. Klarna make sits money by charging retailers a small percentage on each transaction.

I have since learned the "Buy Now, Pay Later" movement has been growing in the U.S., well ahead of Klarna's arrival. Competitors include Affirm, which counts Walmart and hot properties Warby Parker, Casper and Peloton among its partners, and AfterPay, which is allied with such millennial fashion favorites as Anthropologie, Urban Outfitters and Forever 21.

Walmart and Affirm announced their partnership back in February. Affirm is available as a payment option on online and in-store purchases ranging from $150 to $2,000, with repayment term of 3, 6, or 12 monthly installments.

Now I can understand looking into point-of-sale financing for a $2,245 Peloton (can you say wish list?) or a $1,999 Samsung TV (that would be the family wish list), but it wouldn't occur to me to "finance" a pair of $54 shoes from Tom's or a $95 sweater from Anthropologie. But then I fall into the "okay, boomer" category and admit this would appeal to younger consumers who are less likely to use credit cards.

Klarna and the other leading point-of-sale lenders are all structured differently in terms of pricing and flexibility. Several require you to apply for financing at check out and get quick approval or denial. But what they do have in common is their claim that point-of-sale financing is financially preferable to using a credit card, especially with some revolving interest rates north of 20%.

All the lenders contend that offering consumers more financing options at checkout makes for one happy customer, who will return. I will be interested to see if these programs are indeed as transparent as they promise, with no late fees or interest rate surprises. If so, I think we will see credit cards and banks joining the fray, and even more disruption ahead.

Comments? Send me an email at kate@mnb.grocerywebsite.com .
Published on: December 18, 2019
by Kevin Coupe

The Place: The new SoNo Collection, an upscale mall featuring a Nordstrom and Bloomingdales, opened earlier this fall in Norwalk, Connecticut.

The date & time: About 12:30 pm, last Saturday, December 14 … 11 days before Christmas.

The lesson: Pretty obvious.

To be clear … not every mall in America was like this. About 21 miles away, a straight shot up Route 7, the Danbury Fair Mall - opened in 1986 - had a full parking lot, though it is unknown if its stores actually were selling anything. (Danbury Fair has a less upscale selection of stores, but it does have an LL Bean and an Apple Store … each of which can exercise enormous appeal. And so I'd bet that the mall was doing decent or better-than-decent business.)

But to me, this picture was evocative of the realities facing malls - and many bricks-and-mortar retailers - these days. In so many ways, the world has moved on … but I'd also suggest that this mall isn't doing a helluva lot to address the issue, and the folks pictured aren't getting any real help.

You can't succeed if you don't make an effort to be differentiated and compelling.

What this picture reflects is an Eye-Opener. In all the wrong ways.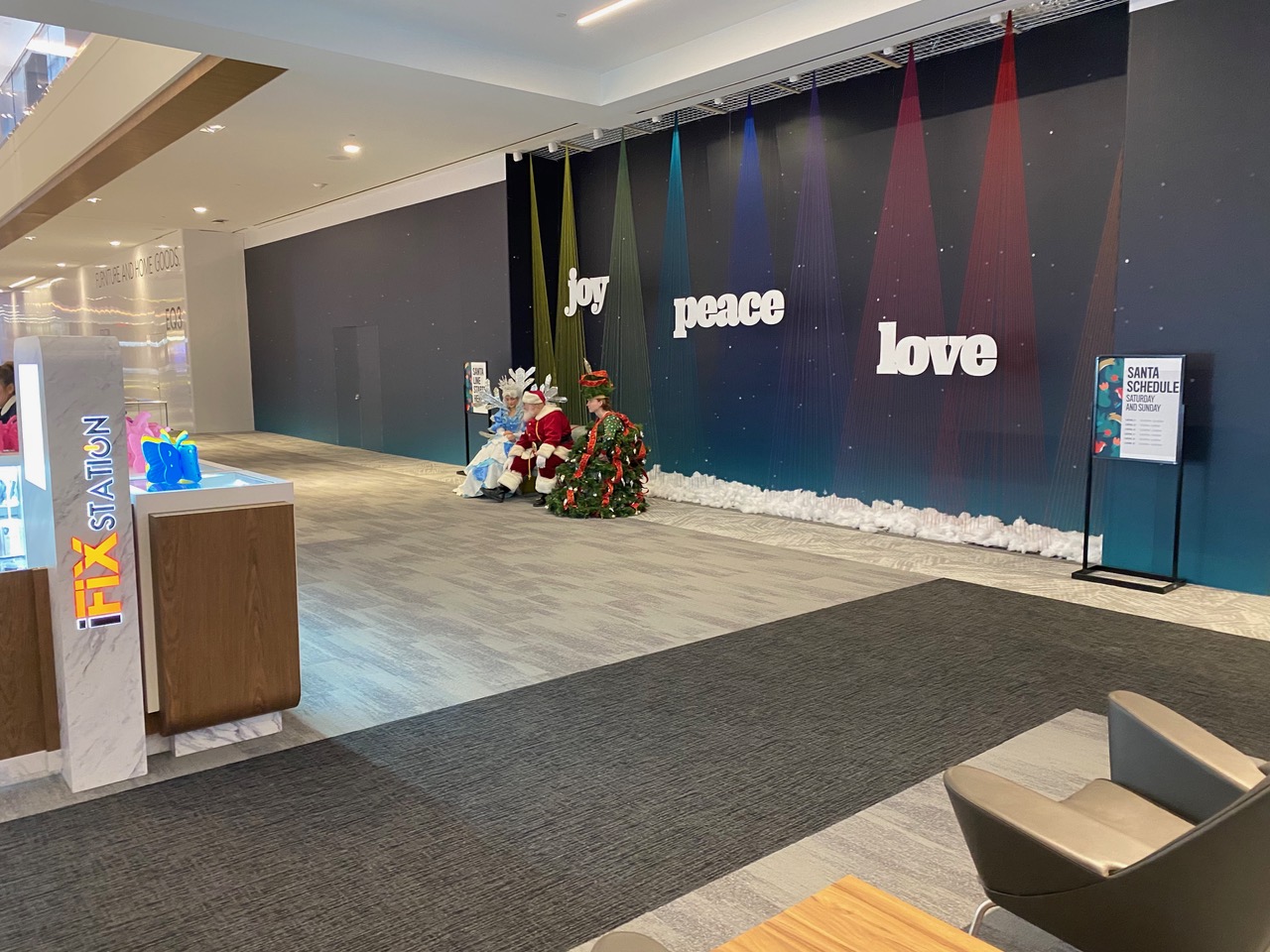 Published on: December 18, 2019
The
New York Times
has a terrific
story
about H&M, which is one of the world's biggest fashion retailers, and how it decided to invest in transparency about the source of its products.
"This spring," the story says, "after almost three years of preparation and coordination by 40 team members from Hong Kong to Stockholm, and at a time when scrutiny of the global fashion industry and its shadowy supply chain is greater than ever, H&M introduced an effort to do exactly that — and to make it public for shoppers.
"Now, the company says, it can be held accountable for the origins of its products. If consumers care to look." Either in-store or online, "H&M shoppers can now find out not only the country where clothing was manufactured, but also details on materials and recycling, the name of the supplier or authorized subcontractor where a garment was made; the factory address; and the number of workers employed there."
While there are some limits to how much information is available, the
Times
writes, "it is nevertheless the first effort of its kind by a retailer of this scale."
The
Times
notes that "the new 'transparency layer' project has been cautiously applauded by some human rights and fashion advocacy groups and union leaders. But many have also said that H&M's efforts do not go far enough, questioning whether improvements like this are worthwhile if they merely prolong the existence of a system where profits and shareholder interests are continually placed ahead of employees, suppliers and the environment.
"Currently, customers do not have access to information on workers' wages at individual factories, or local minimum fair living wage commitments and calculation methodology. Nor does the transparency layer offer a breakdown of the pricing structure that could specify how labor costs are calculated."
KC's View:

I'm sure there are ways in which H&M could do better, but let's give the company a lot of credit for moving in the right direction, toward a transparency and trackability ethic that I think will become only more important in coming years. Consumers, I believe, will demand the availability of this kind of information; even if they don't always access it, they will give greater credibility to the businesses that have it accessible.

If companies don't do it themselves, others will do it for them. I refer you back to the piece I did earlier this year about Trestle, a company set up precisely for the purpose of ranking how brands behave on critical issues, and then making that data available to interested shoppers. (You can read it here.)

I'd rather be ahead of this wave than behind it.
Published on: December 18, 2019
Forbes
has a story about Wonderland!, described as an example of how retailers - in this case, Target in New York City - are "investing in experiential marketing to spotlight the uniqueness and benefits of a physical shopping experience and to drive engagement and in-store and digital traffic during its most critical of selling seasons."
What does Wonderland! look like?
According to the story, "Oversize tinsel shimmers at the entrance, the subtle swish of the giant metallic streamers welcoming you into a space ribboned with resplendent red-and-white candy stripes and the sounds of Sam Smith's 'I Feel Love' - Target's holiday-campaign theme song - playing in the background … Futuristic but cozy pods welcome families in to type their own holiday stories into a keyboard; the words transform into an animated video and personalized poster instantaneously. A Lego station invites passersby to add the plastic bricks to a small panel, which is then placed on a wall; hundreds of such panels will come together to create a holiday-scene mosaic. A nook off to one side explodes with pine-scented bubbles, with holiday-themed bottles of Mrs. Meyers hand soap stacked in the shape of giant Christmas trees."
That enough experience for you?
Forbes
writes that "the entire experience is completely free to the public, and in an act of corporate philanthropy, Target will donate up to $1 million to Toys for Tots through one feature of Wonderland! that enables visitors to literally submit their holiday wishes through a pneumatic tube, triggering Target to donate $40 per wish."
The business case is this: "Barcodes throughout the space enable visitors to not just see and touch the items on display but also order them their devices through the Target app or Target.com. Attendants are available at every station to assist visitors in downloading the Target app and explaining its features. Guests can choose from Target's suite of shipping-and-delivery services, such as Drive Up, same-day-delivery with Shipt, order pickup and free shipping—showcasing Target's ability to meet the speed and convenience of online retailers."
KC's View:

Not every "experience" has to be over the top, but I think that every bricks-and-mortar retailer has to be focused on the quality of the experience that every shopper has - it has to be relevant, resonant, compelling and differentiated. That'll mean different things for different brands and to different people, but it has to be factored into the retail equation.

Published on: December 18, 2019
The
San Jose Mercury News
reports that Eataly - the specialty Italian food mecca with 40 locations around the world, including seven in North America - two in New York, plus one each in Toronto, Chicago, Boston, Los Angeles and Las Vegas - plans to open a store in Silicon Valley.
The story says that Eataly will be built "at Valley Fair as part of the Santa Clara/San Jose center's $1 billion transformation." It will be a "51,000-square-foot, three-floor marketplace and restaurant complex" that is expected to open in 2021.
"We are excited to bring Eataly to one of the most important economic regions of the world in 2021," Nicola Farinetti, Global CEO of Eataly, said Tuesday in a prepared statement. "At Eataly Silicon Valley, we will import many of our products from Italy — like olive oil and dry pasta — while also making it a priority to work with local producers from Northern California."
KC's View:

Lots of money in Silicon Valley. Sounds like a match made in heaven.

Published on: December 18, 2019
Bloomberg
has a profile of Dave Clark, Amazon's global logistics chief, who has "spent billions of dollars building a sprawling delivery operation that includes a worldwide network of robot-filled warehouses, fleets of planes and delivery vans and hundreds of thousands of workers … Clark's boss, Chief Executive Officer Jeff Bezos, may dream of a future when quick delivery is largely delegated to drones flying through the skies and robots rolling down sidewalks. But Clark inhabits a messier present, where meeting Bezos's expectations falls mostly to hourly workers who endure long shifts fetching and packing products and driving them to homes."
An excerpt:
"Clark grew up with Amazon, taking his first job there in 1999 and quickly rising through the ranks. His longevity has made him a trusted caretaker of the company's oldest and largest business. Now 47, he's among more than 20 senior executives on Bezos's coveted S-team and next year will take on the added responsibility of running the brick-and-mortar operations, including Whole Foods and the Amazon Go chain of cashierless convenience stores. Clark declined to be interviewed for this story.
"His colleagues describe a demanding manager who is impossible to bluff. During the holidays, Clark's team meets daily to review metrics about Amazon facilities around the world. Clark can zero in on any signs of trouble since he's been scanning the same figures for 20 years. A key metric is the estimated delivery time shoppers see when they view a product on Amazon, which is broken down by geography. If the number is moving in the wrong direction, Clark demands an explanation and a solution. The culture is far from pleasant, but current and former insiders marvel at its effectiveness."
And the challenges will only get more complex, as Amazon endeavors to take more control of its supply chain and delivery infrastructure.
Fascinating piece, and you can read the entire story
here
.
By the way …
CNBC
has another Amazon-centric story worth reading about how the retailer has been relentless in recent actions aimed at "snuffing out competitors and playing hardball wherever possible." Scary stuff, and just for its recitation and analysis of the past couple of months, worth checking out
here
.
Published on: December 18, 2019
Fast Company
reports that the idea of reusable egg cartons is gaining some currency "thanks to Pete and Gerry's Organic Eggs, a family-led farm based in New Hampshire that's one of the country's largest egg distributors."
It is a pretty simple concept at one level: " Since eggs with no packaging would result in a yolky disaster, Pete and Gerry's went for the next best option: cartons customers could purchase once and bring back to their local store every time they needed new eggs.
"The cartons sell for $2.99. After that, you bring them back to the store and load them up with eggs directly from the large egg containers they're shipped in. The stores offer a small discount on a dozen eggs if you put them in a container, like when you bring your own mug to a coffee shop."
A six-week test is underway at our Co-op Food Stores in New Hampshire and Vermont; about 500 of the reusable cartons have been sold, the company says, with customers largely embracing the concept.
According to
Fast Company
, "The reusable cartons are made of BPA-free molded, recycled plastic. They're sturdier than the cartons the farm otherwise sells its eggs in, which are made of thin plastic from recycled water and soda bottles.
"Meanwhile, people in the U.S. are eating more and more eggs. In the 1940s, the average person in the U.S. ate about 404 eggs per year. After a significant dip, that number has climbed back up to 279 eggs per person per year - meaning a single person could cut back on more than 20 egg cartons annually if they opt for a reusable alternative."
The story notes that "Pete and Gerry's has a number of massive retail customers, including Kroger's, Safeway, Publix, and Whole Foods. Laflamme says the company will start sharing the reusable egg carton concept with these retailers soon in hopes that they'll implement their own pilots. He'll just have to talk logistics with them first. The cartons alone will require a separate display case from the eggs in stores, and getting all of that shipped across the country will take time."
KC's View:

It'll take time and education to get consumers used to this, but since so many of us have gotten used to carrying multiple bags around in the trunks of our cars, I suspect that it might not be as long a process as one might think.

Published on: December 18, 2019
…with brief, occasional, italicized and sometimes gratuitous commentary…
• The
Wall Street Journal
has a story about how some folks seem to be selling garbage on Amazon. Literally.
Essentially, the story looks at how it is possible for people to go dumpster-diving, collect all sorts of stuff - food included - clean it up and then sell it on Amazon. And the
Journal
figured it out by actually doing it itself … though it made sure that it bought the garbage it listed on Amazon so nobody else would.
The point of the story is to highlight the fact that Amazon exerts only limited control over what is sold on its marketplace, and says it has no responsibility for what is sold there.
You can read the story
here
.
It is interesting that the Journal points out that "late last week, Amazon said it updated its policy to explicitly prohibit selling items taken from the trash, adding to its list of unacceptable items any 'intended for destruction or disposal or otherwise designated as unsellable by the manufacturer or a supplier, vendor, or retailer'." I'm a little stunned that it needed to underline that point … but there you go.
Published on: December 18, 2019
…with brief, occasional, italicized and sometimes gratuitous commentary…
• The
Boston Globe
reports that Ahold Delhaize-owned Stop & Shop is closing down the Allston location of its urban format Bfresh store at the end of the year, citing the fact that "the store was not meeting financial expectations."
The 10,000 square foot store was opened in 2015, and was designed to focus on fresh foods and take-out meals.
Only one Bfresh store remains open, in Somerville, Massachusetts.
When I visited the Allston store back in 2015, I wrote here:

"The great thing about bfresh, I think, is the fact that it seems so specific to the place in which it finds itself - a neighborhood that is occupied by millennials in their first post-college apartments, as well as aging baby boomers moving back to the city after raising their kids in the suburbs. From the first moment one walks into bfresh, the overwhelming sense is of a food-centric store that is going for something different - something with style, some imagination, and a sense that something 'epic' can be achieved even within as relatively small footprint."

I think I was right about the concept, even if it didn't play out the way I thought it would. Stop & Shop opened and closed stores in fits and starts, and the whole thing never really gelled the way I thought it would. But I continue to believe that a great small/urban format is an important tool for a retailer to have in its quiver, and we see that in the Heirloom format that Stop & Shop's sister company, Giant, is running in Pennsylvania.
• In Minnesota, the
Star Tribune
reports that "more than 700 workers at United Natural Foods Inc.'s distribution center in Hopkins walked off the job Tuesday, in sympathy with workers who are striking against the company at a similar facility in Indiana."
The move could disrupt shipments to UNFI-owned Cub Foods, as well as to companies including Lunds & Byerlys, Jerry's, Kowalski's and Coborn's, in the busy week before Christmas.
The story notes that "about 160 workers at UNFI's distribution center in Fort Wayne, Ind., went on strike Thursday, about three months after their contract expired. The Teamsters extended the strike on Tuesday to a location in Green Bay, Wis., and the one in Hopkins, which is one of the largest food distribution centers in Minnesota."
• The
New York Post
reports that CVS Health Corp and Omnicare have been charged in a lawsuit with fraudulently billing "Medicare and other federal programs for filling expired prescriptions for the nations' elderly and disabled." The story says that the suit accuses "the healthcare giants of illegally dispensing tens of thousands of pills to people living in long-term care or other assisted living facilities.
"Instead of seeking new prescriptions between 2010 and 2018, Omnicare would assign new prescription numbers when the original prescription ran out of refills, the Manhattan US Attorney's office claims in their complaint … The lawsuit seeks unspecified monetary damages and civil penalties — and joins another whistleblower action filed against Omnicare in June 2015 by a pharmacist who worked for the company."
•
NBC News
reports that the Denver City Council Finance and Governance Committee has "unanimously voted to move forward with a proposed bag fee ordinance … the idea is to attach a 10 cent fee per single-use plastic bag to encourage people to change their habits and start relying on reusable bags."
The story says that the fee will apply to paper bags as well, with some exemptions for people using Supplemental Nutrition Assistance Program (SNAP) benefits.
The story notes that "this isn't the first time the city council has looked at this issue, in a city where anywhere from 150 to 250 million plastic bags are used in a year. The debate dates back to 2013, but none of the proposals passed into law. Tuesday's decision marked the city's biggest step yet in adding such a fee."
Published on: December 18, 2019
Yesterday MNB took note of a
USA Today
story that identified the nation's favorite supermarket chains, state-by-state, saying that its rankings are "based on data suggesting chain popularity compiled from Yelp and Google Trends … From Yelp, we determined the five supermarket chains with the most reviews in each state and compared their Google search frequency for a one-week period using Google Trends. The chain with the highest search frequency in each state was considered to be the most popular, and by extension the best according to grocery customers."
We listed them … but apparently missed one, as an MNB reader pointed out:
It happens all the time, so I'm not surprised that Kansas didn't make your list; however, on the USA Today article, we were there. 

Hy-Vee ranked first in Kansas, though in rural areas of the state (which encompasses most of our beloved state), there are no Hy-Vee stores. 

Contrary to popular belief, we not only grow what we eat here, but we shop for groceries just like everyone else.
Trust me, the omission was inadvertent. I love Kansas, and I love Hy-Vee.
Mea culpa, mea culpa, mea maxima culpa.
Published on: December 18, 2019
Responding to yesterday's story about a move to increase to 21 the age at which one can buy tobacco products, MNB reader Kelly Dean Wiseman wrote:
If we are going to immerse 18 year olds into a firefight in a middle east country, or expect them to discern friend from foe, under fire, following rules of engagement using extremely powerful and deadly weapons, they should be able to decide for themselves whether to have a beer or a smoke.
One MNB reader had a thought about the state-by-state listing of favorite supermarkets:
I'm not at all surprised by Costco being the favorite in Hawaii. They've turned their island locations into destinations for mainland club members. Not only are their gas prices the cheapest in the state, they also sell some of the best poke varieties, for a surprisingly reasonable price. It's also a great place to purchase island-themed gifts like boxes of chocolate-covered macadamia nuts, or bags of Kona coffee. Costco gets an A+ for merchandising to fit the market.
 
Also, having spent 8 years in Arizona, I'm thrilled to see Sprouts come out on top. It takes real differentiation for me to miss a retailer. Alas…
MNB reader Steve Burbridge chimed in:
As a resident of the smallest state (Rhode Island), I can tell you that Whole Foods is NOT the most popular (they have 3 locations in the state I believe).  We have a local grocer called "Dave's" that has 10 locations and is known for their fresh produce and meats, prepared meals, pizza (prepared on-site in their own ovens), hot food and soup bars, etc.  Above all, they have some of the best staff working in their locations and are always willing to help you find something or point you towards the free coffee they offer.  I have never heard a bad word about Dave's.

Less expensive than Whole Foods, cleaner and nicer than Stop and Shop, and locally-owned.  If you are ever in the area, check out one of their stores.  You won't be disappointed.
We had a piece the other day about how more people are choosing to die at home, and reflected on whether this speaks to self-care trends in a broader way.
One MNB reader responded:
Last August, HBO provided an excellent documentary on dying in new different ways, sort of "Out of the box." (sorry, bad pun).

It was called "Alternate Endings: Six new ways to die in America." It was very uplifting, considering death's considerable weight on us as we age. It's the Boomer generation again. We continue to disrupt and change conventions. Yeah for this one!

Go look for it, it's worth watching.
And from another reader:
I lost my Mom (way too damn early) to cancer, but at least she died in her home, cared for lovingly by Hospice, surrounded by family.  Five years later the same happened to my Father-in-law; again, Hospice incredibly cared for him, and he died surrounded by family. 
 
Now I serve on a Hospice Board of Directors and my message to you all is, learn more about Hospice and spread the word.  These folks are absolute ANGELS ON EARTH, and care for your family as if they were their own.  We are all going to die, and lose loved ones, but with Hospice in the home, its as comfortable and loving, as it can be.
Published on: December 18, 2019
Past Retail Tomorrow podcasts have focused on how technology can have an impact on business models and people's lives. In this edition, however, we drill down to talk about how technology affected one life … and, in fact, makes living a best life possible.

Our guest: Heidi Dohse, senior program manager in Google's Cloud - Health and Life Sciences division. Dohse's personal and professional story makes for a compelling narrative that is at once provocative and inspiring.

Hosted by Kevin Coupe, MorningNewsBeat's "Content Guy."

You can listen to the podcast here, or on iTunes and GooglePlay.

This edition of the Retail Tomorrow podcast is brought to you by GMDC, the Global Market Development Center.