Published on: December 20, 2019
by Kevin Coupe

Hard to believe it, but 2019 is almost over. For MNB, it is … I'll be taking a few days off, and MNB will be back on Thursday, January 2.

I just want to wish you the best of times over the next week and a half - whether you are celebrating any of the religious holidays about to occur, or even if you don't celebrate the holidays at all.

I want to thank the entire MNB community for your loyalty and support over the past year (not to mention the past 18) and, of course, … Michael Sansolo, Kate McMahon and Tom Furphy - each of whom makes the conversation richer and deeper, teaching me much as we go along.

And, thanks to all the terrific sponsors that make it possible for MNB to come to you each morning; if you get the chance, check them out, because they all have much to share in terms of ideas, products and services.

(I also should thank my family, pictured below, who put up with the hours, the travel and the semi-obsessiveness. Couldn't do it without them.)

The MNB archives, of course, remain open while I'm off … and I'll be back on Thursday, January 2 with fresh, hand-crafted news in context and analysis with attitude.

Have a great, Eye-Opening holiday.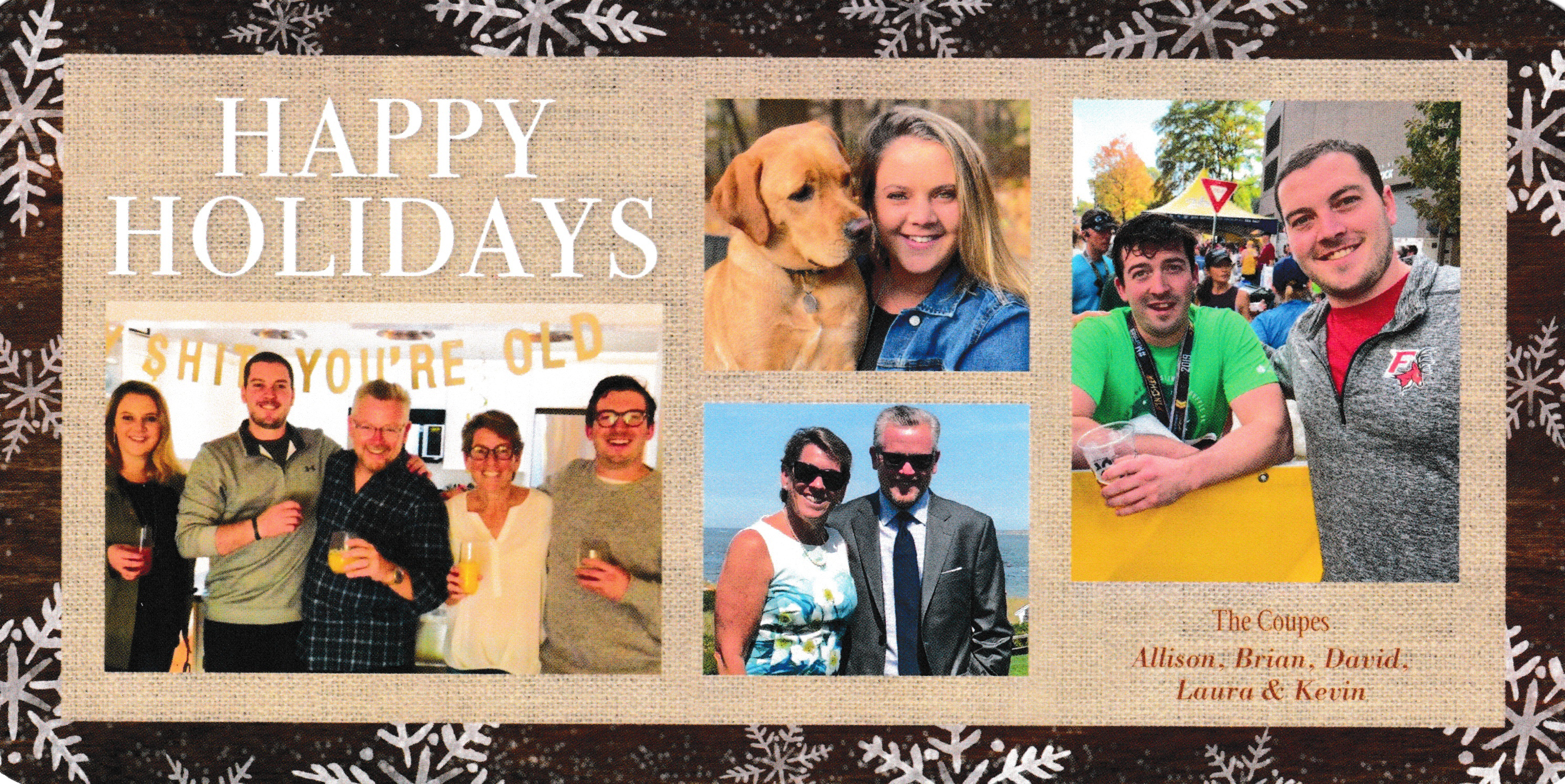 Published on: December 20, 2019
From
Fast Company
: "If you were to believe newspapers and dietary advice leaflets, you'd probably think that doctors and nutritionists are the people guiding us through the thicket of what to believe when it comes to food. But food trends are far more political - and economically motivated - than it seems."
Really? Tell us more.
"Many of today's food debates can … be usefully reinterpreted when seen as part of a wider economic picture. For example, recent years have seen the co-option of the vegetarian movement in a political program that can have the effect of perversely disadvantaging small-scale, traditional farming in favor of large-scale industrial farming.
"This is part of a wider trend away from small and mid-size producers towards industrial-scale farming and a global food market in which food is manufactured from cheap ingredients bought in a global bulk commodities market that is subject to fierce competition. Consider the launch of a whole new range of laboratory created 'fake meats' (fake dairy, fake eggs) in the U.S. and Europe, oft celebrated for aiding the rise of the vegan movement. Such trends entrench the shift of political power away from traditional farms and local markets towards biotech companies and multinationals."
Now that multinational corporations and economic behemoths have realized that not only is there a buck to be made in these new-world foods, but their production may allow them to be in greater control of costs and margins, which will in turn allow them to be more profitable.
In fact,
Fast Company
says, there is a school of thought suggesting that "by 2030, the entire U.S. dairy and cattle industry will have collapsed, as 'precision fermentation' - producing animal proteins more efficiently via microbes - disrupts food production as we know it."
In other words, when someone eats fake meat or fake eggs, they may think they are making a nutritional decision, but in fact they are part of a much broader political and economic fabric that is being ripped apart.
"Westerners might think that this is a price worth paying,"
Fast Company
writes. But not so fast…
"While there is much to be said for rebalancing western diets away from meat and towards fresh fruits and vegetables, in India and much of Africa, animal sourced foods are an indispensable part of maintaining health and obtaining food security, particularly for women and children and the 800 million poor that subsist on starchy foods … livestock also plays a critical role in reducing poverty, increasing gender equity, and improving livelihoods. Animal husbandry cannot be taken out of the equation in many parts of the world where plant agriculture involves manure, traction, and waste recycling—that is, if the land allows sustainable crop growth in the first place. Traditional livestock gets people through difficult seasons, prevents malnutrition in impoverished communities, and provides economic security."
Here's the bottom line that
Fast Company
posits:
"Private interest and political prejudices often hide behind the grandest talk of 'ethical' diets and planetary sustainability even as the consequences may be nutritional deficiencies, biodiversity-destroying monocultures, and the erosion of food sovereignty.
"For all the warm talk, global food policy is really an alliance of industry and capital intent on both controlling and distorting food production."
KC's View:

Yikes.

To be honest, I really hadn't thought about the issue this way. And I think it is a pretty good bet that someone out there will come back with a rejoinder, explaining to me how the Fast Company piece has it all wrong. I look forward to it.

I was amused that the story did remind me of something that I think I first read back in my semi-radical college days, that Karl Marx once wrote that political structures are built and destroyed based on institutions' ability or inability to feed their people. To put it another way - people vote with their gut. Which means that institutions either have to figure out ways to feed their people (in both the micro and macro sense of the term), or figure out how to deny them the vote.

I wonder which way the world will go.

(Cheerful way to end 2019, I know.)

Published on: December 20, 2019
From the
New York Times
:
"For tens of millions of Americans, it is so routine that they don't think twice.
"They want something — a whisk, diapers, that dog toy — and they turn to Amazon. They type the product's name into Amazon's website or app, scan the first few options and click buy. In a day or two, the purchase appears on their doorstep.
"Amazon has transformed the small miracle of each delivery into an expectation of modern life. No car, no shopping list — no planning — required.
"But to make it all work, Amazon runs a machine that squeezes ever more money out of the hundreds of thousands of companies, from tiny start-ups to giant brands, that put the everything into Amazon's Everything Store … Amazon punishes the businesses if their items are available for even a penny less elsewhere. It pushes them to use the company's warehouses. And it compels them to buy ads on the site to make sure people see their products.
"All of that leaves the suppliers more dependent on Amazon, by far the nation's top online retailer, and scrambling to deal with its whims. For many, Amazon eats into their profits, making it harder to develop new products. Some worry if they can even survive."
You need to read this story:
Click here
. It is fascinating.
Published on: December 20, 2019
Great piece from
Bloomberg
about how free and easy returns have become an enormous problem for retailers that used them to differentiate themselves - once everybody offered them, they only were costly and not differentiating.
"Now some in the industry that created the monster are trying to put it back in its cage,"
Bloomberg
writes. "They're taking baby steps - not providing pre-paid mailing labels, requiring a receipt unless an unwanted item is carried to a store - but also threatening to cut off serial returners, the most troublesome of the offenders. Among the others: people who wait months (or more) before returning and the so-called wardrobers, who wear articles of clothing and then ship them back."
Some context from the story:
"Last year, $369 billion in merchandise, or 10% of total retail sales, was returned in the U.S., according to a study by research firm Appriss, up from $260 billion in 2015. And the holiday season, of course, is the one to dread in the returns departments: United Parcel Service Inc. expects to handle more than 1 million such packages every day, reaching a peak of 1.9 million on Jan. 2, which would be a 26% increase from the 2019 high point.
"This is an expensive trend in a competitive sector where margins can be extremely thin. Older, established chains are in particular binds because they rely on e-commerce for most of their growth, if not all of it, and returns keep eating away at profits."
KC's View:

If they ever solve the returns issue, then the next thing they'll have to go after is the cost of free shipping. I want to see them take that away.

I do think that the vast majority of customers are not abusers, and that most shoppers would support any move made by a retailer to crack down on those who subvert the system through their misdeeds.

But this always is going to be a bigger problem for smaller retailers, because the big guys have the ability to absorb more costs into their systems. After all, it was just this week that Amazon announced a liberalized return policy through the end of the year, clearly aimed at grabbing some last-minute holiday sales.

I think the best thing a retailer can do is be up front about the issue, transparent about the solutions, and find ways to explain to customers why dealing with the issue rather than ignoring actually will be good for them in the long run. That's what LL Bean did, and it has suffered no evident ill effects.

Published on: December 20, 2019
Payless Shoe Source has announced that it will close nearly 400 stores around the country, representing just shy of 10 percent of its 4400-store global fleet.
The motivation is financial - the company needs to improve its balance sheet and restructure its debt if it is to survive.
Payless CEO Paul Jones said in a statement, "While we have had to make many tough choices, we appreciate the substantial support we have received from our lenders who share our belief that we have a unique opportunity to enable Payless — the iconic American footwear retailer with one of the best-recognized global brands — to remain the go-to shoe store for customers in America and around the globe."
No word on how many employees will lose their jobs with the closures.
KC's View:

Obviously, getting your balance sheet right … you know, balanced … has to be an absolute priority in these circumstances. And if that means cutting out the dead wood so you can concentrate on the parts of the company that have greater profit potential, so be it. You have to make those hard decisions.

But … without being intimately familiar with Payless Shoe Source, I'd like to make another observation. (I'm not just unfamiliar with its stores. I can't recall ever having been in one. But my observation is more general in the sense that it could be applied to any retailer that finds itself in similar straits.)

The question I'd ask is if the problem is purely financial. Is it just a matter of some stores not contributing to revenue and profit, or being too costly to run because of labor and real estate expenses? Or is there something more fundamental at work, some way in which a company has allowed its traditional way of doing things to become an anchor on innovation? Is there a way in which the business model has grown out of touch with current and future consumer needs, and incapable of competing in the current environment?

(I mentioned above that I've never been to a Payless Shoe Source. But you know where I spend the vast majority of my shoe dollars? One word: Zappos.)

The question is whether Payless Shoe Source has done enough to examine its very soul. Or, in this specific case, sole.

Published on: December 20, 2019
The
Washington Post
reports that "an illness resistant to multiple drugs that has hit 13 states and led to four hospitalizations."
The Centers for Disease Control and Prevention (CDC) says that the cause of the illness likely is puppies.
That's right. Puppies. Some 70 percent of the people reporting infections say they'd been in contact with a pet store puppy.
Here's the retail angle: A large percentage of the infected people either had visited a Petland store, or were Petland employees.
The
Post
describes Petland as "a national chain implicated in a previous spate of puppy-related illness involving the same kind of bacteria, campylobacter … Federal health officials said last year that puppies sold through Petland — which has drawn critics for its use of commercial breeders — were a likely source of the outbreak that sickened 113 people across 17 states and resulted in 23 hospitalizations."
According to the story, "Petland, which lists about 80 locations across the country, said in a statement that it has worked since the last outbreak to implement all recommendations from federal and state animal and public health officials.
"Those protocols, the company said, include mandatory sanitary training for all employees, prominent signage and multiple sanitation stations in stores and other measures to educate staff and customers. Petland says it has also changed 'animal husbandry and sanitation practices' and asked its veterinarians to use microbe-targeting substances judiciously, amid concerns about drug resistance."
KC's View:

This may seem like a bit of a leap, but I don't see anything in Petland's response that makes me think that this is a retailer with which I'd like to do business. In fact, Petland's response seems like responding is what it does … it reacts to problems and performs fixes as required, as opposed to understanding some basic things ought to be built into a pet retailer's business model..

Again, a good lesson for every retailer. Band-aids can stop the bleeding, but they usually don't address the infection. And it seems to me that the real infection at Petland isn't the one that puppies are giving to people, but rather may be in a culture that is more focused on moving animals than it is on the broader value proposition.

Published on: December 20, 2019
• There have been numerous stories here about how Amazon has designs on sports broadcasting rights that traditionally have gone to traditional media outlets, and now Apple seems to be getting into the act.
According to the
Wall Street Journal
, "Executives at Apple met with representatives of MGM and the Pac-12 Conference this year as the tech giant considers ways to broaden the appeal of its Apple TV app and TV+, a $4.99 monthly service that launched last month with nine original programs. The service anchors an updated TV app that offers subscriptions to Disney+ and HBO, which give Apple a cut of sales.
"Though the conversations with MGM and the Pac-12 were preliminary and have yet to reach an advanced stage, the talks show Apple's openness to striking a multibillion-dollar content agreement in support of its TV service - even as it forges ahead with a preferred strategy of developing its own shows, these people said. A deal with the Pac-12 would be Apple's first foray into live sports."
•
Bloomberg
reports that Amazon "is seeking its first warehouse in Ireland to fulfill orders currently shipped from the U.K., people with knowledge of the plan said, as Prime Minister Boris Johnson prepares to lead Britain out of the European Union. The online retailer is scouting sites with about 100,000 square feet (9,290 square meters) of space and has evaluated options on the outskirts of Dublin, according to the people, asking not to be identified as the plans are private. No deal has been agreed and there's no certainty any lease will be signed, they said."
Published on: December 20, 2019
…with brief, occasional, italicized and sometimes gratuitous commentary…
• In Minnesota, the
Pioneer Press
reports that "striking Teamsters in Minnesota, Wisconsin and Indiana will return to work" after United Natural Foods Inc. (UNFI) agreed to negotiations, returning the supply chain to normal just days before the Christmas holidays.
According to the story, "Nearly 160 workers at a Fort Wayne, Ind., United Natural Foods distribution site had been on strike since Dec. 13. The members of the Teamsters Local 414 accused the company — with corporate offices in Minnesota — of unfair labor practices … Other Teamsters locals at United Natural Foods sites in Hopkins and Green Bay, Wis., joined the strike on Tuesday. About 700 members of Teamsters Local 120 were involved in the Minnesota strike."
• Responding to the House of Representatives' passing of the the United States-Mexico-Canada Agreement (USMCA), MI's Vice President of Tax, Trade, Sustainability & Policy Development, Andy Harig said, ""FMI is very pleased with today's strong, bipartisan House vote to move the USMCA one step closer to completion. The USMCA updates and builds on the benefits of the North American Free Trade Agreement (NAFTA), bringing it into the 21st century. It secures existing supply chains, promotes economic growth and job creation, and modernizes a number of provisions to reflect current business models and approaches. For the first time, USMCA addresses online commerce and biotechnology products. It also establishes modern, science-based Sanitary and Phyto-Sanitary standards."
And from Tom Stenzel, United Fresh President and CEO: "With today's strong vote by the House, we encourage the Senate to move forward with consideration of USMCA. For the fresh produce industry, this is a welcomed achievement as we continue to meet the demands from consumers for increased availability of healthy fresh fruits and vegetables. Finally, we believe this new trade agreement will strengthen our partnership between the three countries and provide essential cooperation in the fresh fruit and vegetable industry."
• The
New York Times
has a story about Camp in Downtown Brooklyn, described as "a venture-backed 'family experience store' - what would have recently been called a toy store - that blends play and product in hopes of reviving a tired retail toy scene. After high rents, low margins and intense competition brought down previous iterations of Toys R Us and F.A.O. Schwarz, it seems like a risky time to bet on toys. But Camp is trying something different … The stores seem to hide the selling of toys in plain sight by outfitting their spaces in immersive themes that change every few months."
According to the story, "It's free to play in Camp's stores, but the walls, tables, and even the floors are also packed with toys available for purchase. Their stock mixes the usual suspects, like kid-scale play kitchens and L.O.L. Surprise! dolls, with books, balls, figures and craft kits from smaller vendors — a curated variety that helps Camp differentiate from Amazon. There's also a full schedule of ticketed programs running $20 to $30 each, including crafts (Mason jar snowglobe making, animal masks), physical activities (musical yoga, obstacle courses), and entertainment (children's comedy, live music). Meanwhile, parents can visit on-site cafes."
Published on: December 20, 2019
…will return in 2020.
Published on: December 20, 2019
Past Retail Tomorrow podcasts have focused on how technology can have an impact on business models and people's lives. In this edition, however, we drill down to talk about how technology affected one life … and, in fact, makes living a best life possible.

Our guest: Heidi Dohse, senior program manager in Google's Cloud - Health and Life Sciences division. Dohse's personal and professional story makes for a compelling narrative that is at once provocative and inspiring.

Hosted by Kevin Coupe, MorningNewsBeat's "Content Guy."

You can listen to the podcast here, or on iTunes and GooglePlay.

This edition of the Retail Tomorrow podcast is brought to you by GMDC, the Global Market Development Center.
Published on: December 20, 2019
Let me say this right odd the bat: There only has been one great Star Wars movie -
The Empire Strikes Back
. That's it.
The rest have ranged from good to mediocre, with a lot of them featuring good moments occasionally marred by groaners.
Okay. I got that off my chest. Now, about
Star Wars: The Rise of Skywalker
…
Being the final film of the final trilogy of Star Wars films means that it has both expectations and baggage - director JJ Abrams is tasked with the responsibility of bringing it all together and pleasing legions of fans, including some of us who were around when the original came out in 1977.
By that measure, I can't say he succeeded.
The Rise of Skywalker
tries to cram a lot into its 2:35 running time - they have to pick up and resolve all the plot threads from
The Last Jedi
, plus move the story forward
and
resolve all those plot points. Characters new and old have to have their moments, and fans have to be pleased, if not thrilled.
The problem is that almost none of that is done satisfactorily. I'm trying to think of a moment that was truly surprising in
The Rise of Skywalker
, and I'm having trouble … which is not to suggest that there are not moments that are pleasing. There are. Just not thrilling or surprising.
Much of the film is dark, and there are segments that seem not particularly well directed; it is important in films like this to be directionally oriented, and that there are times when it is really hard to tell where you are and how things are laid out. And, I kept thinking of the Latin phrase
deus ex machina
, which refers to a dramatic device in which something unexpected or contrived is used to resolve the plot. There are a lot of those in
The Rise of Skywalker
, though I won't say more for fear of spoilers.
One thing I did like was the degree to which the film is far more diverse that the early films - there are people of color and women in prominent roles, and let's hear it for Daisy Ridley, who performs admirably as the center of the movie.
Star Wars: The Rise of Skywalker
isn't a great movie, and maybe not even a good one. But it may be good enough, which it wouldn't be if it were not part of the Star Wars franchise.
A Beautiful Day In The Neighborhood
is a movie that I was very much looking forward to seeing. After all, Tom Hanks is terrific in pretty much everything he does, and he seems perfectly cast as children's television host Fred Rogers, who typified everything good and nice and gentle in the world. Plus, I was an enormous fan of the Fred Rogers documentary that came out last year,
Won't You Be My Neighbor?
, and was looking forward to seeing how the Hanks version would handle the same basic story.
One thing I did know from reading about the film was going to be tightly focused on one specific relationship - Fred Rogers' friendship with Tom Junod, an
Esquire
writer assigned to profile the host. Junod was in many ways a troubled man, both personally and professionally, and his encounter with Rogers was transformative (and resulted in a pretty amazing piece of
magazine journalism
).
So I knew a fair amount going in.
What I did not know, nor expect, was how deeply moving a film
A Beautiful Day In The Neighborhood
would be. Matthew Rhys plays the Junod character (renamed Lloyd Vogel for purposes of the movie), and he isn't just an unhappy, angry guy - he is someone who somehow has become unmoored from all the people - even his wonderful wife, played to perfection by Susan Kelechi Watson - to whom he should feel connected, largely because of a dysfunctional relationship with his father (Chris Cooper - great, as always) that seems to have infected the rest of his life. Rhys gives us layers, which prevents the character from becoming a stereotype. He's terrific.
As for Tom Hanks - well, I think there may be an argument that this may be one his best film performances. It is miles away from being just one nice guy playing another nice guy. In fact, Hanks plays Fred Rogers as someone who has made a decision to be kind and gentle and supportive in every facet of his personal and professional life, and that this has not been a decision without cost. He's no saint, but he is a man who, unlike most people, seems to live to listen and to find the human cracks and crevices that he can fill in. It is an extraordinary piece of film acting - delicate and nuanced and suggestive.
A Beautiful Day In The Neighborhood
even has a rather unique narrative structure, provided by director Marielle Heller and writers Micah Fitzerman-Blue and Noah Harpster. And there is a moment that I want you to look for - an amazing moment that takes place in a Chinese restaurant that hinges on silence, but in which Fred Rogers actually reaches out into the theater audience and makes us part of the story. It was a breathtaking moment … and, strangely enough, similar to one in
The Irishman
, which does the same thing albeit in a wildly different context and with different ethical questions in mind.
I've been thinking about the year in movies over the last couple of days. I don't see enough movies in a year - though admittedly, I see more than most civilians - to be able to do a top ten list. But one thing that has occurred to me is how many of the movies that brought joy to the experience had to do with music. There was the Bruce Springsteen documentary,
Western Stars
. There was
Wild Rose
, the country music drama set, improbably but effectively, in Scotland. And, of course, there was
Yesterday
, which showed us a world in which only one person remember the transformational music of The Beatles.
All of these movies made me happy. In one way or another, they touched my heart and soul. If only because I had the opportunity to see them, I'm willing to say that 2019 was a pretty good movie year.
I do have one end of year wine suggestion…
I have no idea where the bottle of 2016 Chateau Tour De Grangemont Bergerac that I found in my larder came from. If someone reading this "OffBeat" gave it to me, my apologies … and my gratitude. Because it was a truly great bottle of wine.
It comes from the Bergerac region of southwest France, and is a blend of Cabernet Sauvignon and Merlot … and is rich and bold and perfect with a great steak and maybe some fingerling potatoes and some asparagus. That's pretty much a perfect meal, if you ask me.
That's it for this week and for this year. As Howie Rose says on NY Mets radio broadcasts, "Put it in the books."
Have a wonderful and safe holiday, and I'll see you next year.
Slàinte!