Published on: March 18, 2020
Random and illustrative stories about the global pandemic, with brief, occasional, italicized and sometimes gratuitous commentary…
• The Washington Post reports that even as the Covid-19 coronavirus has "pitched grocers onto the front lines of an accelerating public health crisis, forcing many chains to reduce hours and put buying caps on such high-demand foods as ground beef and frozen pizzas," it seems likely that further steps will be required … it's only a matter of time before supermarkets take even more drastic measures, as they look for ways to curb the spread of the highly contagious virus among customers and employees."
Some of these potential steps can be found abroad, among them:
• "In Italy, Lidl is capping stores to 20 shoppers at a time, who are limited to 10-minute slots."
• "In China, at the height of its outbreak, stores checked customers' temperatures at the door and required them to stand at least three feet apart from others in line."
The Post has an example of how one US independent is adapting:
"In Youngsville, La., NuNu's Fresh Market has a 15-person limit from 6:30 to 7:30 a.m. — a move aimed at protecting vulnerable groups. Managers are also limiting essentials like bread, rice, eggs and baby formula to two per customer and have asked shoppers to limit the number of people they bring along on shopping trips."
The Post goes on: "The discussions on how to separate shoppers are part of a broader reckoning for supermarket operators being faced with unprecedented levels of demand and looming uncertainty, as entire cities and states order residents to shelter in place. Many are also worried about labor shortages, as tasks increase and workers fall Ill. Walmart and Kroger — the nation's two largest grocers — are rapidly recruiting store workers and truck drivers to meet demand, while Amazon has said it will hire 100,000 warehouse and delivery workers."
• From CNN:
"Seattle officials will provide more than 6,000 families with $800 each in grocery vouchers for Safeway stores as Washington state's biggest city faces the coronavirus crisis, Mayor Jenny Durkan announced Monday.
"The $5 million program will benefit 'eligible families who are currently enrolled in City-supported child care programs and food assistance programs,' Durkan said in a statement.
'As schools and child care facilities close, we need to do everything we can to support families and ensure they can put food on the table,' the mayor said."
The story says that "the vouchers will allow recipients to buy food and household goods but not tobacco, alcohol, lottery tickets or fuel, the mayor's office said. Voucher use will also require a free Safeway membership, which residents can access right away at any Safeway."
• The Washington Post has a sobering story about how, "in the part of Italy hit hardest by the coronavirus, the crematorium has started operating 24 hours a day. Coffins have filled up two hospital morgues, and then a cemetery morgue, and are now being lined up inside a cemetery church. The local newspaper's daily obituary section has grown from two or three pages to 10, sometimes listing more than 150 names, in what the top editor likens to 'war bulletins.'
By death toll alone, the coronavirus has landed in the northern province of Bergamo with the force of a historic disaster.
"But its alarming power goes even further, all but ensuring that death and mourning happen in isolation — a trauma in which everybody must keep to themselves."
The Post has an illustration that shows the degree to which death has pervaded communities: "The newspaper L'Eco di Bergamo usually has an obituary section of two or three pages. In recent days, it has been 10 or 11 pages. Some 90 percent of the deaths, its editor says, are related to the coronavirus."
The idea that we may be Italy in just a few weeks is frightening. No other word for it.
I must admit that this was one industry I hadn't thought about - yesterday I got an email from Sympathy Brands noting that new federal guidelines "maximizing gatherings to ten people, funerals, memorials and those mourning" have having an enormous impact on people who are losing loved ones to the coronavirus and all the other "normal" stuff that kill people every day.  On an average day in the US, there are some 7,700 deaths - and these are anything but average days.
What this means is that there are people who are suffering the loss of loved ones and, at the same time, suffering from social disconnection at a time when they need connection most. This is something to which we must pay attention as a society …
 • Fox Business reports that "the coronavirus crisis stands to do damage to the US economy - and the job market - with the potential to send the U.S. unemployment rate much higher.

"Fox Business has learned that Treasury Secretary Steven Mnuchin said during a luncheon with Senate Republicans on Tuesday that it was possible the unemployment rate could reach as high as 20 percent if the administration did not take actions to stabilize the economy.
For comparison, in February the unemployment rate was 3.5 percent."
However, the White House and the US Department of the Treasury emphasize that a 20 percent unemployment rate is just one scenario out of many possibilities, and that "appropriate steps" could prevent things from getting that bad.
However, the Los Angeles Times reports that "as fallout from the coronavirus pandemic hits the economy, it's slamming the American workforce: Some 18% of adults reported that they had been laid off or that their work hours had been cut, a new poll found.
"The proportion affected grew for lower-income households, with 25% of those making less than $50,000 a year reporting that they had been let go or had their hours reduced, according to a survey released Tuesday."
• The New York Times reports that "Amazon is moving to meet a surge in demand for household staples and medical supplies by pulling back on stocking items like consumer electronics and toys.
"In emails early Tuesday, Amazon told the sellers and vendors that supply the products on its website that it would not accept some shipments into its warehouses for three weeks. That includes halting purchase orders from brands that sell directly to the company and stopping shipments from the third-party sellers that offer goods on its marketplace."
The story goes on: "As Americans hunker down, they have been turning to Amazon in droves to bring products to their doorsteps, not just for toilet paper and hand sanitizer but for all kinds of items, from condoms to puzzles for children.
"With sales up, brands have been scrambling to restock Amazon's warehouses, which has had trouble processing so many products at once. Its loading docks to bring shipments into its warehouses have turned into a major choke point in American e-commerce."
Media Play News, which reports on the DVD and Blu-ray industry, notes that "priority items include health and household items, beauty and personal care, grocery, industrial and scientific. DVD and Blu-ray Disc movies were not on the list."
• Nine-store independent food retailer Mollie Stone's, which operates in the hard-hit San Francisco Bay Area, announced that it is opening its doors "to those seeking work during these unprecedented times.
"We invite YOU, or someone you know that is currently seeking work, to come join us in making a difference in people's lives through food as we embody our commitment to our communities," the company says in an email and on its website.
"All new Mollie Stone's employees, including short-term, part-time and full-time will receive competitive pay and health care benefits immediately.
"We are hiring on the spot at all 9 of our locations for all positions. Please apply in-store directly with a Store Manager. Please help us spread the word by sharing this with your community."
Keep in mind that Mollie Stone's is operating in a market where shelter-in-place has been imposed. There are a lot of people who are looking for work, but there also may be a lot of people who would be thrilled to find a legitimate reason to get out of the house.
• Go figure. The Covid-19 coronavirus pandemic actually seems tio be a good thing for troubled meal kit business Blue Apron.
Bloomberg writes that "Blue Apron Holdings Inc.'s stock more than doubled this week as cities around the country are forcing restaurants to curtail operations and as panic-buying empties the shelves of the nation's grocers." It was just a month ago that the company said that it was considering all its strategic options, including a sale of the company.
I suspect that there are a number of business models that may not have seemed urgently relevant a few weeks ago that today seem a lot more germane to how we are living our lives. A sale of Blue Apron may go a lot more smoothly, and at a higher valuation, than people might've expected back in February.
One of the things t hat I think will have to come out of the current situation is a recognition that this is not an isolated scenario that never will happen again. Not only can it happen again, but it almost certainly will … and we would be foolish as a culture if we do not take the lessons we learn today and make plans for the future. The Blue Apron model may be flawed, but it certainly has some applicability and, with some tweaks, can be made to fit how people live their lives and how retailers come to market.
• From the Boston Globe:
"As the coronavirus crisis causes dine-in bans and an overall strain on many restaurants, third-party delivery services such as Grubhub and Uber Eats have stepped in to provide some relief … DoorDash plans to help restaurants — both existing and new to its platform — generate up to $200 million in additional sales this year. All restaurants previously partnered with DoorDash will not pay commission fees for pickup orders, while independent restaurants that are not currently partnered with DoorDash or Caviar can do so for free and won't pay commission fees for 30 days if they sign up between now and the end of April."
DoorDash has said that it is "shipping more than one million sets of free hand sanitizer and gloves to its delivery people, and will provide financial assistance to those eligible who are either diagnosed with COVID-19 or placed in quarantine."
• Add Stew Leonard's to the list of food retailers saying that they will have special seniors-only shopping hours.
The iconic retailer sent out an email this morning announcing that "effective Thursday, March 19th until further notice, Stew Leonard's will open half an hour early each day to allow our most vulnerable shoppers – seniors and those with vulnerable immune systems – to shop in a less crowded environment. If you are under 60 or in good health, please wait until regular store opening times before coming to shop at Stew's."
Interestingly, in the same email, the retailer said that "all Stew Leonard's stores are well-stocked with plenty of Farm Fresh Food arriving every day."
Which is good news to those of us who are Stew's customers. I'll let you know how it goes.
• Meanwhile, concern about the pandemic seems to break along party lines, as Axios reports that "twice as many Democrats as Republicans say they're very concerned about the coronavirus."
The story says that a newAxios/Ipsos poll says that 51 percent of Democrats say they're very concerned about it, and 38 percent say they're somewhat concerned, while only 11 percent say they're not concerned at all. This compares to 25 percent of Republicans who say they're very concerned, 43 percent who say they are somewhat concerned, and 31 percent say they're not concerned at all.
• The Associated Press reports that the United States and Canada are working on a ban on non-essential travel between the two nations during the Covid-19 coronavirus pandemic.
According to the story, "Both countries are eager to choke off the spread of the virus but also eager to continue the critical economic relationship. Canada relies on the U.S. for 75 percent of its exports.
"Truck drivers and Canadian snowbirds, who live in the U.S. for part of the year, are among those expected to get an exemption. Completely closing the border would cause severe economic damage to both the U.S. and Canada as the two economies are integrated. Much of Canada's food supply comes from or via the U.S. and and 98 percent of its oil exports go to the U.S..
"About 18 percent of American exports go to Canada."
• From the BBC:
"Sainsbury's has said it will prioritise vulnerable and elderly people for online deliveries and limit people to only buying three of any single item … The move comes as supermarkets continue to try to stop customers stockpiling.
"Aldi has already introduced limits of four items per shopper on all products, while Morrisons has said it will expand its online delivery service … Other retailers including Tesco and Boots have set limits on particularly popular products such as pasta, tissues and hand sanitiser."
• Willamette Week reports that Oregon Gov. Kate Brown is closing "bars and restaurants to all but takeout statewide and limit public gatherings to no more than 25 people for the next four weeks … It will allow no on-site dining or drinking, but will permit takeout pickup. If establishment owners don't comply, they could face criminal charges."
• From Groupon, a picture is worth a thousand words. (Check out the discount.)
• LL Bean announced that it has closed all of its US bricks-and-mortar stores, at least until March 27.
This includes, the company said, its Freeport, Maine campus - which traditionally is open 24 hours a day, 365 days a year. It is just the fifth time that the company has closed the Freeport location, and the first time for more than 24 hours. All employees will receive pay and benefits for the duration.
The company's e-commerce business remains open, with employees following strict CDC guidelines.
My friend, LLB Bean CEO Steve Smith, told me that the company has "put in place extraordinary and impressive social distancing in our warehouse - I've been super impressed by our management of our operating areas to be creative and smart." And I continue to be super-impressed by LL Bean, and especially how Steve always puts the spotlight on the front line folks who make the company possible. To me, that's leadership.
• Add Macy's, Bloomingdale's and Saks Fifth Avenue to the list of retailers closing their stores for at least the next few weeks because of the Covid-19 coronavirus pandemic.
• In Minnesota, the Star Tribune reports that "toilet paper isn't the only item selling swiftly in stores." Best Buy also is seeing a boom, with an "uptick in sales of devices to make it easier to work from home. Think keyboards, monitors, webcams and laptops … In addition to computing devices, Best Buy said sales of freezers and refrigerators have also been brisk in recent days. That's not surprising as many consumers have become stockpiling food and other supplies as many schools are canceling classes and health experts emphasize the importance of social distancing in the days and weeks to come."
• The Minneapolis / St. Paul Business Journal reports that Lunds & Byerly's is setting aside an hour each morning so that customers facing the greatest risk from COVID-19 can have the stores all to themselves. The Edina-based grocery store chain announced Monday that all stores would operate 7 a.m.–9 p.m. until further notice. The first hour of the day, from 7 a.m.–8 a.m., is intended only for shoppers who are elderly or have compromised immune systems.
The Minneapolis / St. Paul Business Journal also reports that the Mall of America will "remain closed until at least March 31, according to a release the Bloomington megamall posted online … MOA is the state's largest draw for tourists and it boasts 40 million annual visitors, 40 percent of whom come from 150 miles outside of the Twin Cities."
• Kansas has become the first state in the US to say that it is shutting down its schools for the rest of the academic year. California has said that a similar move is likely there.
• Build those walls!
ABC News reports that "the Maine island of North Haven has banned people who do not live on the island full-time from visiting due to new coronavirus concerns … It only allows travel for essential purposes to the island, which includes providing medical care, conducting law enforcement activities, direct caregiving and resupplying the island with items residents need.
"Residents are also allowed to travel back and forth to the island to get essential needs."
Contractors working on the island also are banned for the moment.
At the same time, the Washington Post reports that "much of North Carolina's Outer Banks will begin restricting tourists and visitors this afternoon in an effort to reduce travel and limit permanent residents' exposure to the coronavirus, officials in Dare County announced Tuesday … To gain entry, Dare County has established entry permits. But the permits are only available to 'essential personnel,' including government workers, permanent residents and nonpermanent residents who own property or work in the county."
• Variety reports that "the Rolling Stones have postponed their North American tour, which was scheduled to begin May 8 in San Diego.
The Rolling Stones commented, "We're hugely disappointed to have to postpone the tour. We are sorry to all the fans who were looking forward to it as much as we were, but the health and safety of everyone has to take priority. We will all get through this together – and we'll see you very soon."
• Also from Variety:
"Disney's Black Widow is the latest tentpole to shift its release date as fears of coronavirus continue to mount.
"The Marvel superhero adventure, starring Scarlett Johansson, was slated to hit theaters May 1. Disney has already delayed Mulan, The New Mutants and Antlers, but held off on postponing Black Widow in hopes that it wouldn't have to scrap another movie.
"While an exact budget for Black Widow has not been revealed, Marvel movies typically cost somewhere in between $150 million and $200 million. It would've had to do well with international crowds in order to turn a profit."
• And finally …
At a time when we're all being encouraged to practice social distancing - which also is a time when, quite frankly, we all could use a hug - I must admit that I'm a little envious of our dogs, who clearly aren't worried about how close they get to each other.
That's Zazu on the left, and Spenser on the right. Looking at them this morning made me happy, and so I thought I'd share a bit of the joy.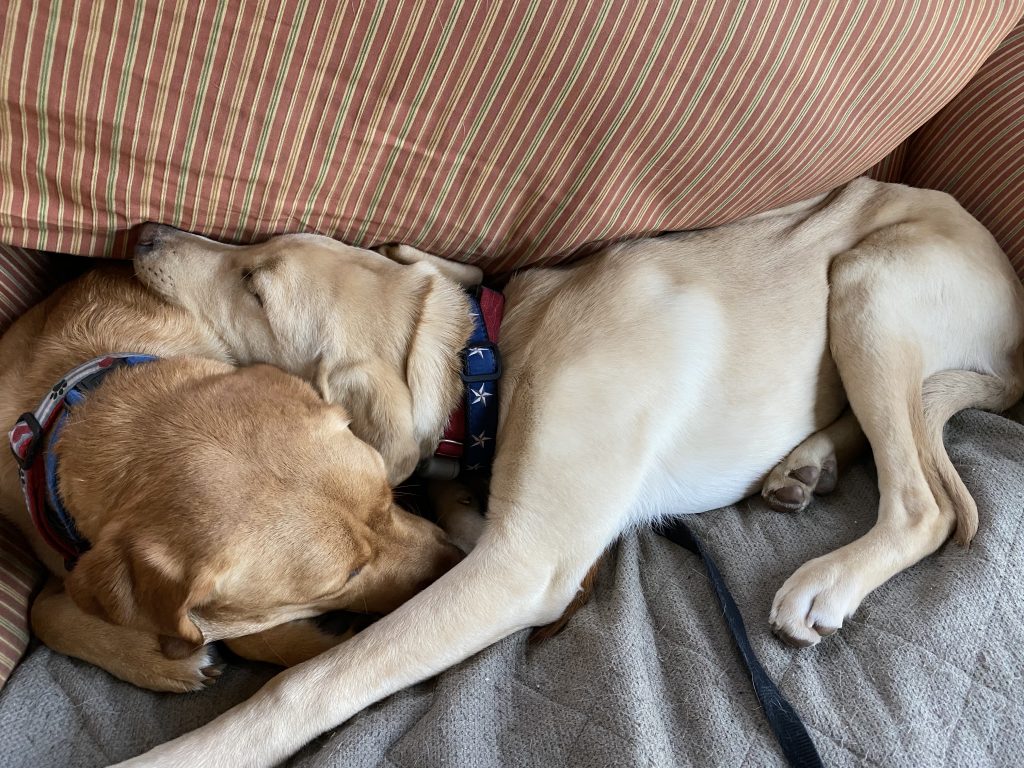 Stay safe. Stay healthy.