Random and illustrative stories about the global pandemic and recovery efforts, with brief, occasional, italicized and sometimes gratuitous commentary…
• In the US this morning, there are 1,706,226 confirmed cases of the Covid-19 coronavirus, with 99,805 deaths and 464,670 reported recoveries.
Globally, there have been 5,601,871 confirmed coronavirus cases, with 348,145 fatalities and 2,381,369 reported recoveries.
• The New York Times on Sunday offered a graphic and sobering front page (and several jump pages) on which it listed the names of 1,000 people from across the country who died from Covid-19. Not just the names - in many cases, the Times offered a snippet of information that provided context about the lives lost, like a person "loved long drives, late nights and huge meals," or that another joined the FBO as a top recruit.
One thousand names. One thousand people. And just one percent of the lives lost - almost certainly, the US will pass the point of having 100,000 pandemic-related fatalities.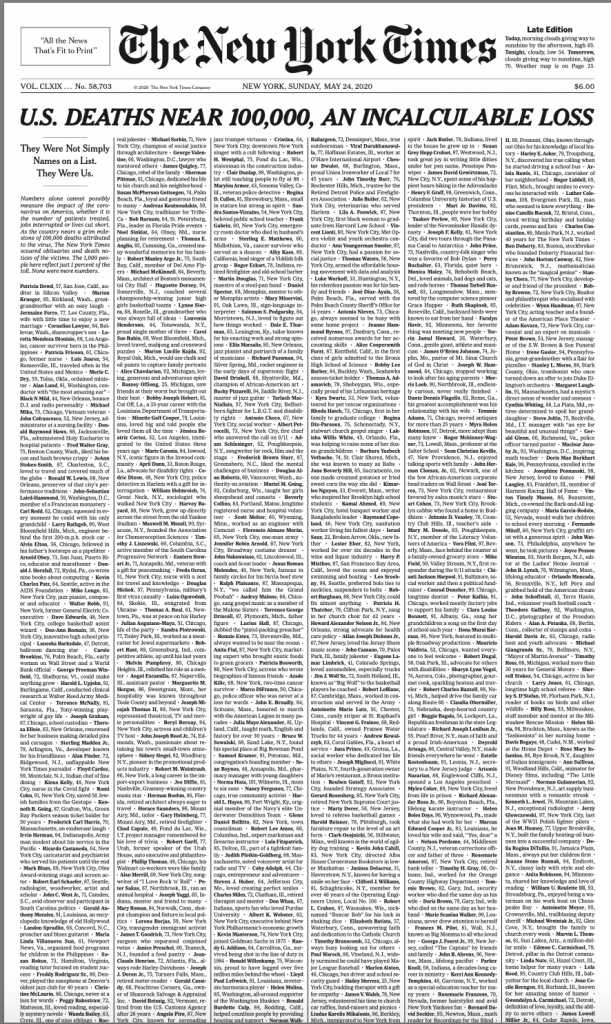 • From the Washington Post:
"Vacationers flocked to the Lake of the Ozarks over the holiday weekend, flouting social distancing guidelines as they packed into yacht clubs, outdoor bars and resort pools in the Missouri tourist hot spot.
"Images of the revelry rippled across social media, showing people eating, drinking and swimming in close quarters. In one picture shared by the news station KSDK, dozens of people could be seen crammed on an outdoor patio underneath a sign reading, 'Please practice social distancing.'
"The scenes underscored how some have interpreted the loosening of the coronavirus restrictions ahead of the Memorial Day holiday as an invitation to return to a pre-pandemic version of normal. Amid varied and sometimes conflicting orders from state and local officials, people across the country have been left to decide on their own how strictly to follow the rules."
I hope the folks who ignored the warnings end up being right, and that their actions do not result in more coronavirus cases and more deaths. But it is hard to imagine that they will be.
• From the Wall Street Journal this morning:
"Truck loads are growing again. Air travel and hotel bookings are up slightly. Mortgage applications are rising. And more people are applying to open new businesses.
"These are among some early signs the U.S. economy is, ever so slowly, creeping back to life.
"Plenty of data show the country was still mired in a severe downturn in April and May, with overall business activity falling and layoffs rising—though more slowly than in the early weeks of the coronavirus crisis. Current projections have the economy contracting by 6% to 7% this year and unemployment lingering in double-digit percentages for a while. But, for the first time since the pandemic forced widespread U.S. business closures in March, it appears conditions in some corners of the economy aren't getting worse, and might even be improving."
I think we'll take good news wherever and whenever we can get it. I just hope that it persists, and that we're not thrown yet another curve by Covid-19.
• From Wired, an important story about unintended consequences:
"The world's total number of confirmed Covid-19 cases is closing in on 5 million. But an accidental side effect of the pandemic—an indefinite pause in the worldwide campaign to eradicate polio—could dwarf its toll by allowing the almost-vanquished disease to get a fresh start.
"At the end of March, on the advice of a World Health Organization panel of experts, mass vaccination campaigns against polio and measles were put on hold to prevent spreading the virus. As a result, says Dr. Michel, WHO's director of polio eradication, 'we have several millions of children below the age of 5 who remain susceptible and have not had the chance to be vaccinated'.
"The pause benefits the fight against the coronavirus: Approximately 3,700 WHO employees, consultants, and lab personnel who staff the polio campaign in 55 countries have been loaned to the Covid-19 effort, according to Zaffran. But it is a serious operational hazard for the three-decade campaign."
And here's something else I did not know, from the Wired story:
"The forced pause comes on top of a bad year for the polio campaign. After its inception in 1988, when approximately 350,000 children were paralyzed by the disease each year, the multinational effort had nearly wiped polio out of existence. In 2018, there were only 33 naturally occurring cases in the world, and an additional 25 in which a weakened virus used in some vaccine formulas reverted to virulence and caused paralysis.
"But in 2019, polio began bouncing back, with 176 cases of the naturally occurring type, which spreads from child to child through fecal particles and contaminated water, and an additional 366 cases of what is called vaccine-derived polio. By May 13 this year, there had been 59 cases of wild polio and another 104 cases of vaccine-derived polio—and that's with the tropical rainy season, traditionally the riskiest part of the year for infection, still to come."
• From the New York Times:
"The Smithfield Foods plant in Tar Heel, N.C., is one of the world's largest pork processing facilities, employing about 4,500 people and slaughtering roughly 30,000 pigs a day at its peak.
"And like more than 100 other meat plants across the United States, the facility has seen a substantial number of coronavirus cases. But the exact number of workers in Tar Heel who have tested positive is anyone's guess.
:"Smithfield would not provide any data when asked about the number of illnesses at the plant. Neither would state or local health officials.
"'There has been a stigma associated with the virus,' said Teresa Duncan, the director of the health department in Bladen County, where the plant is located. 'So we're trying to protect privacy'.
"Along with nursing homes and prisons, meatpacking facilities have proven to be places where the virus spreads rapidly. But as dozens of plants that closed because of outbreaks begin reopening, meat companies' reluctance to disclose detailed case counts makes it difficult to tell whether the contagion is contained or new cases are emerging even with new safety measures in place. The Centers for Disease Control and Prevention said there were nearly 5,000 meatpacking workers infected with the virus as of the end of last month. But the nonprofit group Food & Environment Reporting Network estimated last week that the number has climbed to more than 17,000. There have been 66 meatpacking deaths, the group said."
I would suggest that the real stigma could come if it ends up that the companies, in league with local officials, are found to have been covering up significantly more cases and deaths than have been estimated, and doing so to protect stock prices, not employees, to protect company interests, not those of local citizens.
I just hope that everyone involved is on the right side of this story. If they're not, they'll find out what a stigma really is.
• The New York Times also reports on how "the meat industry's troubles may have provided a boost for plant-based meat substitutes, which had a jump of 35 percent in sales during the same period. (The increase just for uncooked products was more dramatic: 53 percent for the vegan products versus 34 percent for meat.)
To meet the demand, Impossible Foods has been hiring more workers, increasing pay and adding more shifts. Beyond Meat reported record sales in the first quarter of this year.
"Those companies' new generation of plant-based alternatives — developed in laboratories, with long lists of unfamiliar ingredients — had been slowly catching on with consumers. But some say that reports of illness among meat-processing workers have made them even more curious."
• The Washington Post reports that strong alcohol sales that have occurred since the pandemic forced many people to shelter at home have not extended to one segment of the business.
Here's how the Post frames the story:
" According to market research firm Nielsen, sales of alcoholic beverages spiked 55 percent in the week ending March 21, one of the first weeks of lockdown, and online sales of alcohol in the United States rose almost fivefold in April compared to the same period last year.
"Alcohol delivery app Drizly says sales surged 485 percent through mid-April. And data analysis firm inMarket says light beer sales have skyrocketed, with Anheuser-Busch's Busch Light sales experiencing a 44 increase over the past two months."
But, the story says, "One category has had little uptick in sales and consumption, however. American craft distillers have seen precipitous declines in sales, worrying industry experts that many distilleries will not make it through the pandemic and economic downturn."
The reason: "People largely drink the fancy stuff, the small-production craft spirits, in restaurants and bars, leaving themselves in the expert care of mixologists. At home, people aren't fiddling with amari and bitters so much, going heavy on handles of less-expensive familiar brands such as Jim Beam or Smirnoff." Plus, "National brands can pay to commandeer premium placement on liquor store websites and shelves, he said, which may partially explain the rise of their sales figures during the pandemic."
• From the New York Times:
"Hertz, which started with a fleet of a dozen Ford Model T's a century ago and became one of the world's largest car rental companies, filed for bankruptcy protection on Friday after falling victim to its mountain of debt.
"The coronavirus pandemic has devastated Hertz by grounding business travelers and tourists, making it impossible for the company to continue paying its lenders. A sharp drop in used car prices has also decreased the value of its fleet."
The Times notes that "Hertz said late Friday that it would use more than $1 billion in cash on hand to keep its business running while it proceeds with the bankruptcy process."
The Wall Street Journal adds:
"In many cases, the companies in the most trouble today are those who were also in the most trouble yesterday. The pandemic means muddling through is no longer an option.
"The crisis has battered the whole rental-car industry with a plunge in bookings. Hertz was more vulnerable than competitors, having borrowed about $19 billion directly and through a series of complex financial transactions. In addition to its sedan commitment, the company was held back by its troubled 2012 acquisition of Dollar Thrifty and efforts to move into the leisure-traveler market, a niche dominated by Avis Budget Group Inc. and Enterprise Holdings Inc."
This last point by the Journal is a good one. There will be a lot of companies out there that will claim that they've been victimized by the pandemic, while the reality is that they've been victimized by their own strategic and tactical missteps - the pandemic just accelerated the inevitable.
• KCCI-TV News reports that Hy-Vee announced yesterday that "it will give away free masks to customers at its Iowa grocery and drug stores … Hy-Vee received 75,000 cloth masks from the Iowa Department of Public Health," and will give them away on a first-come, first-serve basis.
Hy-Vee said that "the masks are intended for Iowans who do not already have access to face coverings to protect themselves from COVID-19."
• The Boston Globe reports that in Massachusetts, "nine weeks after Governor Charlie Baker shut down all nonessential businesses in an effort to stop the spread of COVID-19," retailers have started the re-opening process by offering curbside pickup.
The Globe writes: "US consumer habits have shifted significantly, with e-commerce sales jumping 49 percent in April after shutdown restrictions were issued throughout the country, according to Adobe's Digital Economy Index. Many of the biggest retailers saw the biggest gains: Walmart's online sales jumped 74 percent, Target's were up 114 percent, and Wayfair has seen its stock price surge 24 percent as stir-crazy shoppers eagerly update their abodes.
"But the economic realities that affect retail sales are just as stark: Massachusetts' jobless rate reached 15.1 percent in April, and since mid-March, the state has received 1.23 million claims for unemployment assistance. Major retailers like Neiman Marcus, JCPenney, and J.Crew have filed for bankruptcy protection, and there's evidence that more will follow.
"Many retailers were disappointed with Baker's decision to allow only curbside sales to start on Monday, instead of permitting stores to open by appointment or for in-store sales with capacity restrictions in place."
The story goes on: "One Harvard Square store owner who asked for anonymity said she's worried about having to engage her customers in difficult discussions about wearing masks, since she and her employees all fall into high-risk categories. She's hoping that curbside operations will offer an on-ramp, of sorts, getting people accustomed to the idea that all commerce, not just that at essential stores, will need social distancing restrictions."
• USA Today reports on how, "as the U.S. reopens and summer approaches, cities from Tampa, Florida, to Las Vegas to Portland, Maine, are opening sidewalks and closing streets to create large al fresco or open air dining rooms. They hope this nod to the bustling cafe culture of Paris and Rome will help Americans feel comfortable eating out again and help restaurants begin to recover from staggering losses."
The story notes that "proposals are being floated all over the country to allow restaurants to spread out to sidewalks, parklets (parking spaces converted into extra outdoor seating), parking lots or even into streets as long as they adhere to safety and sanitation guidelines. Some cities are already expediting permits and waiving fees, helping restaurants whip through what is often a cumbersome and costly process … The advantage of open-air dining for restaurants with prosciutto-thin margins in the time of the coronavirus: By expanding their square footage, they can operate at full rather than at half or a quarter capacity. And dining that sprawls onto sidewalks and streets has the advantage of keeping restaurantgoers and servers from clustering indoors where the coronavirus is transmitted more easily."
• Interesting piece in the Financial Times about how so-called road shows by companies looking for investment capital, which take company executives through a grueling travel and meeting schedule, may be an endangered species.
The reason: "A number of initial public offerings during coronavirus lockdowns have done strikingly well despite executives being unable to do what they normally do, and present to roomfuls of investors at big financial centres around the world … , some are questioning whether the financial and logistical benefits of virtual marketing will forever change the traditional roadshow."
One case of where roadshows may be desirable: "IPOs that revolve around a key founder character," where personal charisma and vision may be a critical part of the pitch.
• The New York Times has a story about how WW International - the company formerly known as Weight Watchers - decided to fire a number of its employees via a series of three-minute Zoom calls that took place simultaneously two weeks ago.
WW won't say how many Zoom calls took place, nor how many people were laid off - but it was enough the company's CFO, Nick Hotchkin, said "it wasn't practical to have all of the conversations be one on one."
The story suggests that two things affected WW's business model. First, the company moved away from a strict weight loss orientation and toward a broader wellness theme, which didn't sit well with many of its members. Second, when the pandemic made in-person meetings impossible, online get-togethers showed declining numbers.
One of the things that the story points out is that WW's approach has been fuzzy … and "fuzzy" in terms of strategy and tactics is not where anyone wants to be these days. You have to be sharp, specific and scintillating, or you may be sunk.
Beyond all that, the idea of mass layoffs seems so cold, so anti-wellness. It is like they saw "Up In The Air," and thought, wow, that seems like a great way to go.
• From Vogue:
"Fashion shows in their traditional format are not likely to return, according to industry experts.
"Digital solutions are stepping up to preserve shows in some form, while designers are rethinking their approaches to opt for smaller, more intimate showings.
"Ancillary industries like celebrity styling and photoshoots are adopting new norms to stay afloat.
"With a push from coronavirus, a decade's worth of fashion show evolution is about to take place in a matter of months. That requires a rewiring of an entire industry as executives, creative leaders and event producers break with hallowed traditions to adopt technologies already familiar to the film and television industries."
Rewiring entire industries? Breaking with hallowed traditions? Sounds like a Tuesday. And a Wednesday. And like every other day these days.
• The Wall Street Journal has a story about how Saratoga Springs, New York - the upstate community that "sells itself as 'the summer place to be,' welcoming more than a million people to the thoroughbred track that operates in July and August and thousands more to an outdoor concert venue that brings fans of music from Beethoven to the Grateful Dead" - is facing an uncertain summer.
Concerts and cultural performances have been cancelled, and the Journal notes that any horse racing may have to be done without spectators at the track.
"Gov. Andrew Cuomo said on May 16 that horse racing could occur in the state without spectators. That includes the thoroughbred track at Belmont Park, on Long Island, which will resume live racing on June 3 and on June 20 host the Belmont Stakes—the first leg of the Triple Crown.
"The Democratic governor said last week that it was too early to say if the policy would change to permit fans at Saratoga, where racing is scheduled to begin on July 16. Mr. Cuomo previously mentioned the racetrack as an example of an 'attractive nuisance' that could draw a large crowd from a wide area, and therefore might not operate safely."
The decision could have enormous financial implications: "The racetrack has a $237 million economic impact on the surrounding region, according to a 2014 study commissioned by the Saratoga County Industrial Development Agency," the Journal writes.
• From the Wall Street Journal:
"The University of Michigan won't have a football season this fall unless all students are able to be back on campus for classes. And, according to President Mark Schlissel, that isn't a sure thing.
"Dr. Schlissel, an immunologist by training, said he expects to make a call in the coming weeks on what the new school year will look like for the prestigious public university, which has about 46,000 undergraduate and graduate students and a football program that is a perennial powerhouse … Dr. Schlissel's measured approach strikes a different tone than the rosy predictions made by many of his peers, both within the Big Ten athletic conference and across the country at major research institutions. Auburn University President Jay Gogue, for instance, promised incoming freshmen that the fall semester would hold football, fraternities and extracurricular activities as usual."
According to the story, "Dr. Schlissel said his leadership team is trying to figure out whether they can lower the risk of coronavirus exposure for students, staff and others on campus so that it is "indistinguishable from their risk at home." While many are sheltering in place now, he acknowledged that students in particular may already be following social-distancing protocols more loosely.
"About half of the University of Michigan's students hail from outside the state, so they could be coming from hot spots such as New York, New Orleans or Seattle. Dr. Schlissel said the school may consider quarantining some upon their arrival to campus, and is assessing things such as symptom screening, testing, social distancing and the widespread use of personal protective equipment."
You think some people got upset about not being able to go to church? Football in Ann Arbor is a different kind of religion, and no games this fall would be an enormous deal - and would have national implications. I don't envy Dr. Schlissel - he must be under enormous pressure at the moment.
• Okay, here's one for the "yuck" file, from the New York Times:
"Humans are not the only ones who miss dining out.
"As restaurants and other businesses have closed during the coronavirus pandemic, rats may become more aggressive as they hunt for new sources of food, the Centers for Disease Control and Prevention warned.
"Environmental health and rodent control programs may see an increase in service requests related to 'unusual or aggressive' rodent behavior, the agency said on its website on Thursday."
Apparently, rodentologists say that the rats are not expected to get aggressive toward humans. Just each other. Which reminds me of the scene from "Skyfall."
• Eater - Portland reports that "a Portland restaurateur has announced that he will close not one, but all of his five restaurants because of COVID-19. David Machado, a hotel-based restaurateur, will be permanently closing the rooftop bar Altabira City Tavern, Citizen Baker, Italian restaurant Nel Centro, Pullman Wine Bar and Merchant, and Northwestern bistro Tanner Creek Tavern. 'There's no pathway back to a viable business,' Machado says."
The story says that "there are a few factors that make David Machado Restaurants especially vulnerable to the perils of reopening — perhaps most obvious is that all of them are housed in hotels, and there's no indication at all when Portland's tourism scene will return to anything approaching normal. Additionally, each of them relied heavily on a steady stream of concert, sports, and event-goers — Nel Centro was a popular spot for ticket-holders going to a show at the Keller Auditorium, while Altabira and Pullman pulled in Blazers fans heading to the nearby Moda Center and crowds attending the various events at the Convention Center across the street. Tanner Creek Tavern's position in the Pearl meant that most nights saw diners headed to shows at the Armory, or stopping in for a post-performance drink.
Even the flashy design of the restaurants, once a selling point, is now a hindrance, as large dining rooms with hundreds of seats surrounding a central bar wouldn't fit the new state guidelines for reopening, Machado says."
I mention this particular restaurant closing because it hits home. Nel Centro, one of the restaurants closing, is right across the street from the apartment I've always rented for my summer adjunctivities in Portland, and it was the place that Tom Gillpatrick and I always took our industry executive guests after class - we'd have a bite to eat, plenty of wine, and often would learn even than we had during class. And even on summer evenings in Portland, if the weather was cool, they'd light up the fire pits, and the place would be magical. (We could see the fire pits from the apartment window, and if Mrs. Content Guy looked down in the evening and noted that they were on, it was code for, 'Let's go have a glass of wine.")
I say all this because it is important to remember that when restaurants close, they take with them pieces of people's lives - the people who own them, the people who work there, and the people for whom many of these places could be a home away from home.