Published on: August 27, 2020
Amazon said that it is opening its first Amazon Fresh supermarket today, in the Los Angeles suburb of Woodland Hills, saying that it will offer "consistently low prices for all, and free, same day delivery and pickup for Prime members," as well as Amazon Dash Cart technology that "enables customers to skip the checkout line," and Alexa-based features "to help customers manage their shopping lists and better navigate our aisles."
The Amazon Fresh store will not, however, feature the Amazon Go checkout-free technology used in its c-store-style units in cities that include Seattle, San Francisco, Chicago and New York.
The Alexa-based features will provide directions to shoppers as well as meal recommendations.
Above you can see a video provided by Amazon that gives a look at the shopping experience.
The Woodland Hills store was scheduled to open months ago, but the debut was delayed as Amazon used the store as an e-commerce fulfillment center for four regional Whole Foods stores. As it opens today, it will only be available to local residents who have received invitations; the soft opening will transition to a broader public opening, probably in a few weeks.
In its announcement, Amazon says that "customers will find a wide assortment of national brands and high-quality produce, meat and seafood; plus our culinary team offers customers a range of delicious prepared foods made fresh in store every day—from fresh-baked bread and made-to-order pizzas, to rotisserie chickens and hot sandwiches."
The store also reportedly will feature a new Amazon Fresh private label line.
Because we are living in an age of pandemic, Amazon puts an emphasis on safety features, saying that it has learned much from how Whole Foods has managed coronavirus-related issues: "We've taken learnings from them and applied the same safety measures in Amazon Fresh, such as requiring daily temperature checks for all employees; requiring face coverings for all employees and customers entering the store; offering free, disposable masks for any customer who wants one; and operating the store at 50% capacity."
In its coverage, CNBC writes that "Amazon has three other Fresh store locations, including in Irvine and Northridge, California, as well as Chicago's Naperville neighborhood, all of which are being used for online order fulfillment. The company declined to say when they'll open to the public."
The story goes on: "Amazon is aiming to crack open a new segment of the U.S. grocery industry with the launch of its Fresh store, bringing the e-commerce giant into more direct competition with chains like Kroger and Albertsons. The new format incorporates a blend of in-store and online shopping, while offering consumers a variety of products at lower price points than Whole Foods. Whole Foods, acquired by Amazon for $13.7 billion in 2017, is known for its focus on organic goods and doesn't sell products with artificial ingredients."
Amazon thinks of Whole Foods and Amazon Fresh as formats that complement "one another and serving different needs," Jeff Helbling, vice president of Amazon Fresh stores, tells CNBC. "Whole Foods is a longstanding pioneer and leader in natural, organic and clean foods. Amazon's Fresh selection is fairly different. We see them operating next to one another and we're excited to offer customers the choice between the two."
Here are some pictures provided by Amazon: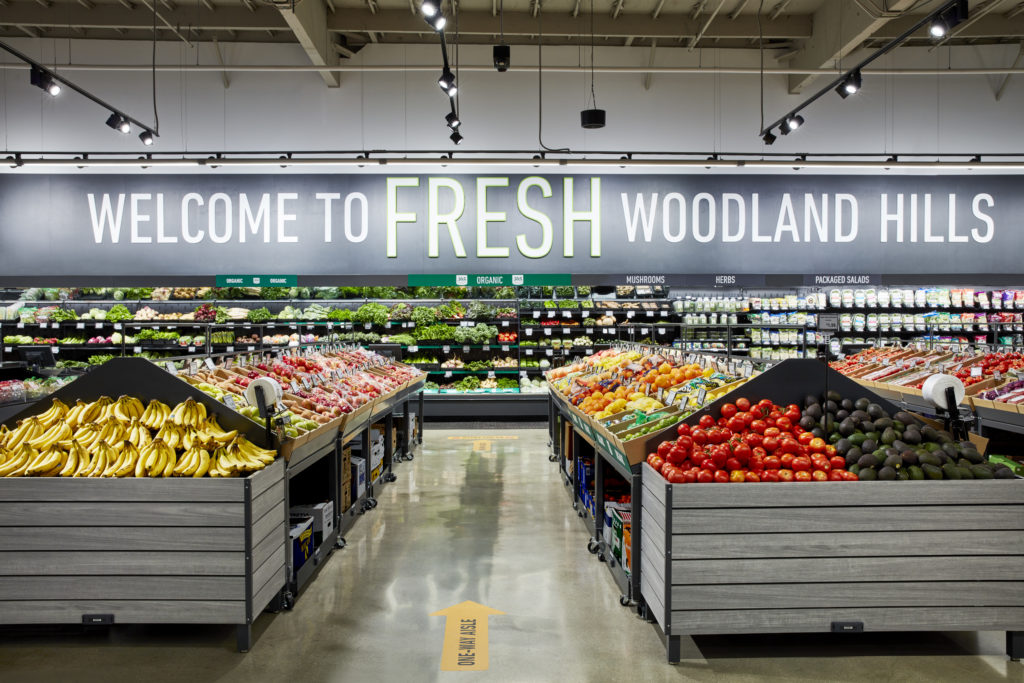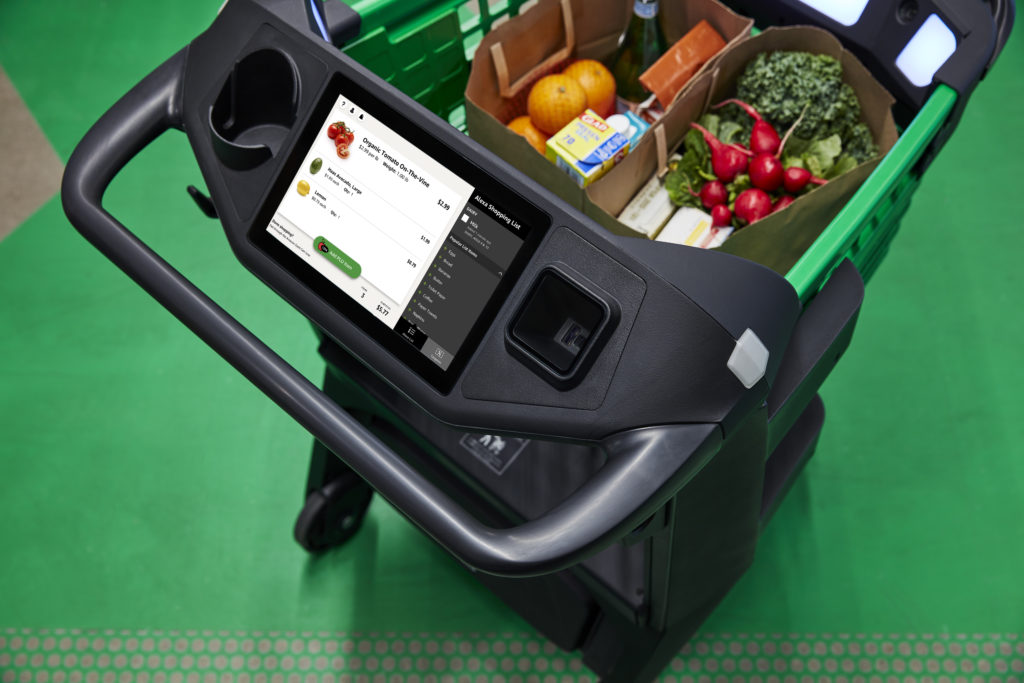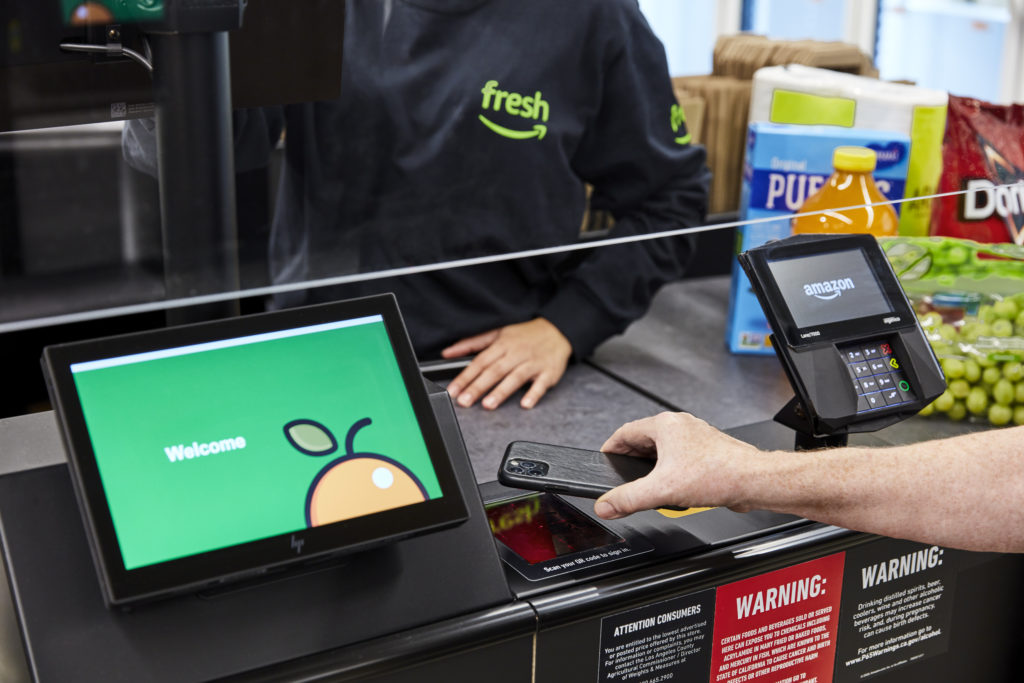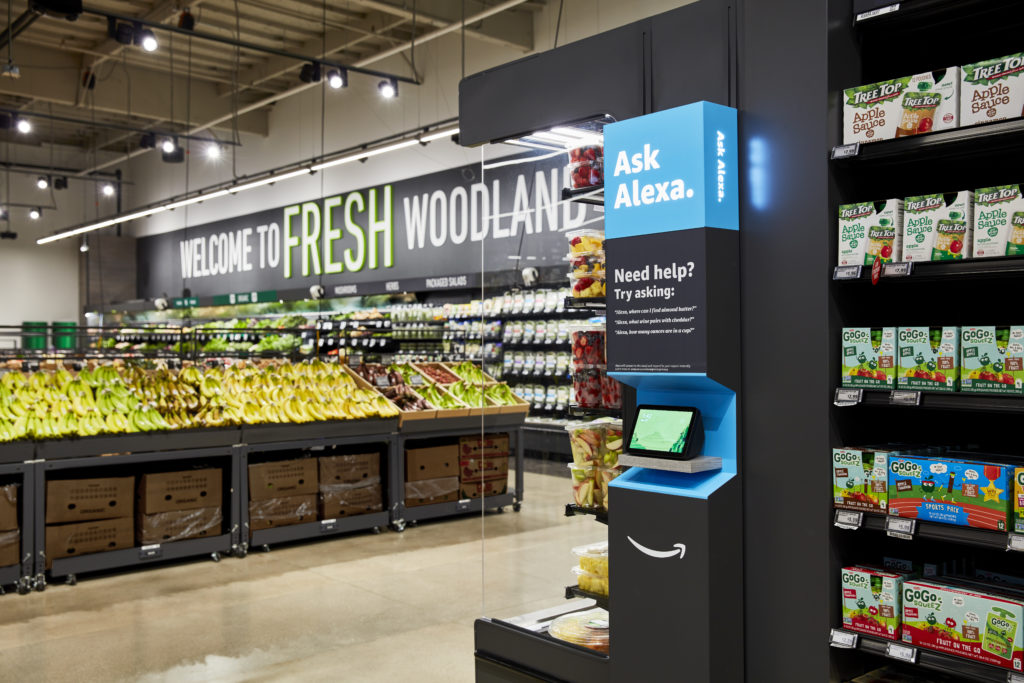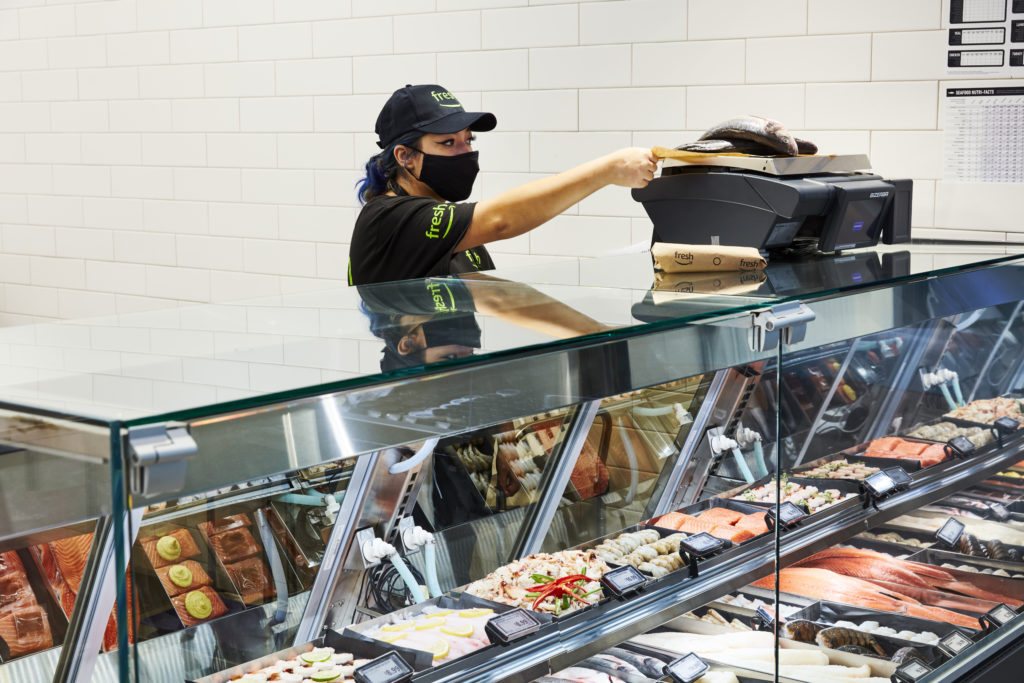 KC's View:

I think I'm most intrigued by the ways in which Amazon seems to have blended pickup fulfillment functionality with a more traditional shopping experience, and then given the whole thing a layer of technology that seems distinctly Amazonian.

Not being in Woodland Hills, I cannot quite tell how antiseptic it is or isn't. The one thing that Amazon has to avoid is making it seem like a clone of the 365 by Whole Foods format, which just didn't work. But if Amazon has a core competency (and it has many), it is learning from things that do not work.

If this plays for consumers - and I suspect that it will, even as it undergoes various kinds of tweaking - there is a lot of real estate out there that Amazon can take advantage of as it looks to roll this thing out nationally. And right now, it is a buyers' market - there are a lot of landlords sitting with empty space and hoping someone, anyone, will be open to their pleas of "let's make a deal."

In terms of the competition, I'm pretty sure that the really great and innovative food-centric retailers - think Dorothy Lane Market, Wegmans, Stew Leonard's, Bristol Farms, H-E-B/Central Market - don't have much to worry about from Amazon Fresh. Value-driven retailers like, say, WinCo, also have a differential advantage that will work in their favor. (Not that any of these folks shouldn't pay attention … they should … but they are singing a different song from a different hymnal.) But if you're in the middle, having just enjoyed a couple of good quarters because of the pandemic but not really having a distinct and differentiated value proposition … well, I'd get busy sharpening my message and offering. Or planning retirement.

One other thing. If there indeed is a broad move of consumers from urban markets to the suburbs, but they're looking for shopping experiences and e-commerce functionality that seems in line with what they've been used to back in the city, Amazon may be well-positioned with this format to deliver it.