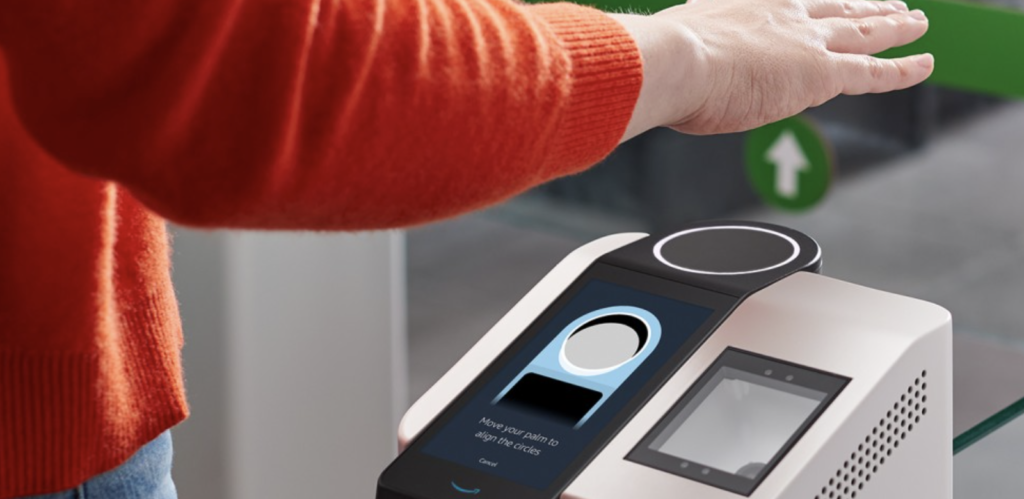 Amazon this morning announced what it is calling Amazon One, described as "a fast, convenient, contactless way for people to use their palm to make everyday activities like paying at a store, presenting a loyalty card, entering a location like a stadium, or badging into work more effortless. The service is designed to be highly secure and uses custom-built algorithms and hardware to create a person's unique palm signature."
The Amazon One technology will be available today at two Amazon Go stores in Seattle - the original at 7th & Blanchard and in South Lake Union at 300 Boren Ave. North.
In a blog posting this morning, Dilip Kumar is Vice President Physical Retail & Technology at Amazon, says that "beyond Amazon Go, we expect to add Amazon One as an option in additional Amazon stores in the coming months. And, we believe Amazon One has broad applicability beyond our retail stores, so we also plan to offer the service to third parties like retailers, stadiums, and office buildings so that more people can benefit from this ease and convenience in more places."
Sign-up is simple: "The first step is to insert your credit card. Next, hover you palm over the device and follow the prompts to associate that card with the unique palm signature being built for you by our computer vision technology in real time. You'll have the option to enroll with just one palm or both. And that's it—you're now signed up."
In his blog posting, Kumar also addresses the security issue: "At Amazon, nothing is more important to us than earning and maintaining customer trust. We take data security and privacy seriously, and any sensitive data is treated in accordance with our long-standing policies. With this in mind, we designed Amazon One to be highly secure. For example, the Amazon One device is protected by multiple security controls and palm images are never stored on the Amazon One device. Rather, the images are encrypted and sent to a highly secure area we custom-built in the cloud where we create your palm signature."
Customers also can delete their biometric information at any time, Kumar says.
KC's View:

Perhaps the most interesting thing about this announcement is how it lines up with Amazon's stated desire to license out Amazon Go checkout-free technology … it will be very interesting to see if there are retailers who adopt both technologies as they look to make their stores reflective of tomorrow, not yesterday.

It may be analogous to how Amazon gives third-party vendors the ability to sell on its platform … a part of its retail business that actually is bigger than the stuff it sells itself. Not hard to imagine that Amazon sees the same possibility with its store-centric technology, though it does remain to be seen whether its bricks-and-mortar competitors will want to get into bed with one of their worst enemies.

Personally, I can't wait to try it.