Ace Atkins, who took up the mantle of Robert B. Parker after his death and now is writing the Spenser novels, - including the just published "Robert B. Parker's Someone To Watch Over Me," and who also writes the Quinn Colson series of novels, sits down with KC via Zoom for a conversation about writing during the pandemic … how his protagonists deal with questions of morality and ethics …  bourbon ... and much more.
As I note in the video, one of the great pleasures of Ace Atkin's Spenser novels is that he has managed to capture the voice - incredibly important in a series that depends on first person narration - without ever seeming imitative. That's a lot harder to do that one might think; one step to the left or the right, and suddenly you're writing a parody.
"Someone To Watch Over Me" may be one of my favorites of Atkin's Spenser series, in part because it does have a ripped-from-the-headlines quality that works for it. The book brings back Mattie Sullivan, who was introduced in Atkins' first Spenser book, "Lullaby," and now she's all grown up with a distinct sense of right and wrong and a high level of moral outrage when she sees people being exploited. (Not unlike her mentor, Spenser.) Mattie ends up being Spenser's entree into the world of a high finance fat cat who bears a distinct resemblance to Jeffrey Epstein, and there is something viscerally pleasing about watching Spenser and Hawk (one of the best supporting characters ever created for a mystery series) trying to figure out how to take him down.
As always, the prose is stripped down and punchy … the characters are sharply etched … and everything from the geography (the book ventures from Boston to the Bahamas) to the food and drink (always great fun in the Spenser series) are evocative. Atkins has done it again … which is why I was so glad to have a chance to talk with him.
Robert B. Parker's Someone To Watch Over Me" is available on Amazon, from the iconic independent bookstore Powell's, and at your local bookseller.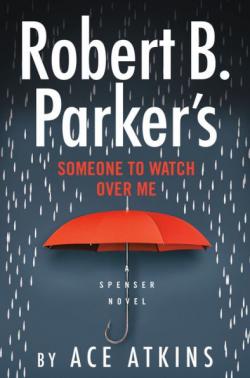 I have a couple of wines to recommend to you this week.
The wine I served with the lamb Bolognese (described in Your Views, above) was a wonderful 2018 Money Wrench Red Wine blend from the Mark Ryan Winery in Washington State - it has just a bit of spice and has plenty of body, standing up well to the lamb and sauce. Fantastic.
Also this week, we enjoyed the 2018 Fieldhouse Pinot Noir from California, which is a little bit lighter but also great with grilled chicken. Go for it.
That's it for this week. Have a good weekend … I'll see you Monday.
Stay safe. Be healthy.
Sláinte!