Got the following email from a reader reacting to our story about Chewy's improving fortunes:
As someone who used to be in Customer Service, my experience with Chewy has been exceptional. Apart from the service they offer in the everyday sale of products, they also seem truly concerned about pets and their owners. Unfortunately last year, my wife and I had to make a decision to terminate the life of our dog due to health issues that were beyond treatable. We had just received an order of prescription dog food that we haven't even opened. Chewy refunded the entire order and asked us to donate the product to a shelter. In a few days we received a card signed by several people offering condolences on our beloved dog. I will be a customer for as long as we have a pet.
Wow. That's extraordinary. And it challenges the perception that e-commerce businesses don't have a human heart. They can. And sometimes actually do.
From another reader:
Chewy has been great! The auto refill and ship program work well and is easily adjusted for changes. The one stop shop for food, toys, treats and drugs has been a real help as well. Our Golden is so happy too. She actually likes the UPS driver now! Great business model. Fast, courteous, and accessible. Why is it so difficult for others to understand??
We had a story yesterday about how a US District Court dismissed FTC complaints against Facebook, and I commented:
This won't be over until it's over … and there is way too much political pressure from both sides of the aisle to let this go anytime soon. But, expect big tech companies to fight back using actual laws as their defense … which only will be a problem if Congress actually changes the laws. Which could happen.
Prompting one MNB reader to write:
Typical government. If they don't like the law the say it is written, they just rewrite it to suit their own feel good direction. What is better for the protection of all business is not a consideration.
Two things.
First, I would argue that all businesses should not be protected.  Those that do not protect the customer - and the customers' data - would be at the top of my list of those that ought not be protected.
And second … you'd prefer that government not change laws that are out of date or insufficient for modern realities. I'm not saying that all law changes meet that standard, nor that lawmakers aren't perfectly capable of changing laws for their own ignoble purposes.
But I'd rather not say that all laws should not be changed.
We had a story yesterday about how the Connecticut Shoreline - from West Haven to the Rhode Island border - strikes some experts as fertile ground for Whole Foods expansion.
I commented:
One of the things that may make this part of the country attractive to a retailer like Whole Foods could be that a reshaped economy could have more people working from home more of the time. Which means that the Connecticut Shoreline section of the state, which is really too far from New York, Boston or Providence to make it easily commutable on a daily basis, might seem more attractive - and affordable - for folks who need accessibility to these cities and their airports, but not all the time. Which it turn would make the area more attractive to a chain like Whole Foods.
But not just Whole Foods.
Seems to me that the area also could be ripe for some Amazon Fresh stores. Or maybe a Wegmans. Or a Stew Leonard's. Or maybe Roche Bros. Or Price Chopper/Market 32. (I'd love to see Hannaford think about it, but I'm guessing that its sister chain, Stop & Shop, would object.)
My only point here is that it is a mistake to limit the thinking to Whole Foods, and that there are other retailer who could take advantage of the opportunity. But those retailers will have to be aggressive, I think - the window won't be open forever.
One MNB reader responded:
So true about the Connecticut shore. My only wish is that smaller independents would make the move and not larger chains. I think they could present a more responsive and targeted experience for the local and seasonal shopper. I'm not a fan of Whole Paycheck.
On another subject, from MNB reader Craig Espelien:
As a disruptor themselves, what if Amazon took a page from the German Union/Management relationship? There, Unions are part of the total process (appears to be mandated) and this has limited, minimized or reduced the us vs. them mentality.
Another place to disrupt for Amazon if they can see beyond the downsides of unions.
This would make Amazon almost indestructible…
Finally, yesterday we took note of a report in The Spoon about how Robomart is launching a fleet of mobile mini-marts in West Hollywood, California, with one version stocked up with snacks and another dedicated to over-the-counter items that normally would be carried by a drug store.
"The company says that versions are under development that would be dedicated to packaged grocery and 'Pantry, Deli, and Café'."
I commented, in part:
I've long though that this kind of approach - bringing the store to the shopper, as opposed to expecting the shopper to come to the store - is the next step in the e-commerce evolution (though it actually harkens back to how merchants behaved decades ago). We've written here about other, similarly themed businesses trying to do the same thing, and I have no reason to be less enthusiastic about the concept.
MNB reader Howard Schneider responded:
KC, you are so right about how this approach "harkens back to the past." Growing up in Los Angeles in the 1950s and 60s, there was an immensely popular institution, the Helms Bakery. As the suburbs sprawled but many moms (like mine) had not yet learned to drive, the Helms trucks would prowl the streets blowing a high-pitched whistle. Mom could leave a placard in the window if she wanted them to stop, or we kids would just run after the truck to buy goodies from the long, polished wooden shelves inside. A yellow cake donut covered in milk chocolate cost six cents.
And MNB reader Lynn Olsen brought visual aids to the discussion:
I thought you might like to see an earlier version of a Mobile Mini-Mart. Seen at the Pioneer Village Museum in Minden, NE.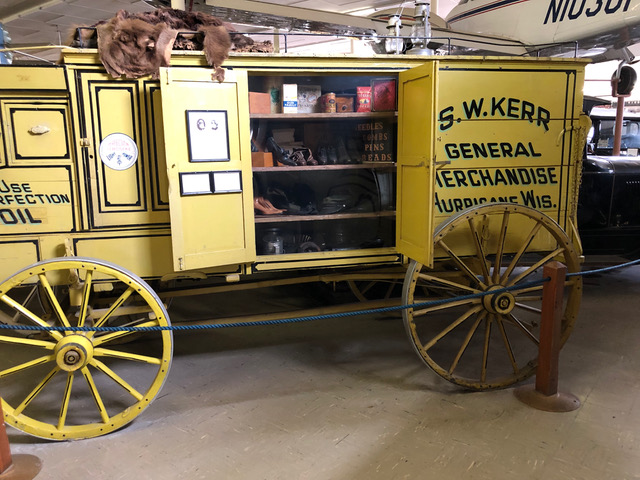 Seems that, just like paisley neckties and wide lapels, good ideas come back around again.
And check out the horse-drawn hearse; elegant but a bit outdated, like some retail businesses. But that's another story . . .