Michael Connelly is just out with his new novel, "The Dark Hours," and once again he has delivered a terrific narrative with solid plotting, sharply drawn characters, and a perspective on the shadowy aide of Los Angeles' geography and institutions.
The protagonist of "The Dark Hours" is Detective Renée Ballard - this is the fourth Connelly novel in which she plays that role - with an assist from Connelly's iconic creation Harry Bosch, now retired from the LAPD but still working as a private detective. Ballard, who works the midnight shift (the dark hours of the title), finds herself deeply involved in two cases. First, there is her pursuit of a pair of rapists dubbed the Midnight Men, while also working to solve a murder that took place moments after midnight, on January 1, 2021.
That's an important date, because Los Angeles (like everywhere else) was in the middle of the pandemic. The LAPD, as described by Connelly, was dispirited and feeling hopeless about the city's future; Ballard, however, much like Bosch, is deeply committed to justice. (She never actually says, "Everybody counts, or nobody counts," but that's the subtext.) And so, despite pushback from department bureaucrats who have other priorities, Ballard pushes and digs and refuses to back down as she works her cases.
Connelly is a meticulous craftsman, using Los Angeles in much the same way that Raymond Chandler so many decades ago. But the most compelling things about his Bosch and Ballard novels is the sense that there are people out there with a strong moral compass and personal ethics that go beyond the transactional. And the best thing about them is that they are terrific stories and propulsive reads.
Go get "The Dark Hours."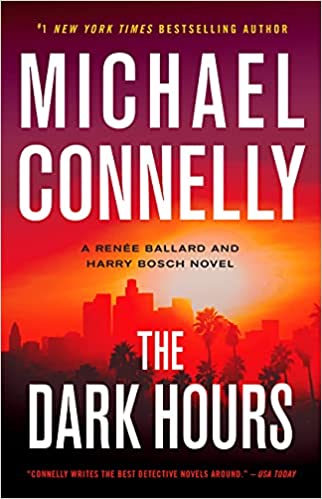 I watched Red Notice on Netflix the other night - it is the new action comedy starring Dwayne Johnson, Ryan Reynolds and Gal Gadot that found its way to streaming when the pandemic thoroughly disrupted the movie theater business.
It was funny enough, almost in spite of itself … but in the end, it would've been nice if they'd spent some of the millions they invested in the three stars in another draft or two of the script.
Red Notice ended up being pretty much a waste of time.
MNB readers know that I have become disenchanted with the recent Jack Reacher novels, as creator Lee Child has turned over the reins to his younger brother, Andrew Child. The books are just not as good.
Lee Child, it has been reported, now is spending more time working on a Reacher TV series, scheduled to debut on Amazon Prime Video in February … and a trailer dropped yesterday.
All I can say is, this seems more like it.
Tried a new beer recently - Highland Brewing's Cold Mountain, a rich and filling concoction that seems just about perfect as the evenings get colder.
That's it for this week. Have a great weekend, and I'll see you Monday.
Stay safe. Be healthy.
Sláinte!